I'm not the happy camper I was the last time I checked in about the AeroGarden.

I wish I had a better camera so I could show you the white fuzz that is growing at the base of the plants. It's like a mold or mildew. What I gathered from all the different forums and blogs I've visited in an effort to thwart this ugly and damaging growth, is that I lack air flow. The sponges are too wet. TOO WET?? They are supposed to be wet. Water drips through them continuously. Water is supposed to drip through them continuously for 14 to 16 hours a day. Maybe I'm just thick, but I don't get it. Either it's supposed to be wet or it's not supposed to be wet.

So, this is what my gorgeous purple basil looks like today, that is if you can see what's left of it in the bottom left hand corner...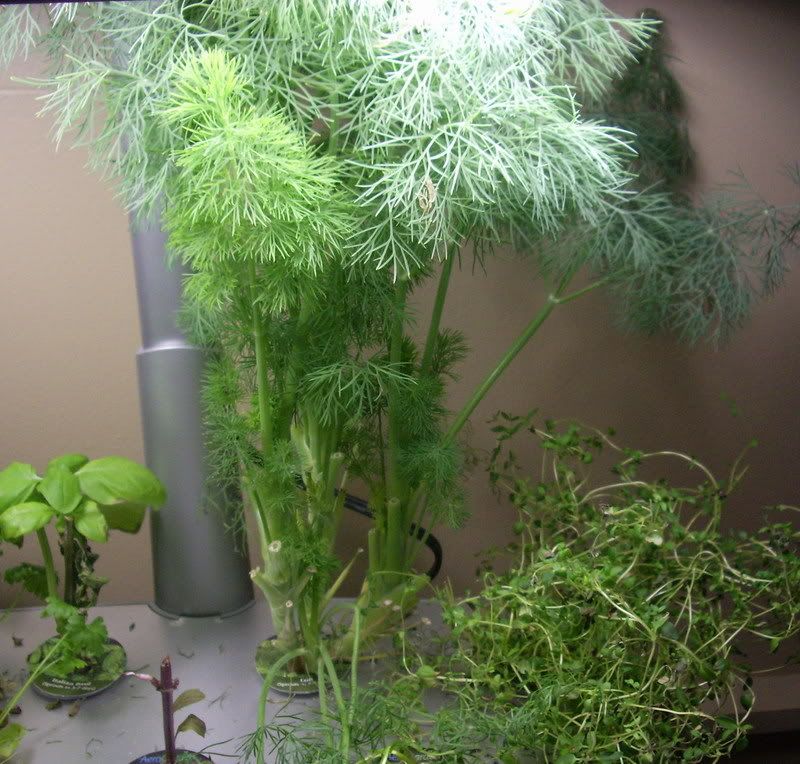 Two pitiful little leaves and a wilting stalk. My Italian basil is suffering the same blight. But, as you can see, the dill and thyme are doing extremely well. And, the parsley not doing too bad either. We use it more than I thought we would...




These are the chives...



They never really took off like the other plants. They were always spindly and small, but I have cut them back a couple of times and I had enough to use the cut-offs for Roasted Red Pepper & Chive Aioli and for garnish. But, I was hoping for fat and vigorous chives to use often. Clearly, that is not going to happen.

The water in the tank looks disgusting, but it doesn't smell bad or anything. I'm still tempted to take it over to the sink and dump it out, run clear water through it all and wipe the sides, then replace it with fresh water and nutrients. It may help with the white fuzz problem, too, if I'm lucky. I'll let you know what I decide.

I have toyed with the idea of starting a whole new garden of herbs with my own seeds. A while back I removed the mint and thought I would replace it with basil, an herb I use far more often than mint. When I tried to separate the roots from the sponge, it just destroyed the sponge and rendered it completely unusable. I have since purchased a bag of 100 sponges from an Amazon.com retailer called AeroFalls. This retailer also sells a bag of nutrients that costs considerably less than AeroGarden. I'm going to try that, too.

Anyway, back to my original thought. I started new basil from seeds I had been saving from last spring. I was worried that they wouldn't germinate, but I checked this morning and although it's not yet peaking out of the sponge, one of the seeds is finally sprouting.

I'm not sure I'm doing this replanting thing in the best way. I think probably I should remove all the plants and start new from scratch. But, then, that would not be me...being as how I am one who constantly lives on the edge ;)