Since I made my first batch of Ricotta cheese about a year and a half ago, I think I've purchased one tub of Ricotta from the store. The homemade Ricotta is so much more creamy and I can make it as dry as I want by allowing it to drain longer.

I've made it several times since then finally settling on a water bath method posted by Gareth Mark @ Stumptown Savory. Using his method, the milk doesn't scorch...ever.

I prepare the cheese using a gallon of milk at a time, but instead of using whole milk, I now use 2% low fat milk, but I still add a cup of cream. It takes about 30 minutes from start to finish and produces about 2 pounds of delicious homemade ricotta cheese. But it leaves a pot full of whey.

I hate throwing stuff away. I do everything I can to use leftovers, bits and pieces of this and that, what have you....and the whey is no exception. So I went looking for what I could do with the whey and I found a recipe for the best bread I've ever eaten posted by Suzanne McMinn @ Chickens in the Road. Her recipe for what she calls Grandmother Bread is only 5 ingredients (warm water, yeast, salt, sugar and flour), takes just a few minutes to mix up, then you knead it, let it rise and bake. I substitute the ricotta whey for the water. Since I found this recipe, I haven't purchased a loaf of bread from the grocery store. I make two loaves every other week just because it is the best bread I've ever tasted. I know I'm repeating myself, but it's true.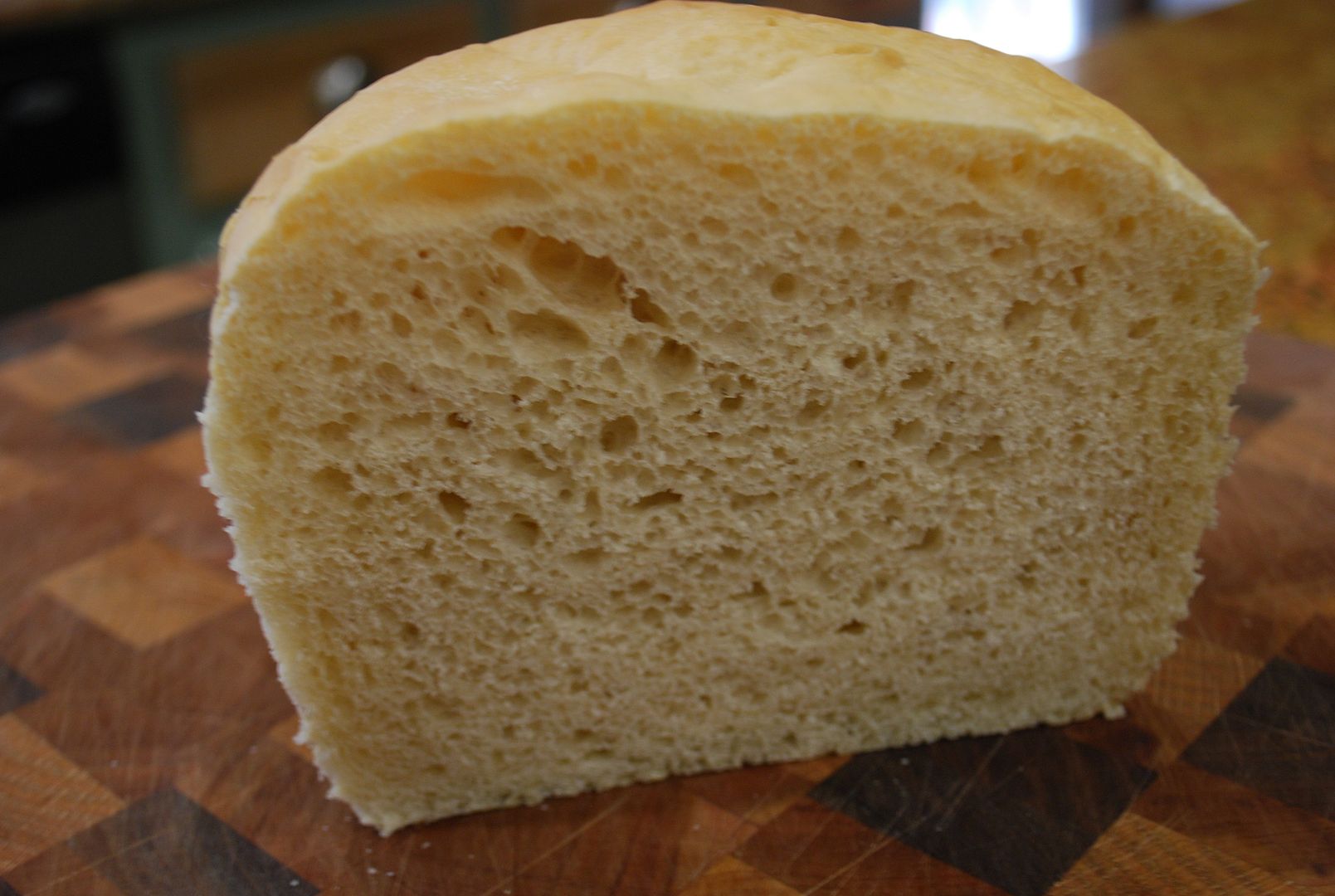 It's wonderful toasted and the sandwiches made with this bread are to die for, even a simple ham and cheese.
When I make the cheese, I measure the whey 3 cups at a time into a small zip lock type bags and freeze it. It yields about 4 bags of whey, which will make 2 large loaves of bread per 3-cup bag of whey.
Oh, and by the way, I hope you visit Chickens in the Road for more wonderful variations of this bread.
Grandmother Bread
Adapted from Chickens in the Road, Breads, the Farmhouse Table
Two-loaf standard recipe
3 cups warm ricotta whey or warm water
1 tablespoon yeast (1 packet)
1 teaspoon salt
1/4 cup sugar
7 cups all-purpose flour
In a large bowl, combine warm water, yeast, sugar, and salt. Let sit five minutes until slightly bubbly.
Stir in first three cups of flour with a heavy spoon. Add the next cup of flour a little at a time as needed, stirring until dough becomes too stiff to continue stirring easily. Add a little more flour and begin kneading. The amount of flour is approximate–your mileage may vary!
(I've used as little as 6-1/2 cups to as much as 7-1/2 cups depending on the temperature and weather conditions).
Continue adding flour and kneading until the dough is smooth and elastic.
(I generally set the timer for 10 minutes and knead for that long.)
Let the dough rise in a greased, covered bowl until doubled, about an hour. Uncover bowl; sprinkle in a little more flour and knead a few more time. Form into an even ball and divide the dough in half. With floured hands, shape dough into loaves and place in two greased loaf pans. Tear off two pieces of waxed or parchment paper and grease with oil spray (to prevent it from sticking to the loaves as they rise) and cover loaf pans. Let loaves rise for about an hour until they are tall and beautiful.
Bake for 25 minutes in a preheated 350-degree oven. Makes two loaves. Recipe can be cut in half.