Well, Christmas is finally behind us and, frankly, I'm breathing a sigh of relief.

Neither of our sons were able to visit this year, nor were we able to make the trip to either Florida or California to visit them. To make things worse, we were not financially able to exchange gifts either, although I did bake cookies and breads for the rest of the family.

Tom and I had planned a very quiet Christmas dinner, but when it came time to cook, we weren't particularly hungry, so we put off the dinner until today. And, rather than make a dinner of turkey with all the trimmings, we opted for Herbed Rack of Lamb with Fig/Port Sauce, Sweet Potatoes Anna, steamed broccoli and for dessert an Orange Mascarpone Tart.

Last year when we subscribed to Bon Appétit magazine, we received as a promotional 'gift' a small cookbook, "Bon Appétit Tastes of Italy," and it has become Tom's go-to cookbook for new ideas.

The first time Tom made the original recipe, Mascarpone Tart with Honey, Oranges and Pistachios, he increased the amount of orange zest to about two tablespoons, but followed the rest of the recipe exactly. We both loved the orange flavor, but frankly neither of us thought the pistachios added much of anything except maybe a crunch that we didn't find really necessary.

With the changes, I love this tart. It is light, fresh tasting and not too sweet...my kind of dessert. For our Christmas dinner, Tom decided to do something a little different. Instead of one large tart, he made eight individual tarts, eliminated the pistachios and finished the tarts with grated chocolate. Perfect!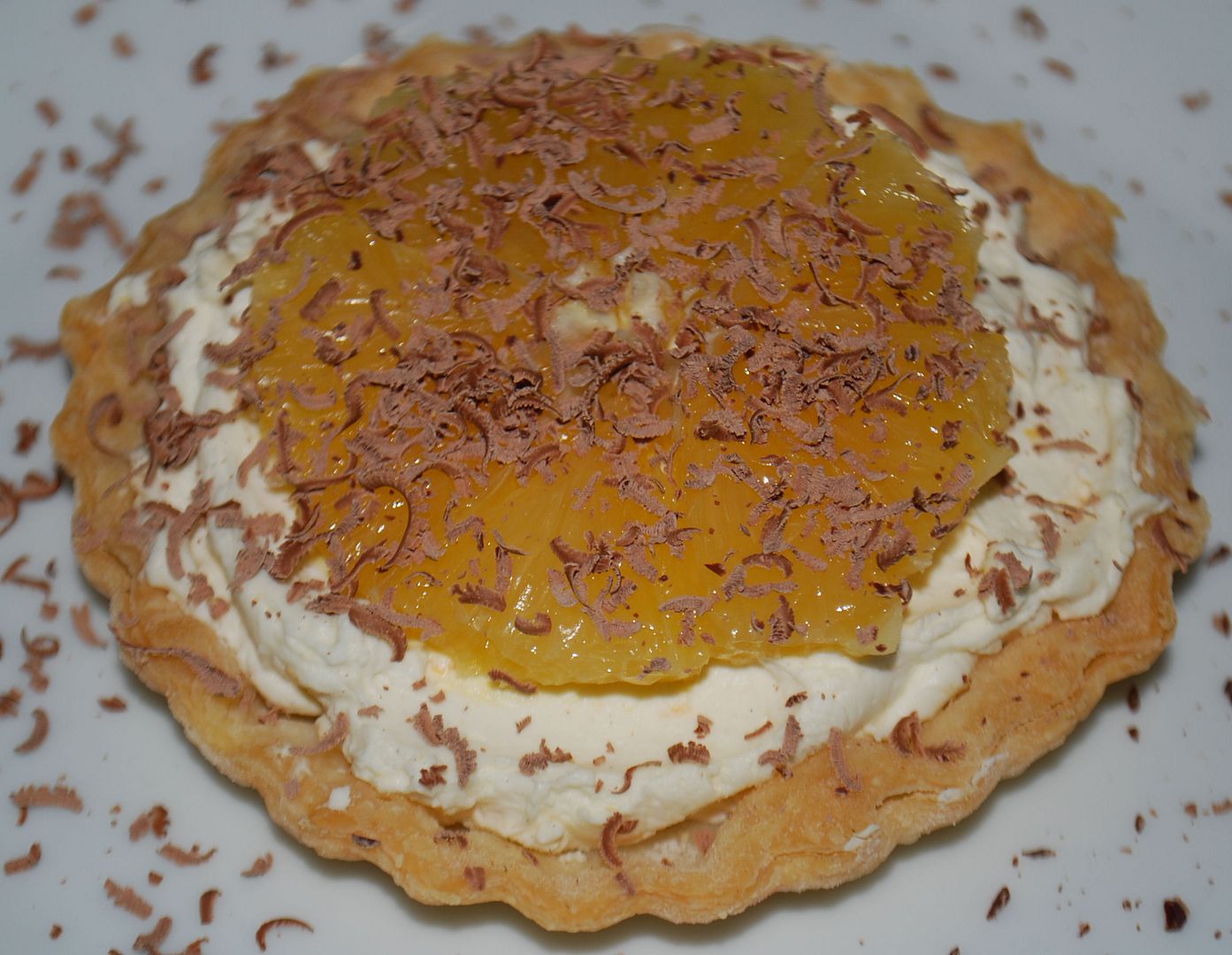 Although we didn't eat our Christmas dinner yesterday, we
DID
have dessert. After all, it was Christmas. And this morning, Tom set aside two more tarts for tonight's dinner and delivered the remaining four tarts to his parents to share with their friends at the retirement home where they live.
Orange Mascarpone Tart
Modified from Bon Appétit

Makes one tart that serves 8, or 8 individual tarts
1 refrigerated pie crust (one half of a 15-oz. package)
2 large navel oranges
1 - 8- to 8.8 oz. container chilled mascarpone cheese
1/2 cup heavy whipping cream
1/4 cup sugar
2 tablespoons honey, divided
1/4 teaspoon (generous) ground cardomom
Preheat oven to 400°F.
For one large tart
, press the pie crust into a 9-inch-diameter tart pan with removable bottom. Pierce crust all over with fork. Bake until golden brown, about 24 minutes. Cook completely on rack.
For 8 individual tarts pans
, roll out dough thin enough to easily cut circles for 6 tart pans. Gently piece together the cut-off pieces of remaining dough, roll flat and cut out 2 more circles for the remaining 2 individual tart pans. Bake until golden brown, about 9 minutes. Cool completely on rack.
Grate enough orange peel to measure approximately 2 generous tablespoons.Cut off remaining peel and pith from oranges. Slice oranges into thin rounds, then cut rounds crosswise in half (for the individuals tarts, cut the orange slices into six equal pieces). Place orange slices on paper towels to drain slightly.
Combine mascarpone, cream, sugar, 1 tablespoon honey, cardamom, and orange peel in medium bowl. Using electric mixer, beat just until blended and peaks form (do not overbeat or mixture will curdle). Spread or pipe the filling evenly in cooled crust. Arrange orange slices atop tart in concentric circles. Drizzle tart with remaining 1 tablespoon honey (or divide the remaining honey between the 8 individual tarts).
To serve, grate a little semi-sweet or milk chocolate over the top of each slice or individual tart.