I am a California gal, born and bred. But my dad grew up on a farm in Minnesota.

My father and his family either grew or raised nearly everything they ate. My dad used to tell stories of milking cows before school, slaughtering pigs on weekends, gathering eggs daily, planting the garden in the spring, filling the root cellar with potatoes and beets and canning bushels of vegetables.

When I was growing up, my dad planted a garden in the backyard wherever we lived, particularly in Fresno. He harvested fresh tomatoes, lettuce, radishes, carrots, cucumbers, corn, melon, citrus and peaches all summer long. Artichokes, plums, apples, pomegranates, avocados and grapes were abundant and cheap at the grocery store.

We lived in an average suburban neighborhood, so my father did not raise cows, pigs or chickens. Instead the meat we ate was purchased from the grocery store and usually the cheapest available: hamburger, pot roast, chicken and an occasional fried pork chop. The fish that graced our table was the crappie my parents caught at the local lake or the mackerel they hooked off the pier at Sunset Beach State Park about 15 miles south of Santa Cruz on the Pacific Ocean. No matter what species of fish we ate, it was always fried.

Although I began cooking in my teens, the food was always from the menus my mother created. Before she got home from work, I'd prepare the hamburger/bean filling for the burritos, or the hamburger for tacos using packages of taco seasoning mix, or the spaghetti sauce using packages of spaghetti sauce mix. Not particularly adventurous eating.

I didn't have my first taste of lobster until I was 18 years old. I think I was in my mid-twenties before I ate lamb. I was probably in my thirties when I really started to experiment with food, both while cooking at home and dining out. Which is, one culinary step at a time, how I got to preparing goat meat.

Now, goat meat may not seem like an adventurous step for people who live in rural communities and raise their own meat. In fact, it may be commonplace. For this gal, however....one who has given a name to and made a pet of every animal she's ever owned including rabbits, sheep, chickens, ducks and geese (not to mention dogs and cats)....goat meat is an adventurous step. But I figured if I could try venison (Bambi), rabbit (Thumper) and duck (Daffy), I could give goat a try since I didn't watch it's mother give birth, bottle feed the kid at all hours and fret over what I was going to name it.

I was thrilled to hear of the new international food store opening in our small town and I think Tom and I were one of the first customers. During our first trip, we wandered around for about 45-minutes examining all the familiar and not so familiar products on the shelves, in the refrigerator and freezer. It was the goat meat in the freezer piqued my curiosity.

This week I went back to the international food store and bought goat meat, and with my newest issue of Bon Appetit in hand, the page turned to Lamb Tagine with Chickpeas and Apricots, I proceeded to prepare the dish with goat instead of lamb.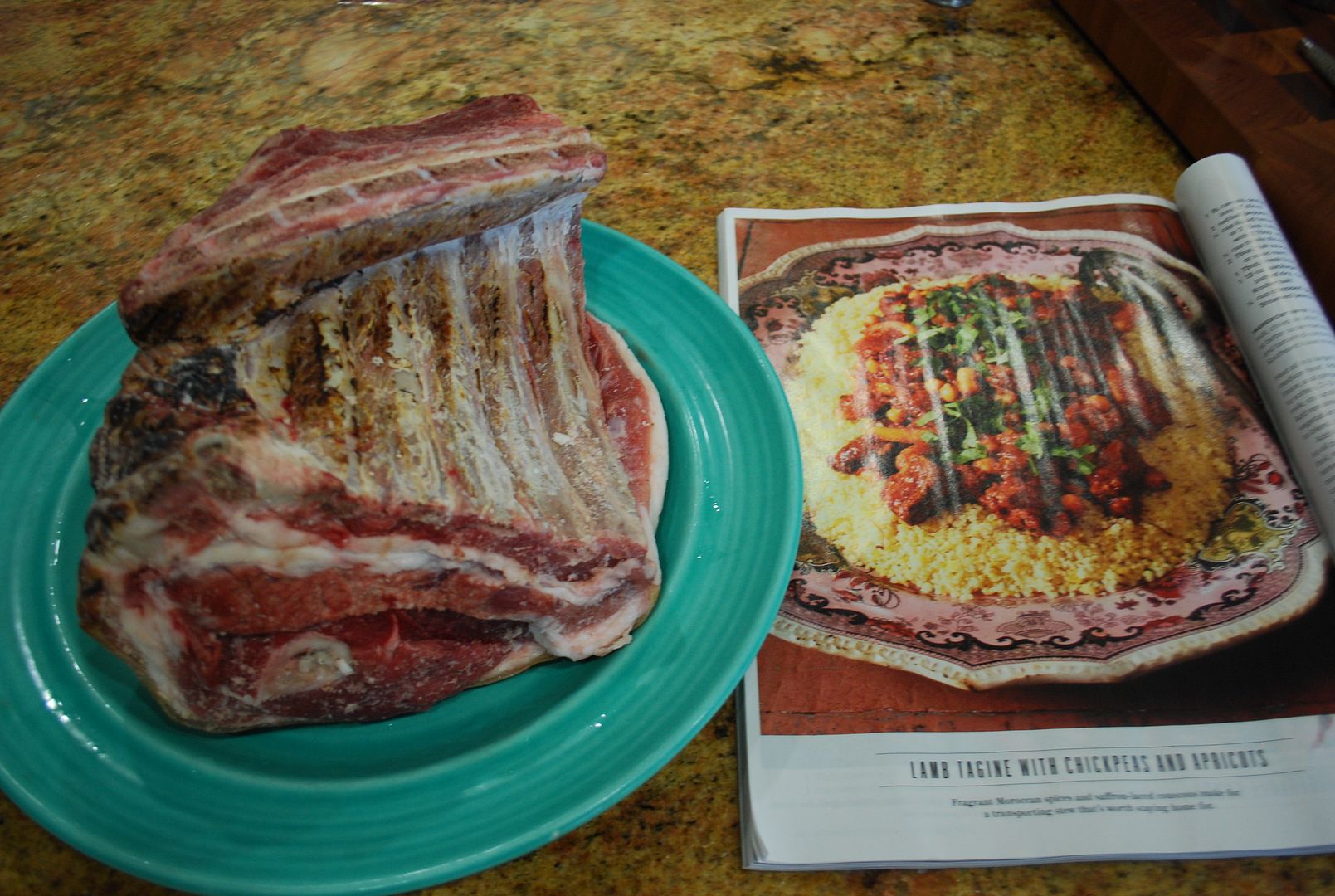 The recipe calls for a lamb shoulder and for the meat to be cubed, but there was no way I was going get this goat meat into cubes. At the top side of the slab was the backbone and there was no way my knives would get through it.
I started by cutting off the skin, then paring away as much excess fat as I could. What I discovered underneath was a silver membrane covering the entire surface of the meat.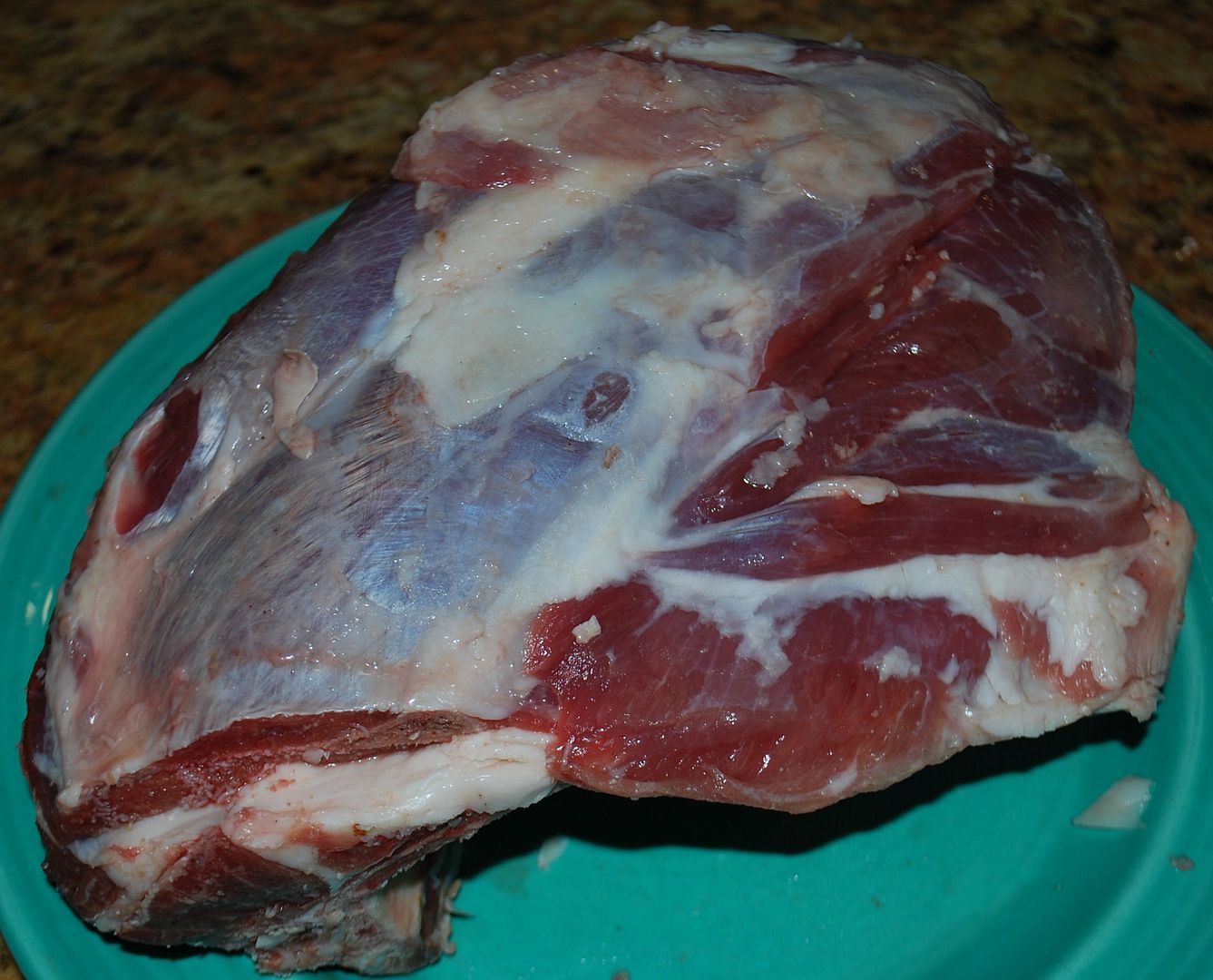 I always remove the silverskin from the bone side of ribs and I thought this would be similar. It was actually more difficult and time consuming because it didn't peel off readily. I had to cut it off with my boning knife. It took awhile, but I think I did a pretty good job for someone who has been known to butcher a piece of meat beyond recognition.
So, now I was ready to begin preparing the dish. Since I wasn't going to attempt to cut the meat into cubes, I decided I would braise the meat in the sauce until it was tender enough to remove from the bones. I generously salted and peppered the meat, browned it on all sides in a large skillet and then removed it from the pan.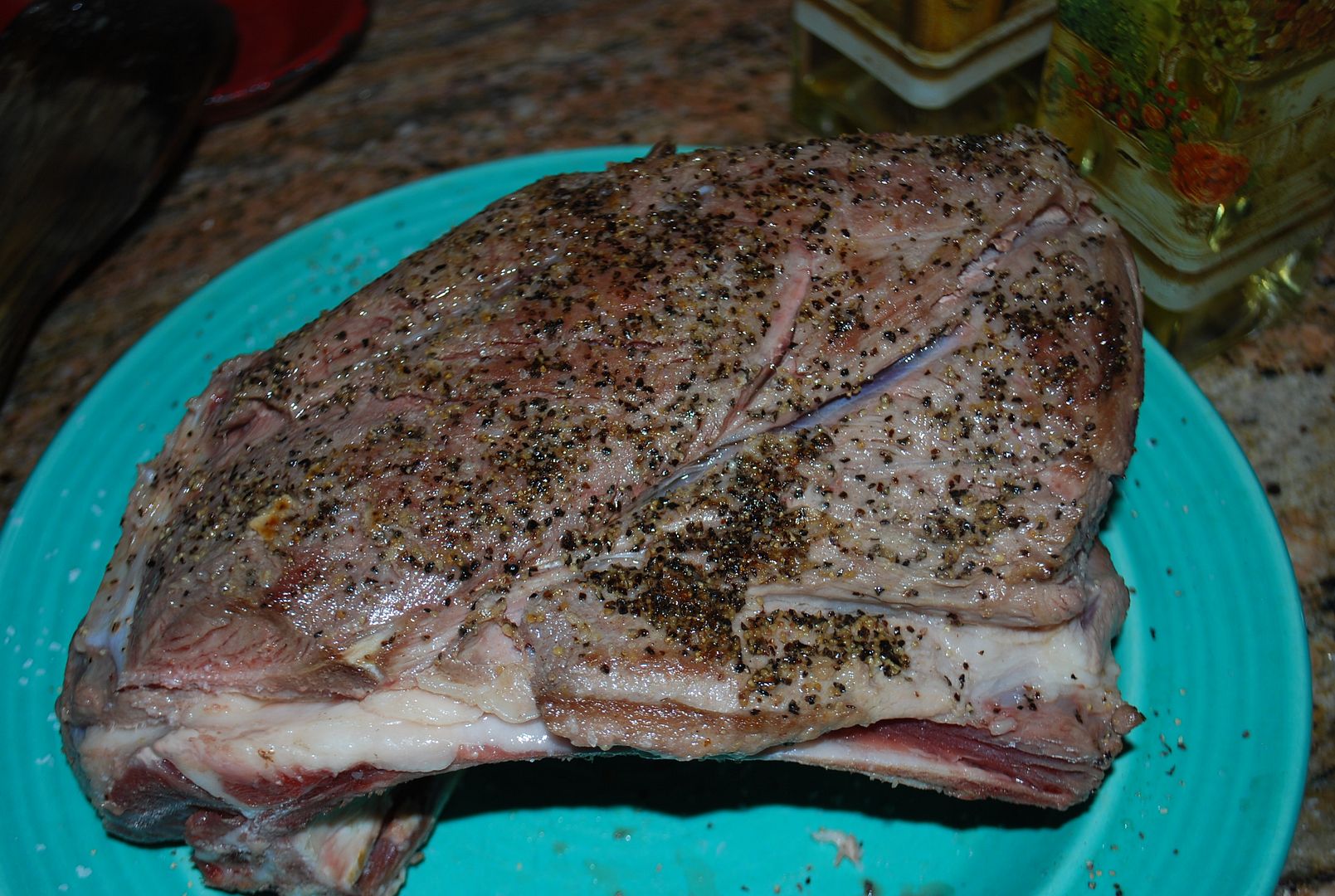 I then prepared the "sauce" in the frying pan, mixing the onions, spice blend, garlic, grated ginger, tomatoes and chicken broth according to the recipe. When all the ingredients were mixed together and brought to a boil, I poured it into my electric roaster, set the piece of goat in the middle, put the lid in place and braised it for about 2-½ to 3 hours, until the meat was tender and the bones were easily removed.
I removed the meat from the roaster and allowed it cool a few minutes. When I was able to handle the meat, I began removing the bones and remaining gristle and connective tissue. The only thing I found a little off-putting was the sight of these veins below the skin.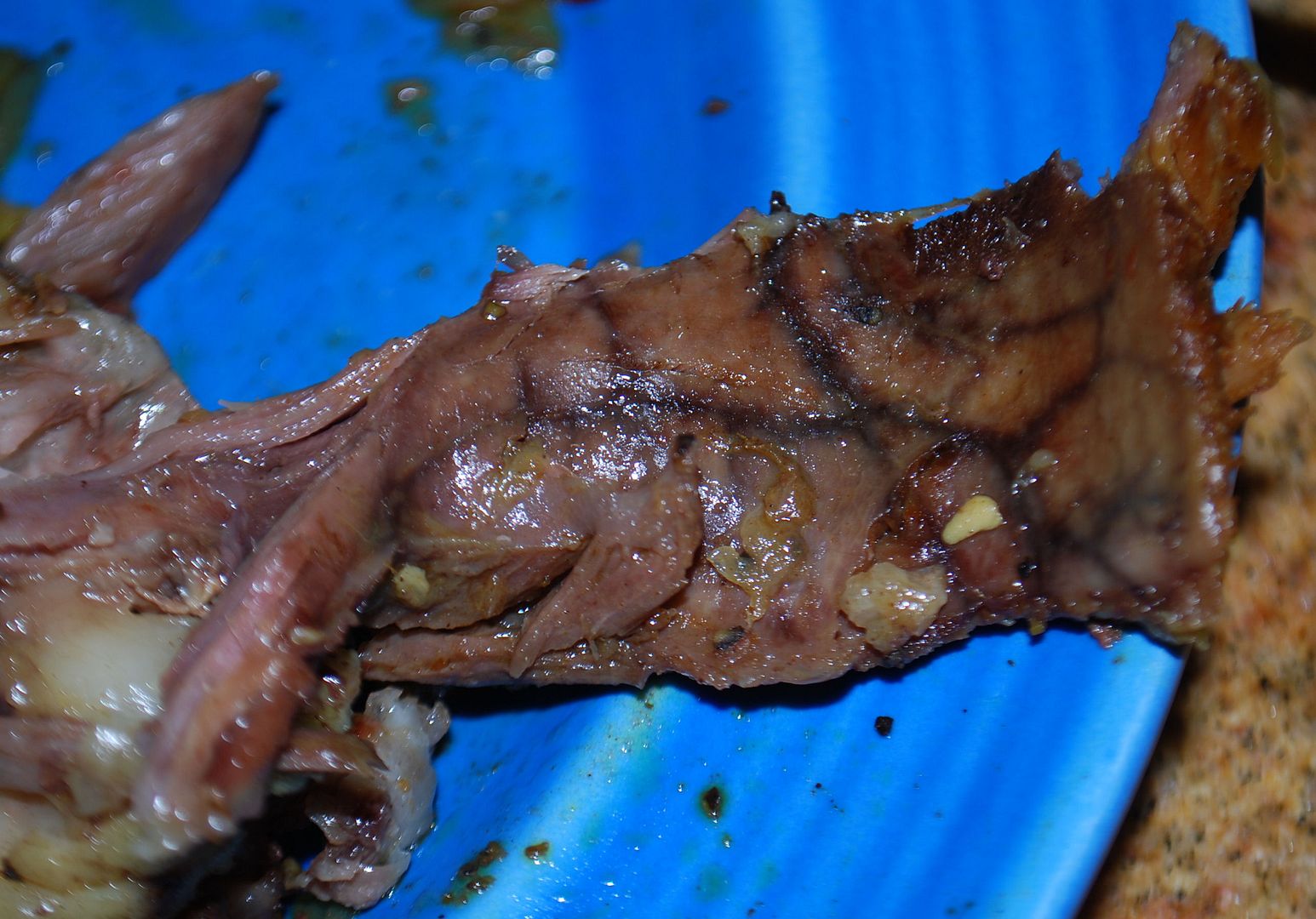 Undaunted, I cut the meat into pieces and returned it to the roaster and added the chickpeas, which I allowed to cook in the stew for about an hour because they still weren't quite done when I put them in. When I was sure the chickpeas were done, I added the chopped apricots and cooked the stew for another 30 minutes.
I served the stew over couscous made with chicken broth instead of water, and garnished with chopped cilantro.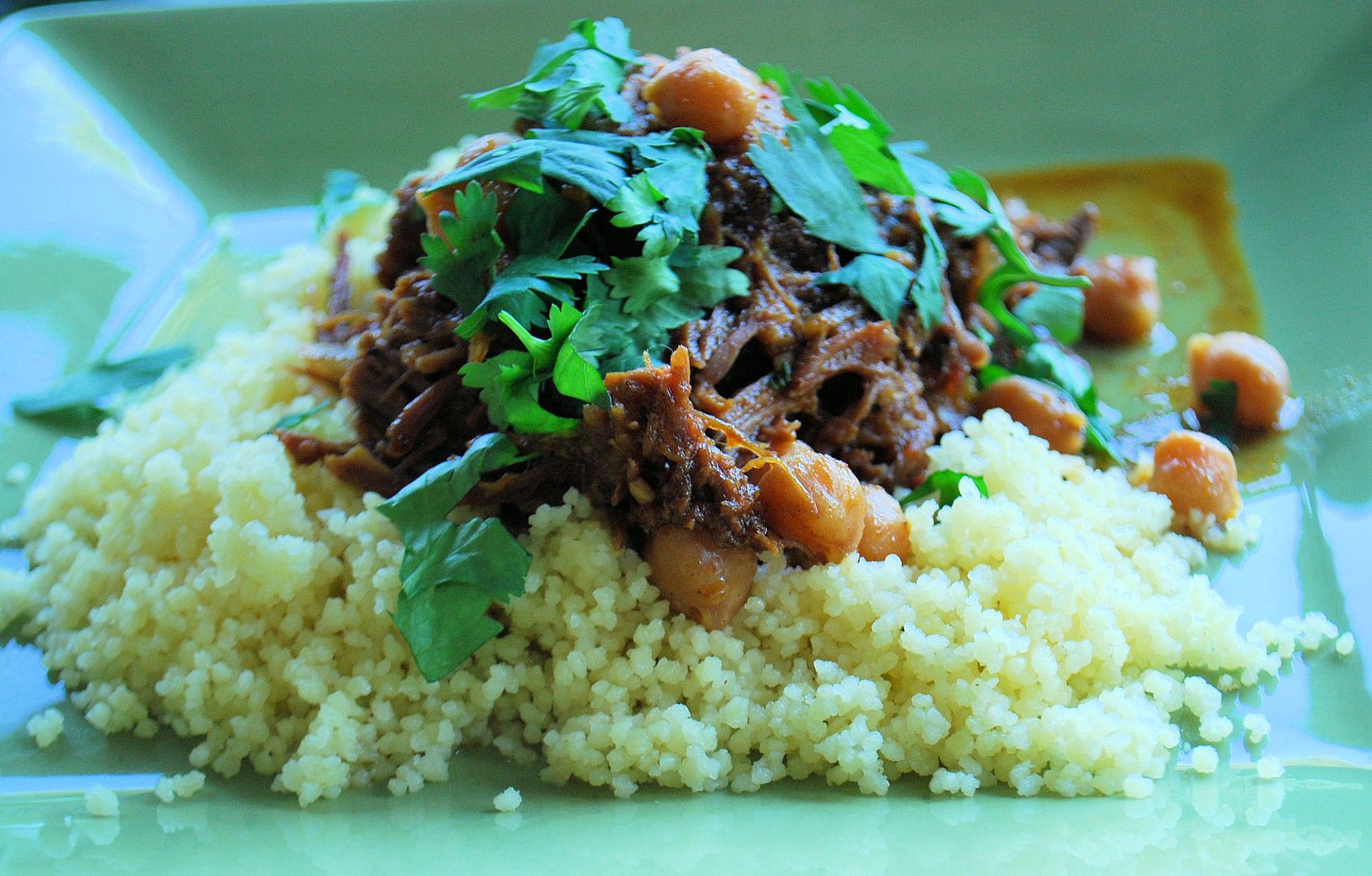 The results were delicious. The goat meat is not gamey at all, like I anticipated. It was sweet, rich and densely flavored, a perfect compliment to the Moroccan spices in the dish. I would not hesitate to make this dish again.
Lamb Tagine with Chickpeas and Apricots
Adapted from Bon Appetit magazine
3/4 cup dried chickpeas
5 garlic cloves (2 whole, 3 chopped)
1 large cinnamon stick, broken in half
2 tablespoons olive oil
3 pounds 1" cubes lamb shoulder
Kosher salt and freshly ground black pepper
1 large onion, diced
5 teaspoons Ras-el-Hanout spice blend (I used all of the spice blend that I made using the recipe below, probably an extra teaspoon)
1 tablespoon chopped peeled ginger (I grated the ginger)
1 cup canned diced tomatoes with juices (I used a whole 14-oz can)
2-1/2 cups (or more) chicken stock (because I had to braise the meat for such a long period of time, I wound up using an additional cup of chicken broth to thin the stew)
1/2 cup halved dried apricots (I chopped the apricots into smaller pieces)
Steamed couscous
Chopped fresh cilantro
Place chickpeas in a medium saucepan. Add water to cover by 2". Let soak overnight.
Drain chickpeas; return to same saucepan. Add 2 whole garlic cloves and cinnamon stick. Add water to cover by 2". Bring to a boil, then reduce heat to medium and simmer until chickpeas are tender, about 45 minutes. Drain; set aside.
Meanwhile, heat oil in a large heavy pot over medium-high heat. Season lamb with salt and pepper. Working in batches, brown lamb on all sides, about 4 minutes per batch. Transfer lamb to a medium bowl. Add onion to pot; reduce heat to medium, season with salt and pepper, and sauté until soft and beginning to turn golden, about 5 minutes. Add chopped garlic, Ras-el-Hanout** , and ginger. Stir for 1 minute. Add tomatoes and lamb with any accumulated juices. Bring to a boil. Add 2 1/2 cups stock. Return to a boil, reduce heat to low, partially cover, and simmer, stirring occasionally, until lamb is tender, about 1 hour 30 minutes.
Stir in chickpeas; simmer until heated through, about 10 minutes. Stir in apricots; simmer until heated through, about 5 minutes. Season with salt and pepper.
Spoon couscous onto a large, shallow platter, forming a large well in center. Spoon tagine into center. Sprinkle cilantro over.
**
The recipe for the Moroccan spice blend, Ras-El-Hanout, requires a spice mill. I have an old coffee grinder that I use for grinding spices, but I would not recommend using a coffee grinder that you currently use for grinding coffee. These spices are pretty aromatic and tend to cling to plastic. If you don't have a spice mill or coffee grinder, I think it would be fine to use pre-ground coriander and cumin seeds, but before you add them to the sauteed onions, heat 2 tablespoons of olive oil in a small frying pan over medium heat, add all of the spices to the oil and gently warm them until they are quite aromatic, being careful not to scorch them. Then add the warmed spice blend to the onions with the garlic and grated fresh ginger.
Ras-El-Hanout Spice Mix
1-1/2 teaspoon coriander seeds
3/4 teaspoon cumin seeds
1/2 teaspoon crushed red pepper flakes
1-1/4 teaspoons ground cinnamon
1 teaspoon paprika
1/2 teaspoon ground cardamom
1/2 teaspoon ground ginger
1/2 teaspoon ground turmeric
Toast coriander and cumin seeds in a small skillet over medium heat, stirring occasionally, until aromatic and slightly darkened, about 4 minutes. Transfer to a spice mill; let cool. Add crushed red pepper flakes. Process until finely ground. Transfer to a small bowl. Add remaining ingredients; whisk to blend.