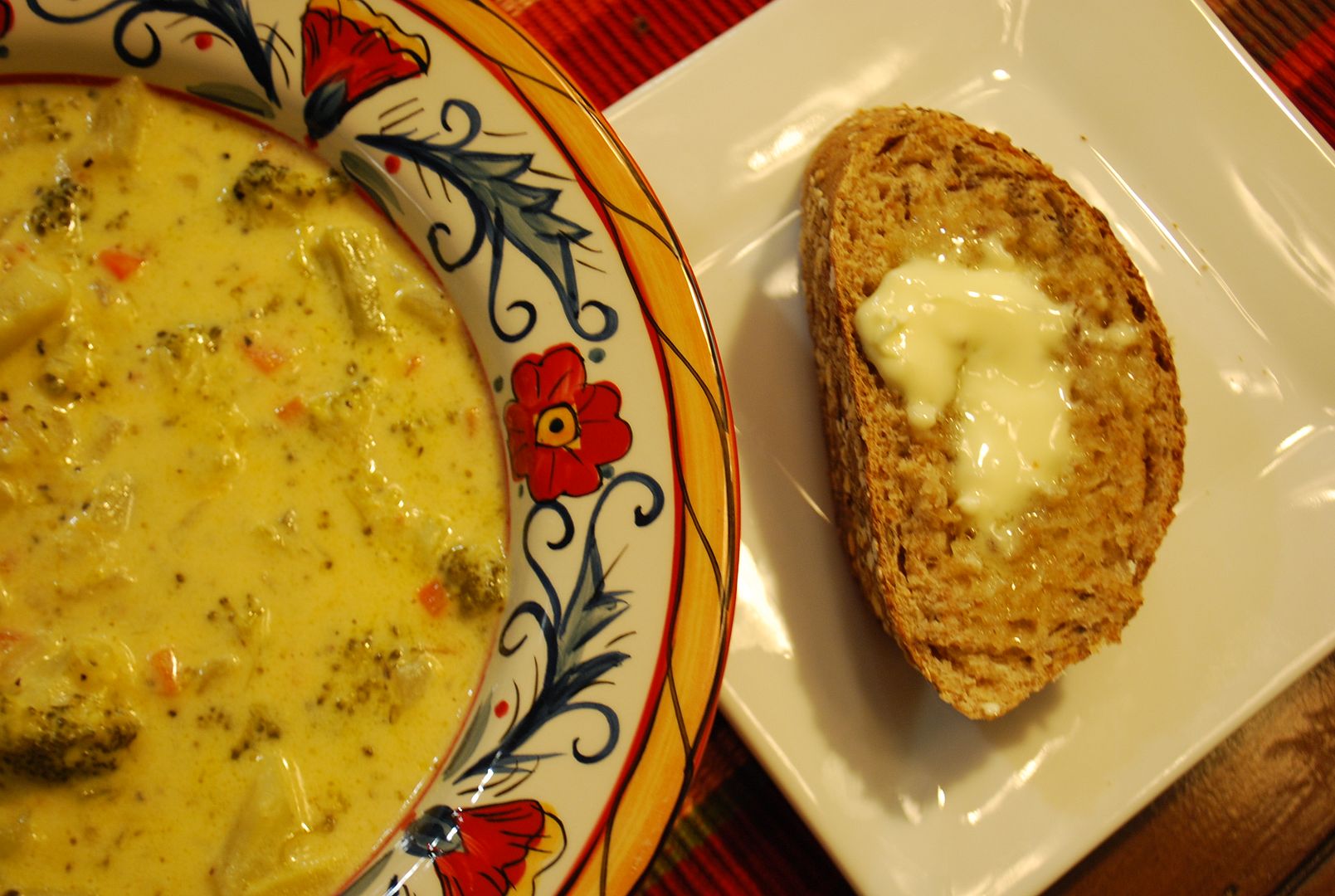 It's cooling off. Even though it is supposed to hit 90 tomorrow, the rest of the week should be in the 70's and evenings are cooler yet.
When it starts cooling off, I crave soup. Served with French bread, cornbread, foccacia, rolls, it makes no difference. I'm there for the soup.
Earlier this week the publisher of our local newspaper wrote a
blog post
about the "5 Foods That Can Trigger a Stroke." Canned soup was on the list.
Luckily, I don't eat canned soup. I happily ingest the other four items - crackers and chips, smoked and processed meats, diet soda and red meat - but not the canned soup.
Okay, I have to take that back. I actually do eat canned soup, but do so rarely. I still use a couple of casserole recipes that call for canned soup, but I don't make them very often - maybe a couple of times a year. But, I'm not so sure that particular qualification would render me immune to the risks.
Anyway, I don't eat canned soup as soup, as in a bowl with a soup spoon and with a sandwich or piece of bread on the side. I always make my own soup. I just think it tastes better and it's better for you.
Now, when you were in college, if you made broccoli soup with canned cheddar cheese soup and frozen broccoli on a single burner hot plate and you thought it tasted good....I'm sorry. You probably won't like this recipe because it doesn't taste anything like that.
My recipe is fresh, flavorful and creamy with not a hint of pastiness or chemicals. And, though it takes just a few more minutes to prepare than canned cheddar cheese soup with frozen broccoli, my recipe still comes together pretty quickly.
A couple of tips before you start. First, do not discard the stalks of the broccoli. Peel them, chop them up and add them to the pot with the other vegetables. The stalks add more flavor and texture.
Second, yes, I said peel, unless you like your broccoli stringy. You don't have to peel every single surface, but peel off the as much of the skin as you can. Simply slide the edge of your knife under the skin, hold it in place against the blade with your thumb and pull up like so....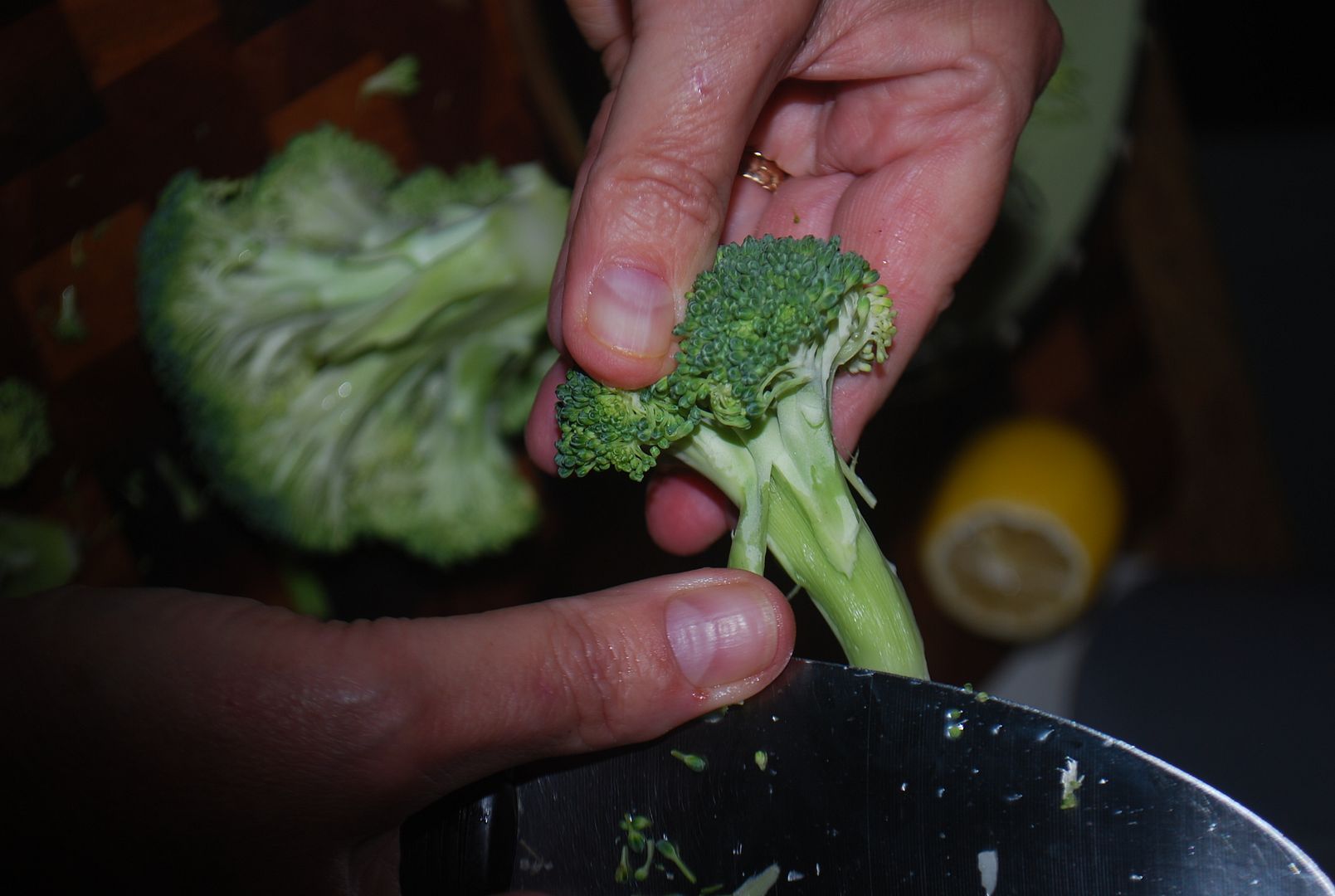 Easy peasy.
Broccoli Cheese Soup
PRINT RECIPE
2 tablespoons blended oil (which is 1 tablespoon vegetable oil and 1 tablespoon olive oil)
1 medium onion, diced
1 large carrot, diced (I always scrub my carrots, but rarely peel them)
1 large celery stalk, diced
2 large stalks broccoli cut into bite-sized flowerettes and the stalks peeled and diced
5 cups chicken broth
1-1/2 cups half & half
2 cups cheddar cheese, finely grated (sharp or mild, whatever your preference)
1 tablespoon butter
1 tablespoon flour
kosher salt & fresh ground pepper to taste
In a dutch oven, heat the blended oil over medium high heat and add the onion, carrot, celery and broccoli stalks. Reduce the heat to medium and cook the vegetables until they start to brown slightly and caramelize, about 10 to 12 minutes. Be careful not to burn. The caramelized vegetables are going to add a rich flavor dimension.
Add the broccoli flowerettes to the pot, then add the chicken broth. Return the heat to medium high and bring the soup to a boil. Reduce the heat to medium low and simmer slowly for about 30 minutes until the broccoli flowerettes are very soft.
In a small fying pan over medium heat, melt the tablespoon of butter, then whisk in the flour to make a roux. Cook the roux until it is just barely golden in color. Add about a cup of the soup broth to the roux and whisk until smooth. Add about another cup of the broth and whisk again until smooth. Add the mixture to the soup pot, stirring gently until well blended. Add the half & half, stirring constantly. Add the cheese a cup at a time, stirring well after each addition.
When the soup begins to come back to a simmer, correct the seasoning by adding kosher salt and fresh ground pepper. Keep warm until ready to serve.