Why oh why do I continue to bake such sweet morsels. It's a very bad habit. But I just can't seem to help myself. When I see something ooey and gooey and nutty and sugary, I just have to bake it to see if it tastes as good as it looks.
Mostly, I'm a little disappointed. Usually the photo is better than the real thing. This recipe is an exception.
If you're looking for a sugar rush that will make your eyes roll back in their sockets and produce a near coma, all you'll need is a 3-inch by 3-inch square piece of this cake. Coupled with a cup of strong French roast coffee, you might survive without any remaining side effects.
But then you will go back for more. You see, because you won't be able to help yourself. It's sweet alright, but it's cakey and smooth and buttery and a little nutty and a little spicy and oh so ooey and gooey, all at the same time.
I did not share this cake....and I share almost all of what I bake. Most of the time, I am satisfied to merely try one serving of whatever is the pastry of the day, then I pack up the rest and head for a neighbor's house, any neighbor, to get rid of the cake, or pie or cookies or bars so I can move on to try the next luscious, delectable recipe.
After one piece of this cake and about ten Oh My God's, we cut it into 2-inch squares, wrapped them in plastic wrap and stuck them, selfishly, into the freezer. My neighbors did not receive one morsel.
I baked this cake back in August. Last night, Tom ate the last piece. I'll make another one next week and give it to the neighbors. Maybe.
The cake is relatively simple to make. All you do is mix up the cake batter and pour into 9-by-13-inch pan. Then mix up the topping and drop it as evenly as possible over the cake batter.
Then you run a knife through the clumps of topping and the batter to swirl the topping throughout and bake. When the cake comes out of the oven and cools a bit, drizzle the glaze all over the warm cake.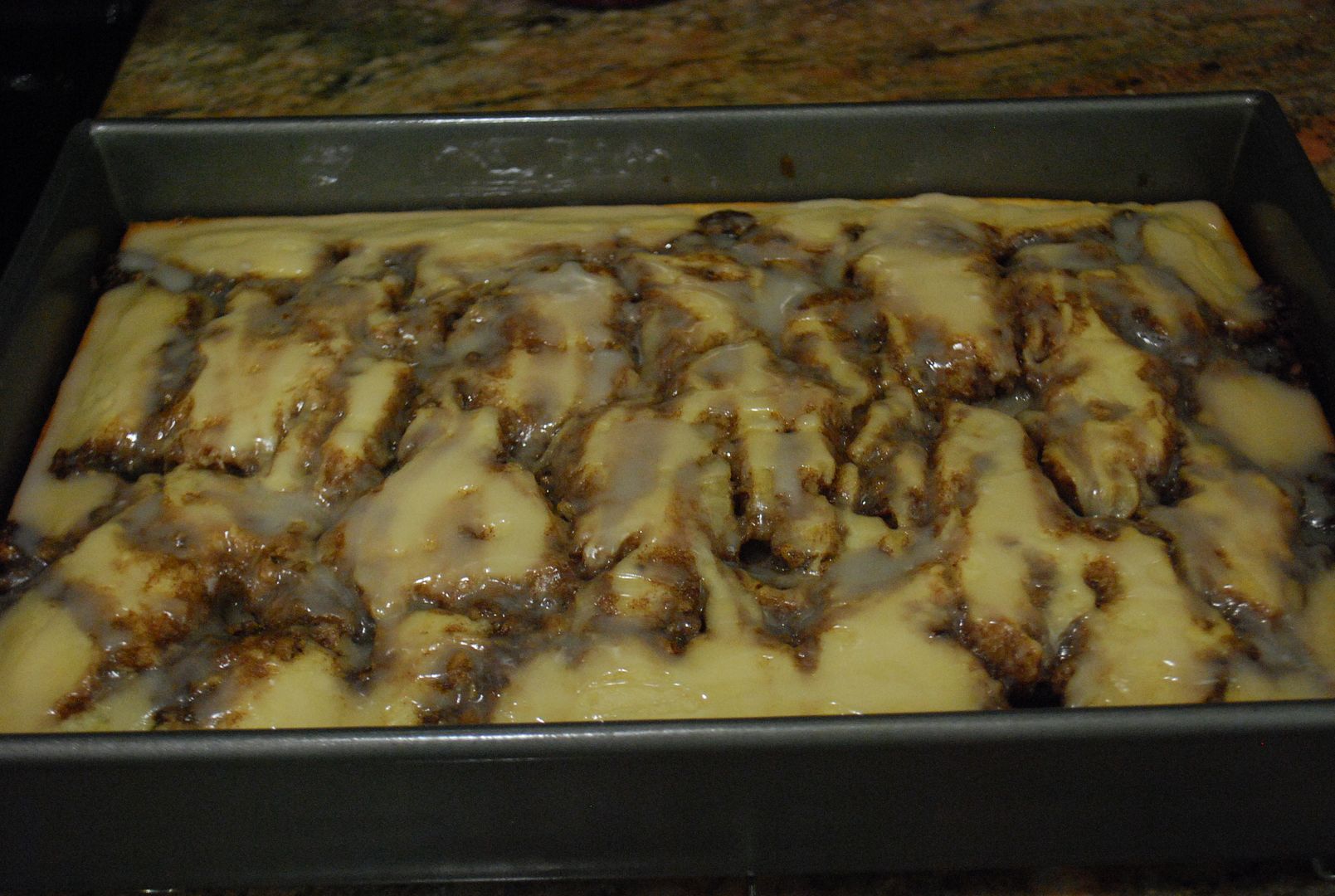 And, voila! You have a cake that smells and tastes like an ooey gooey cinnamon roll.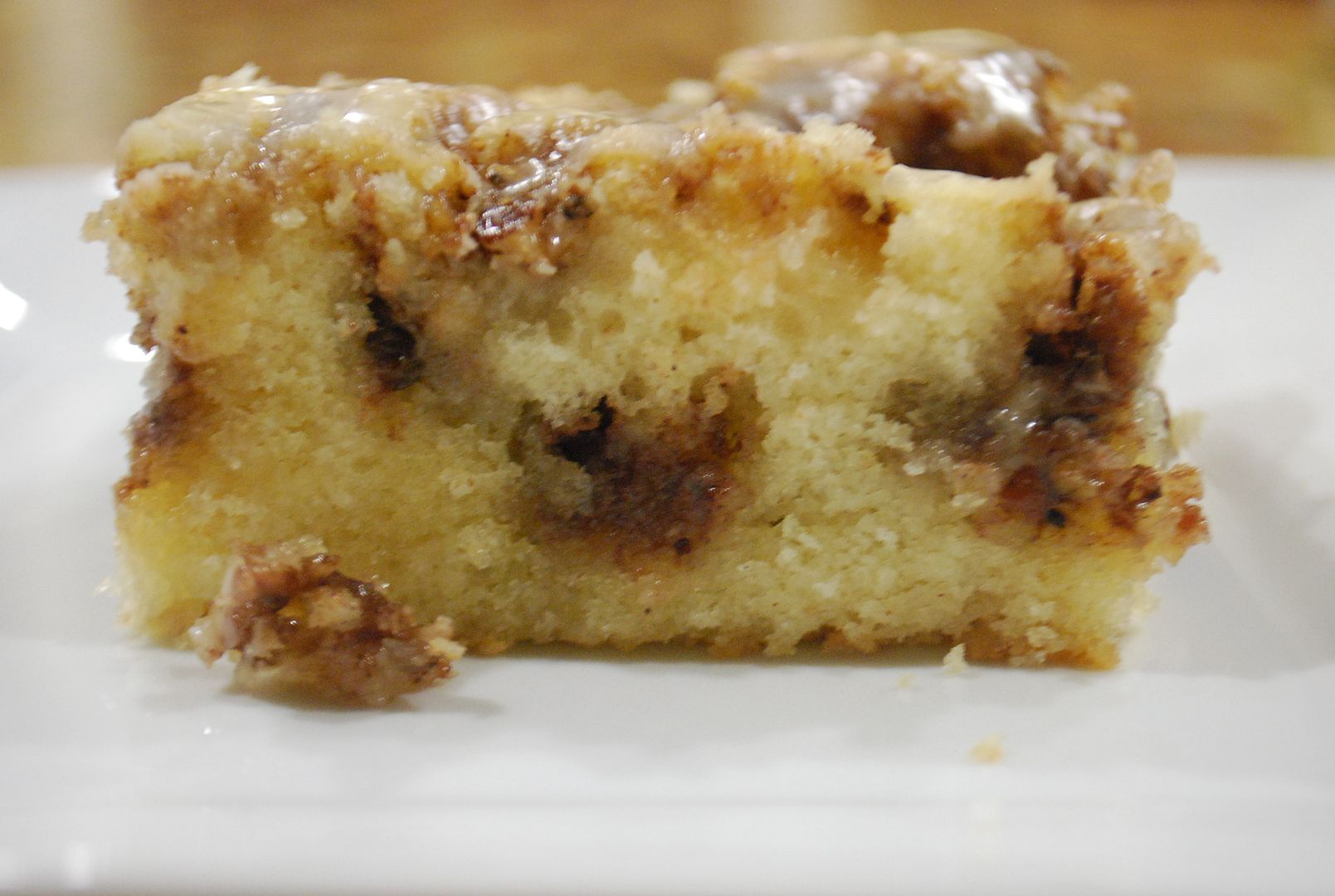 Just remember to tell your loved ones not to be alarmed if they find you slumped unconscious on the couch. It's merely your body shutting down peripheral functions in order to transform the sugar and butter into energy and you'll be fine by morning.
Cinnamon Roll Cake
Adapted from The Girl Who Ate Everything
For the Cake:
3 cups flour
1/4 teaspoon salt
1 cup sugar
4 teaspoons baking powder
1-1/2 cups milk
2 eggs
2 teaspoons vanilla
1/2 cup (1 stick) butter, melted
For the Topping:
1 cup (2 sticks) butter, softened
1 cup brown sugar (I used light brown sugar)
2 tablespoons flour
1 tablespoon ground cinnamon
3/4 cup chopped pecans (I used pecan chips)
For the Glaze:
2 cups powdered sugar
5 tablespoons milk
1 teaspoon vanilla
Preheat oven to 350 degrees.
Make the cake batter first. In a large bowl whisk together the flour, salt, sugar and baking powder. With an electric or stand mixer, add the milk, eggs and vanilla to the flour mixture and beat on medium speed until fully combined and smooth. Mix in the 1/2 cup of melted butter until combined, then pour the batter into a well greased 9-inch by 13-inch baking pan.
Make the cinnamon topping by combining the 2 sticks of softened butter, brown sugar, flour, cinnamon and pecans in a medium sized bowl until well combined. The consistency will be similar to a paste. Drop tablespoons of the mixture evenly over the cake batter. Use a knife to swirl/marble the topping mixture through the cake batter.
Bake at 350 degrees for about 25-30 minutes
(mine took 32 minutes)
or until a toothpick comes out nearly clean from the center. It may have some melted sugar on the toothpick, but not cake batter. When done, remove from the oven to a rack to cool.
Make the glaze by whisking together the powdered sugar, milk and vanilla until smooth. Drizzle over warm cake. Serve the cake warm or at room temperature.