Three years ago today I started blogging about food! I didn't even realize that today was my 3rd Blogoversary until Teena in Toronto left a "Happy Blogoversary! :)" comment on my last post. Thank you, Teena!!

I haven't been a regular food blogger of late. I've been very preoccupied with our financial situation here at home, what with the bad economy which has finally hit our area (central Arkansas) the past few months. Right now we are keeping our heads above water, but just barely.

Anyway, what better way to celebrate a momentous occasion than with a giant cookie!!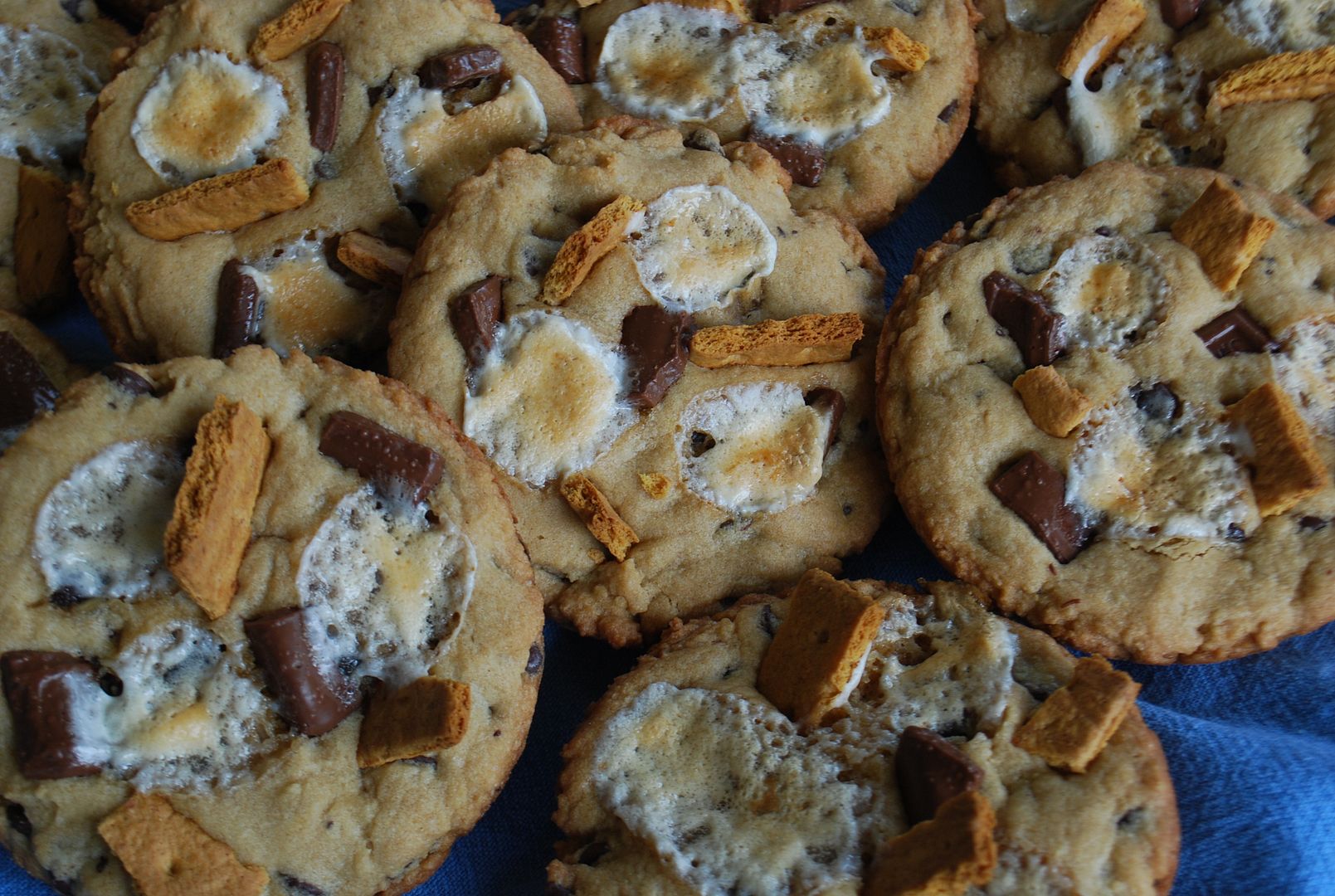 When I saw these Giant S'mores Chocolate Chip Cookies made by
Jenny @ Picky Palate
, I knew I
HAD
to make them. If you haven't ever visited Picky Palate, I encourage you to do so. That woman makes some of the most seriously decadent desserts and goodies I've ever seen! And these cookies were just as good as they look.
When I visited my oldest son and his family last March, I wanted to bake some cookies with my granddaughters, Lily and Zoey, but we were so busy enjoying playgrounds, rollerskating and having fun just being together, cookie baking was pretty low on the priority list. So since we didn't have time to bake cookies together, I sent them some of these. I think they were a hit, don't you?
If you've never used a muffin top pan to bake giant cookies, this is a great recipe for a first try. I've seen muffin top pans all over the internet, from Amazon.com to Cooking.com, but I picked mine up at our local T.J.Maxx for $5 bucks. When I made these, I wished I had purchased two. It would have made the process faster, but one worked fine even if it did take a little longer. It was worth it.
When it came to taking photos, I started with the obligatory close-up...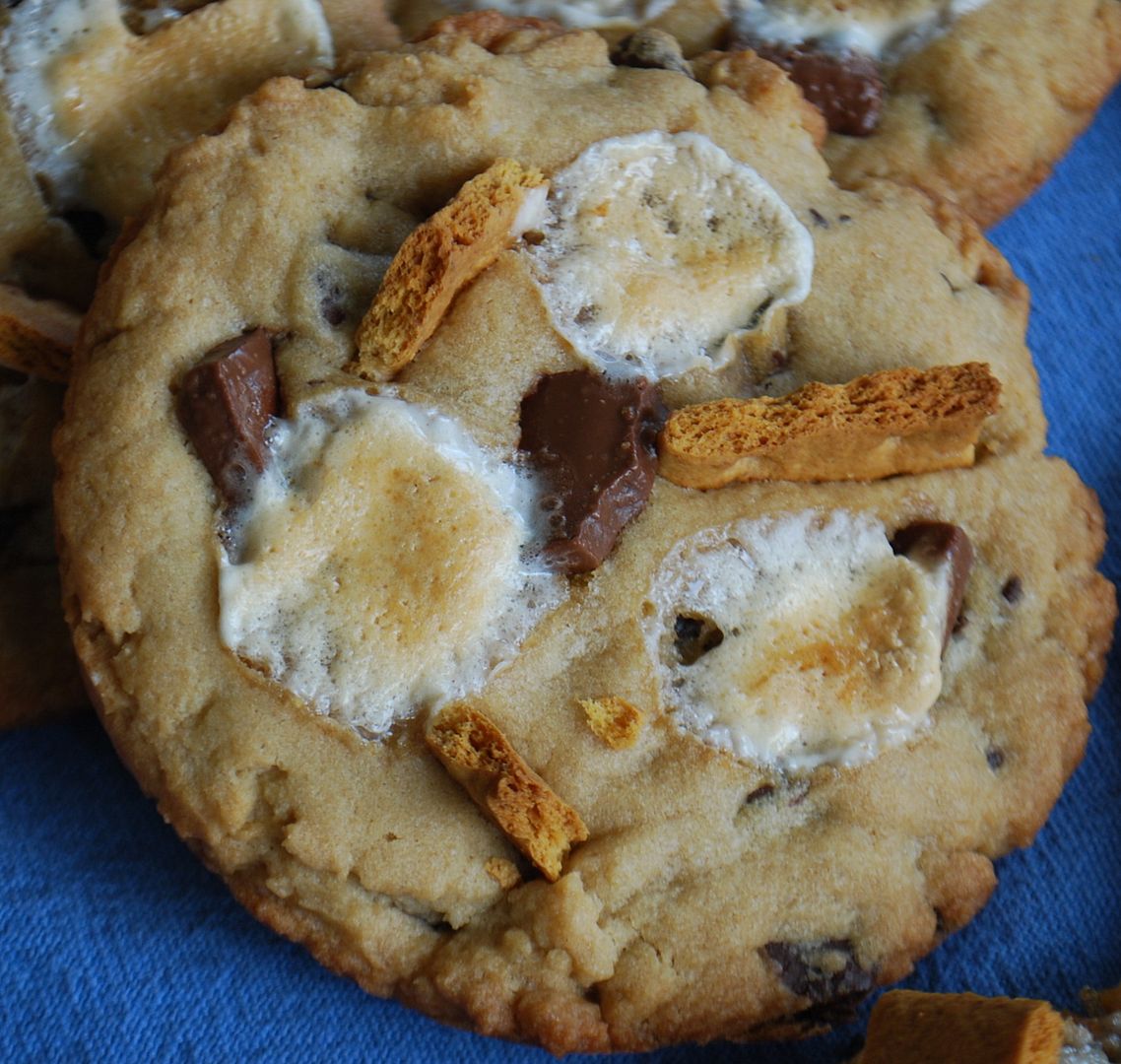 Then after dinner when we were ready for dessert, Tom suggested we have them with some ice cream (low-fat, no-sugar), so I started to plate the first one and take the photograph before the ice cream melted....
Just as I finished snapping the photo, Tom asked, "How about this?
On the counter behind me, Tom had also been plating cookies and ice cream, but in his own ever-creative manner....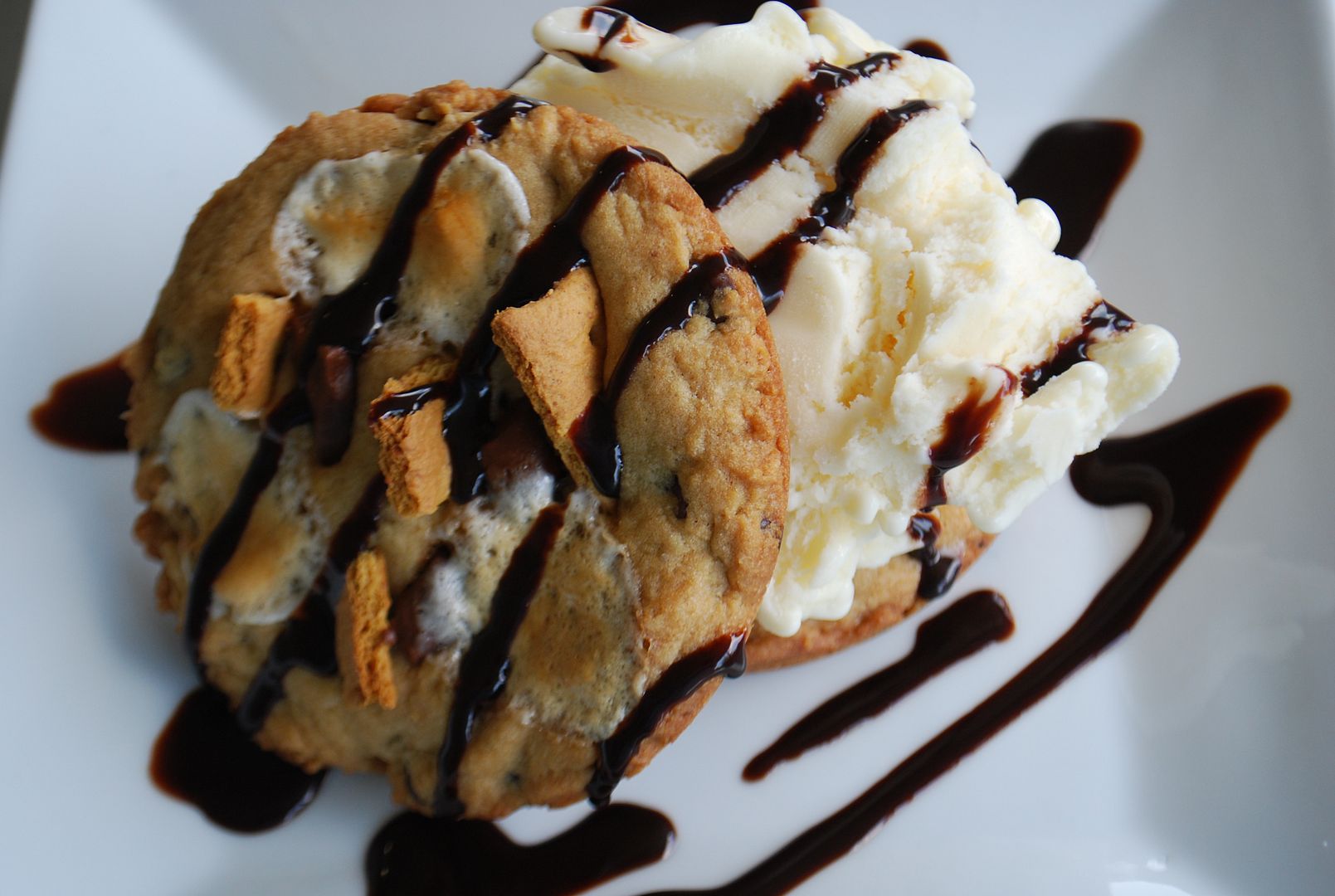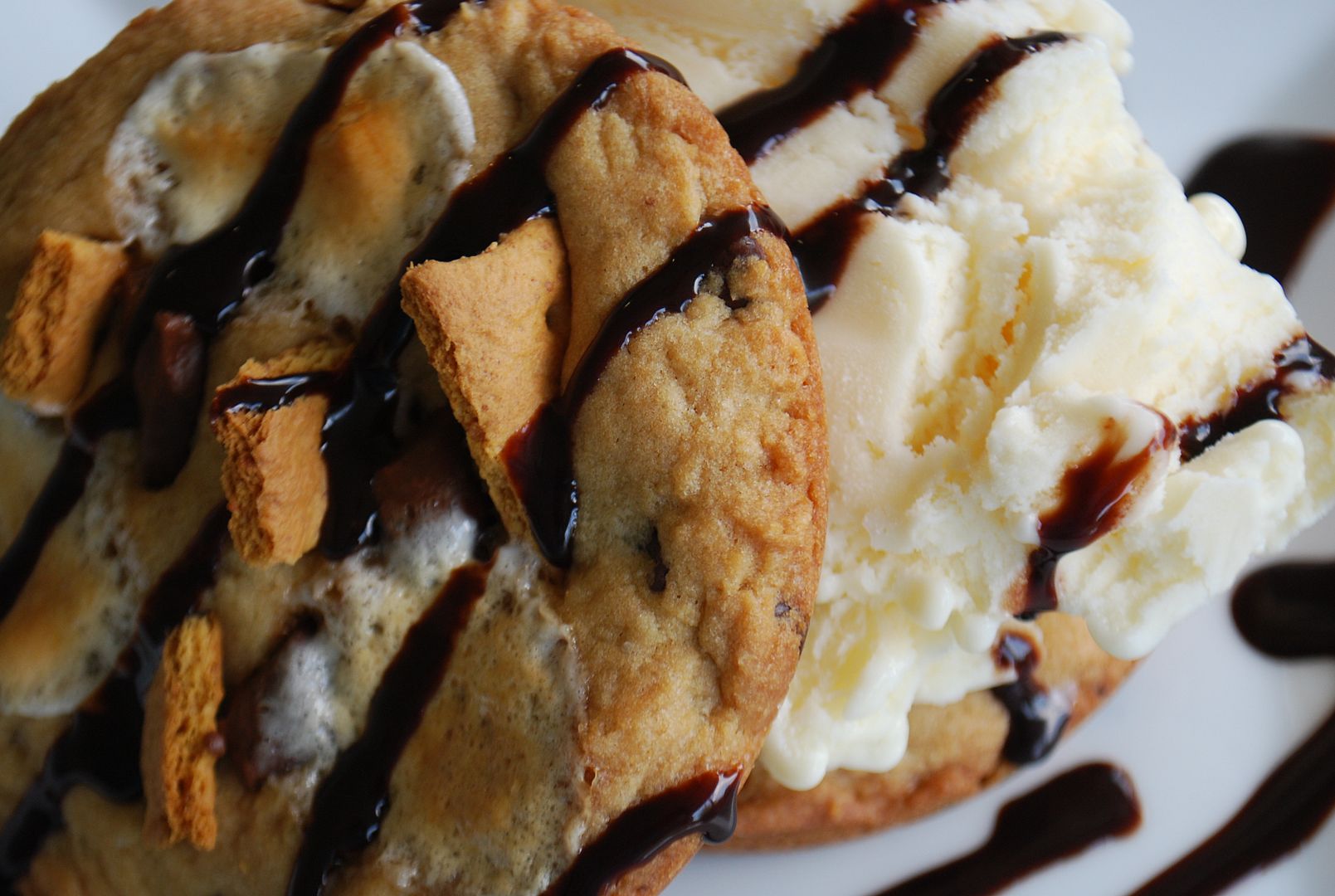 Oh, yes. His plated version included not one, but TWO cookies AND a drizzle of chocolate syrup. And his version tasted way, way better than mine. And the next day the rest of the cookies were packed in a box and sent west to California in order to save us from ourselves.
PRINT RECIPE:
Giant S'mores Chocolate Chip Cookies
Giant S'mores Chocolate Chip Cookies
Adapted from the recipe posted by Jenny @ Picky Palate
2 sticks softened butter
1 Cup packed light brown sugar
(I used dark brown and it worked fine)
3/4 Cup granulated sugar
2 large eggs
1 Tablespoon pure vanilla
4 Cups all purpose flour
1 teaspoon kosher salt
1 1/2 teaspoons baking soda
1 1/2 Cups chocolate chips
3 regular size Hershey's chocolate bars
3 whole graham crackers
5-6 large marshmallows cut into quarters
Preheat oven to 350 degrees F. Place butter and sugars into a stand or electric mixer; beat until light and fluffy. Add eggs and vanilla until well combined.
Place flour, salt and baking soda into a separate large bowl and mix the ingredients together.
With the mixer on slow speed, slowly add the dry ingredients to the wet ingredients, then add the chocolate chips. Mix until just combined.
Scoop a heaping 1/4 Cup of cookie dough into muffin top pan cups
(I used an ice cream scoop)
. Press the dough gently into the cups, then gently press chocolate bar squares, graham cracker pieces and marshmallow slices on top of cookie dough.
Bake for 11-13 minutes or until edges are just turning brown. Let cool for 5 minutes before removing from pan.
Makes 18 LARGE cookies from the muffin top pan.
**Note from Jenny: This recipe may also be done without the muffin top pan. Just flatten out your cookie dough slightly onto a parchment or silpat lined baking sheet and press your s'mores toppings over the dough**