When we were growing up in northern California, my parents had a very diverse circle of friends.

My family and our family friends would gather nearly every weekend for picnics or dinners and everyone would cook something different from their culture or background to share. Recipes would be traded like they were gold. I still have a few of the recipes my mom collected over the years, written in her handwriting on now-yellowed lined index cards.

One of my childhood favorites was Chicken Teriyaki. Harry was Japanese, single and my dad's co-worker. He grew up eating beef or chicken teriyaki made by his traditional Japanese mother. When Harry brought chicken teriyaki to one of our gatherings, my mother quickly asked him for the recipe. My mom made it many, many times over the years and never changed a smidgen of any ingredient.

But, you know me. I just can't leave well enough alone. I have tweaked Harry's mother's recipe quite a bit over the years, adding ginger, beer and sesame oil for a more dimensional flavor, but every time I eat this it reminds me of those wonderful meals with friends.

The other night, our meal consisted of Chicken Teriyaki, Baked Brown Rice (the recipe I got from Mel @ My Kitchen Cafe) and a salad made with romaine lettuce and thinly shaved carrots topped with a Japanese-style Ginger Salad Dressing.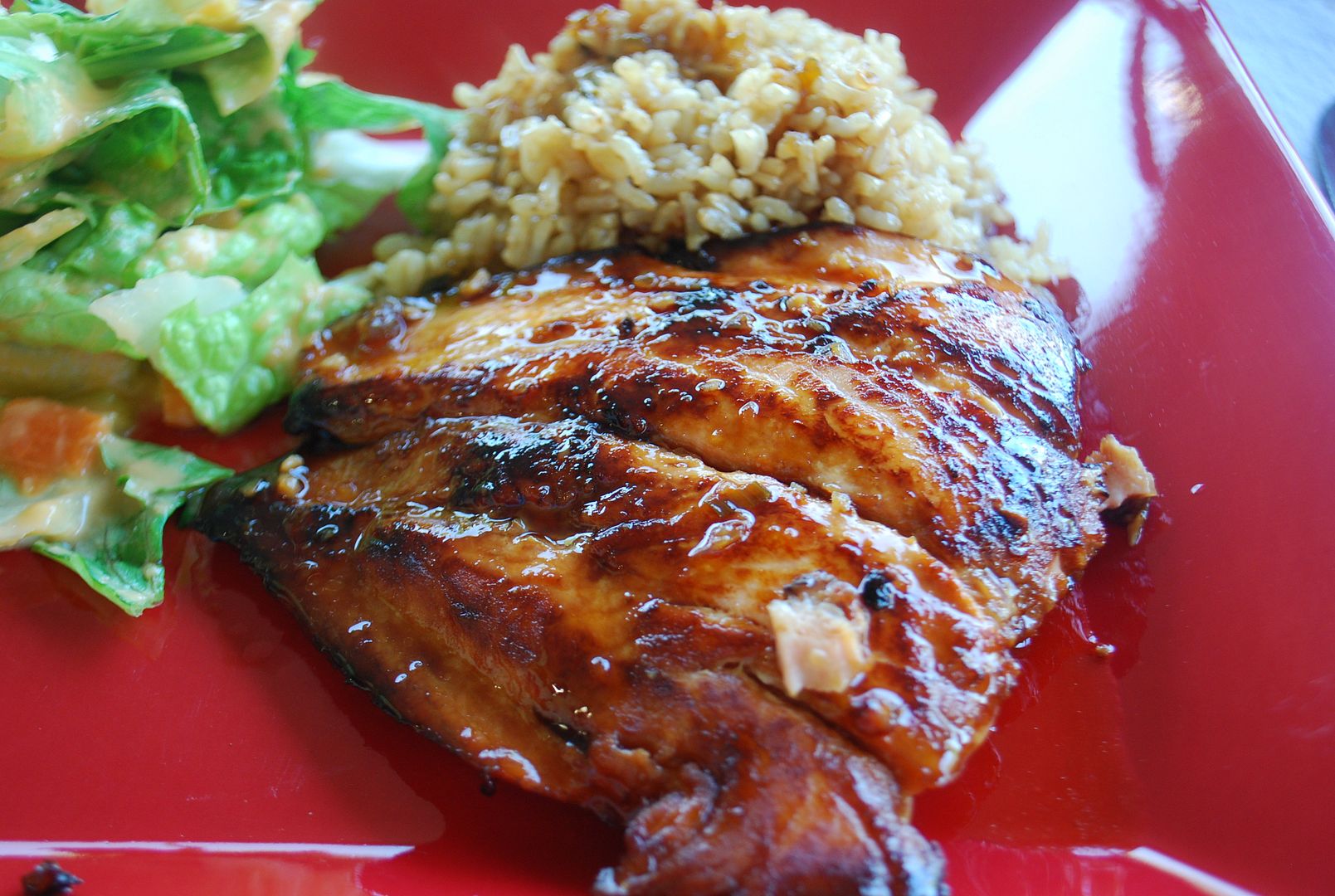 PRINT THE RECIPE:
Chicken Teriyaki
Chicken Teriyaki
2 to 3 lbs. chicken pieces (I like boneless, skinless chicken breasts, but you can use any combination of chicken pieces)
Marinade:
1 cup low sodium soy sauce
1 cup beer
1 cup white granulated sugar
1 teaspoon finely minced garlic
1 tablespoon finely grated ginger
1 tablespoon finely minced green onion
1 tablespoon sesame oil
Add all of the marinade ingredients to a small saucepan and bring to a boil. Lower the heat and simmer very gently for about 5 minutes. Turn off the heat and allow the marinade to cool to room temperature.
Place the chicken pieces in a large zip-lock type plastic bag. Pour the teriyaki marinade over the chicken. Seal the bag and refrigerate for at least one hour. The flavor is best when the chicken is marinated for several hours or overnight.
Heat your barbecue grill to a medium heat. When grill is hot, place the chicken pieces on the grill all at once, close the lid and cook on one side for 10 minutes, then turn over and cook for another 10 minutes. The chicken is done when it has reached an internal temperature of 165 degrees. Remove the chicken from the grill to a platter and cover with foil allow to rest for about 10 minutes.
Note: If you plan on using a portion of your marinade for a glaze or sauce, measure about 1-1/2 cups of the marinade into a small pan. Discard remaining marinade. Bring the marinade to a boil and simmer for at least 5 minutes to kill any bacteria. To thicken the sauce for a glaze, mix 1-1/2 tablespoons corn starch with 1-1/2 tablespoons cool water and add to simmering marinade and continue to cook until the sauce has thickened.
PRINT THE RECIPE:
Baked Brown Rice
Baked Brown Rice
Adapted from Mel @ My Kitchen Cafe
Mel's recipe called for low-sodium chicken broth and added a little salt. I just used regular chicken broth and omitted the salt.
1-1/2 cups brown rice
2-1/2 cups chicken broth
Preheat the oven to 350 degrees.
Combine the brown rice and chicken broth in a 3-quart casserole dish and cover with tight fitting lid or aluminum foil.
Bake for 1 hour and 10 minutes. Remove from the oven and let sit for 5 minutes before removing lid or foil and fluffing with a fork.
I love this salad dressing. It reminds me of the Sushi Club in Reno, Nevada, an all-you-can-eat sushi place where everything is made to order. For $20 a person, you get miso soup, a salad with this dressing and you can order as much sushi as you can eat from the menu. Unfortunately, they don't give out the recipe for their salad dressing, but I think I got it right.
PRINT THE RECIPE:
Japanese Style Ginger Salad Dressing
Japanese-Style Ginger Salad Dressing
1/4 cup onion, finely minced
1/2 cup roasted peanut oil
1/3 cup rice wine vinegar
2 tablespoons water
2 tablespoons finely grated ginger root
2 tablespoons finely minced celery
2 tablespoons catsup
4 teaspoons low-sodium soy sauce
2 teaspoons white granulated sugar
2 teaspoons fresh squeezed lemon juice
1/4 teaspoon minced garlic
1/4 teaspoon ground white pepper
1/4 cup light mayonnaise (I always use light mayo, but you can use full fat)
Put all the ingredients together in a blender and blend on high until all of the ingredients are pureed, about 30 to 40 seconds.