I had to go back and look at my last post to refresh my memory. I've been pretty distracted so I haven't posted for almost a week and I didn't even finish my 4th of July recap. Shame on me. Well, I'm going to do it now.

Sunday, July 4th was quiet. Since moving into the city limits, we are prohibited from setting off fireworks like we did in the country, so we didn't have any, nor did we have company. And we didn't go anywhere to watch fireworks because there was the threat of a storm, so we stayed home. And we ate.

We had decided ahead of time to make July 4th our hors d'œuvre dinner night: Smoked Salmon Crostini with Onion & Herb Cream Cheese Spread, Brie & Fig Crostini with Truffle Honey Drizzle and Chicken Liver & Sage Crostini. However, when we finally came to our senses, we realized that it would be far too much to eat and postponed the Chicken Liver & Sage Crostini for the following night.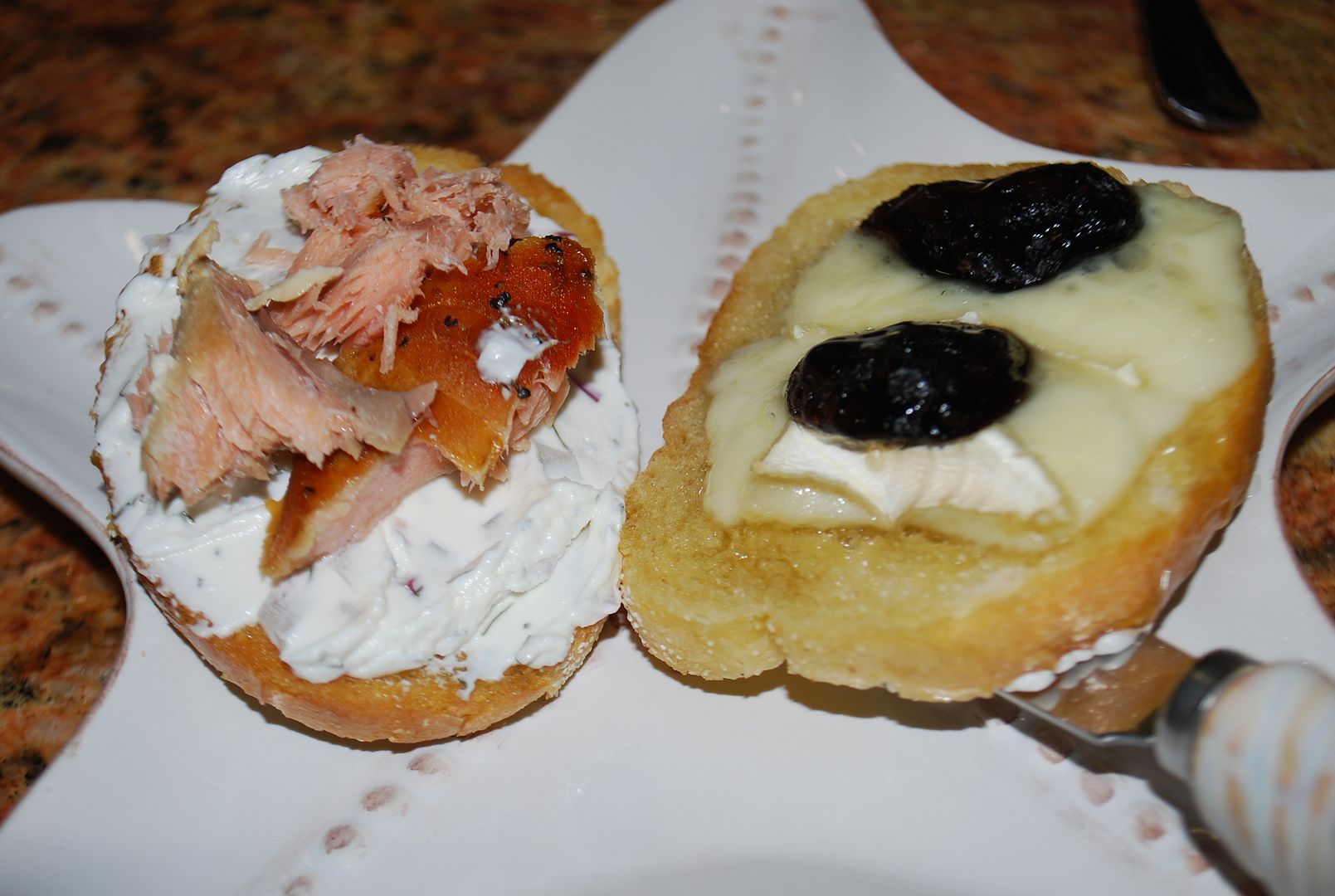 We began early in the day, smoking whole salmon fillet. This isn't my recipe. It's my son, Chris'. He made it when we visited last Christmas and it was gone in a flash!
Cedar Plank Smoked Salmon
Adapted from a recipe by Chris Powers
PRINT RECIPE:
Cedar Plank Smoked Salmon
1 untreated cedar plank (please be certain it is untreated)
1 salmon fillet (whole side) approximately 2 lbs.
2 tablespoons lemon pepper
1/4 cup or more brown sugar
Lay a large piece of plastic wrap on the counter. Lay the salmon fillet, skin side down, on the plastic wrap. Sprinkle the fillet with the lemon pepper. Starting with 1/4 cup, sprinkle the brown sugar generously over the salmon. If you need more to cover it completely, use more. Pat the brown sugar down onto the fillet. Wrap the seasoned fillet in the plastic wrap, then wrap that in foil. Refrigerate 3 to 4 hours.
While the salmon is marinating, immerse the cedar plank in water. Use a can or jar to hold the plank down. Allow the plank to soak in the water for as long as you marinate the salmon.
Remove the salmon from the refrigerator and allow to come to nearly room temperature. Remove the cedar plank from the water and remove excess water with a towel. While salmon is warming up, start your coals in your smoker and bring the temperature up to about 200 to 225 degrees. If you are using a barbecue grill without a smoker, bring it up to the same temperature, but you will not place the salmon on the direct heat. Instead you will use the shelf that sits above the main grill.
When the smoker has reached the correct temperature, brush the top side of the cedar plank with a tablespoon or so of vegetable oil. Remove the salmon fillet from the foil and plastic wrap, then place the salmon on the plank. It's ready to smoke!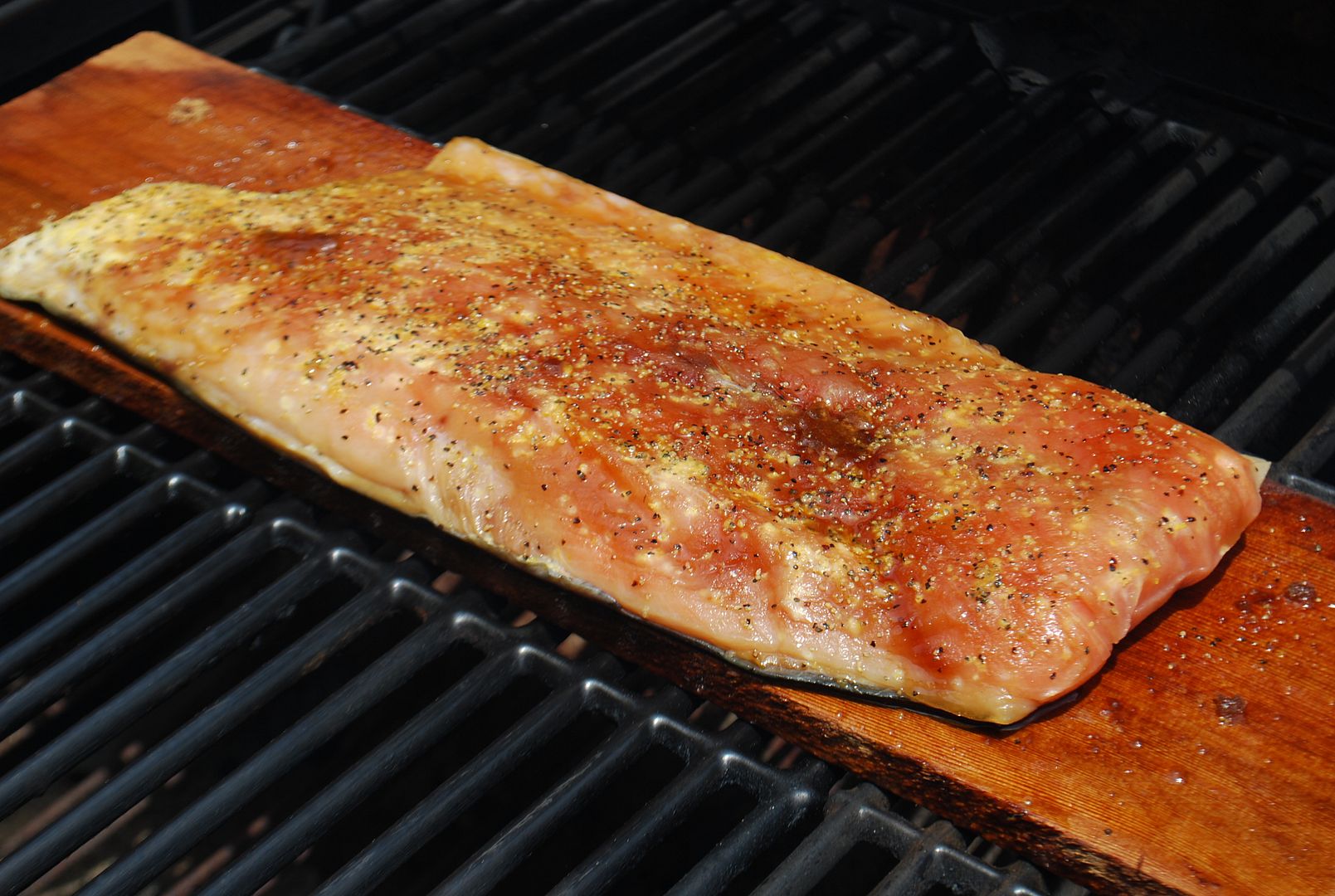 Keep the temperature between 200 to 225 degrees and allow the salmon to cook slowly for 2-1/2 to 3 hours. If using a smoker, add wood chips to the coals periodically.
After 3 hours, your salmon should be moist and flaky.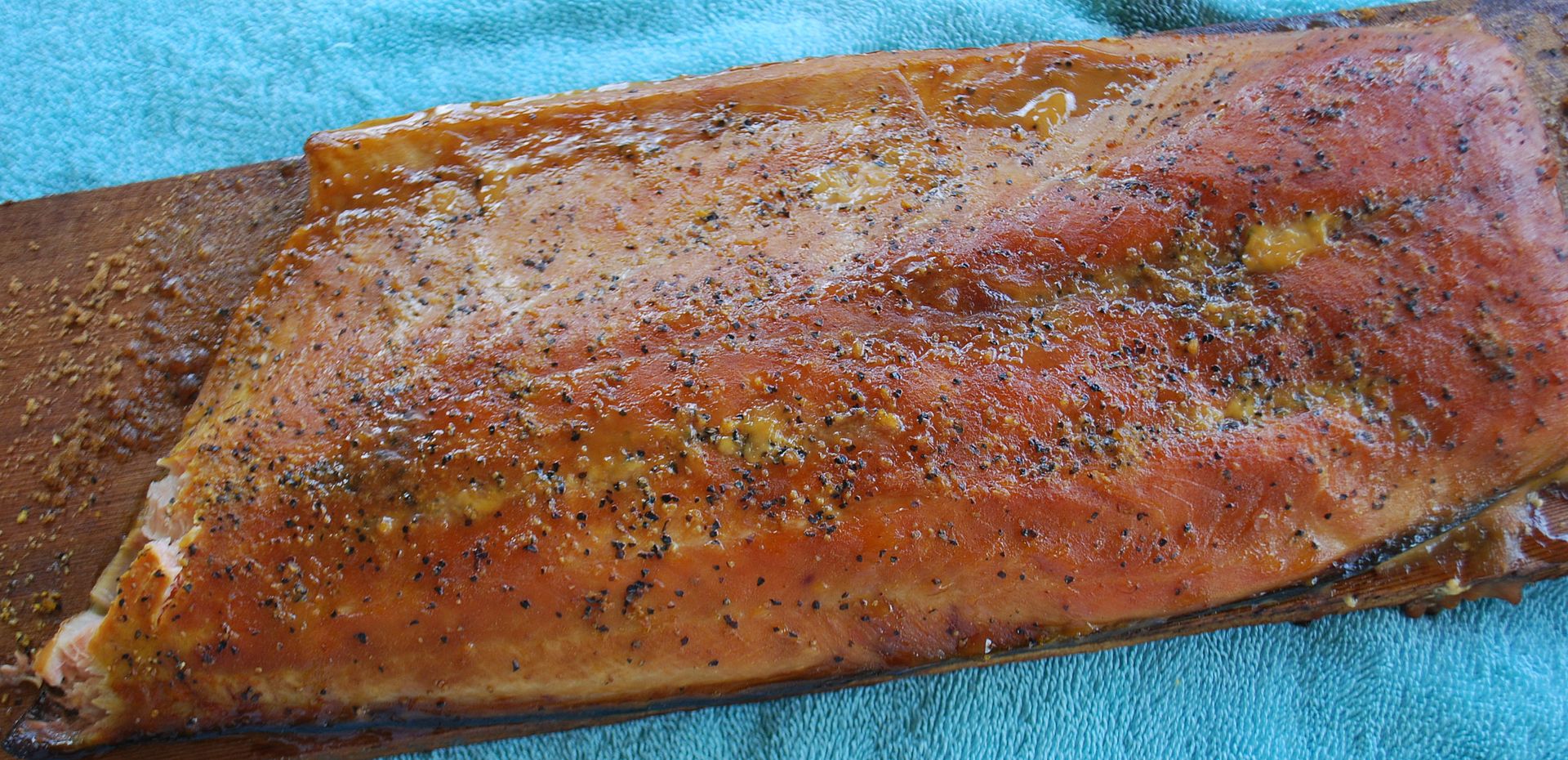 Remove the salmon from the grill and transfer from the plank to a serving platter. Discard the plank. Do not reuse.
Serve on crackers or crostini with Onion & Herb Cream Cheese Spread.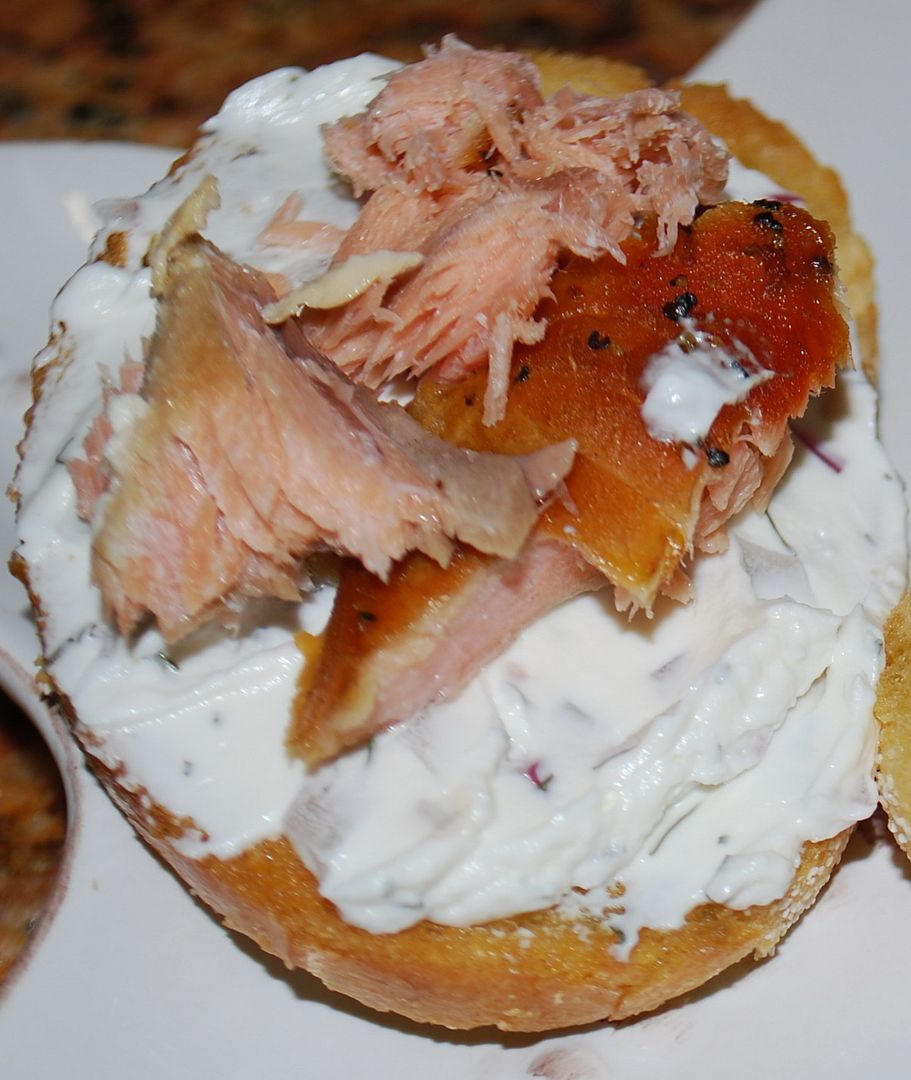 For the Onion & Herb Cream Cheese Spread, I started with my daughter-in-law, Kelly's recipe, but added a few more ingredients.
Onion & Herb Cream Cheese Spread
by Terri Powers for Terri's Table
PRINT RECIPE:
Onion & Herb Cream Cheese Spread
1 - 8 oz package of cream cheese (I use low-fat)
1/2 cup sour cream (also low-fat)
1/2 of a medium red onion, minced
2 tablespoons minced chives
1 tablespoon Italian flat leaf parsley, minced
Mix all the ingredients together in a small bowl until smooth and completely combined. Cover and refrigerate until ready to use.