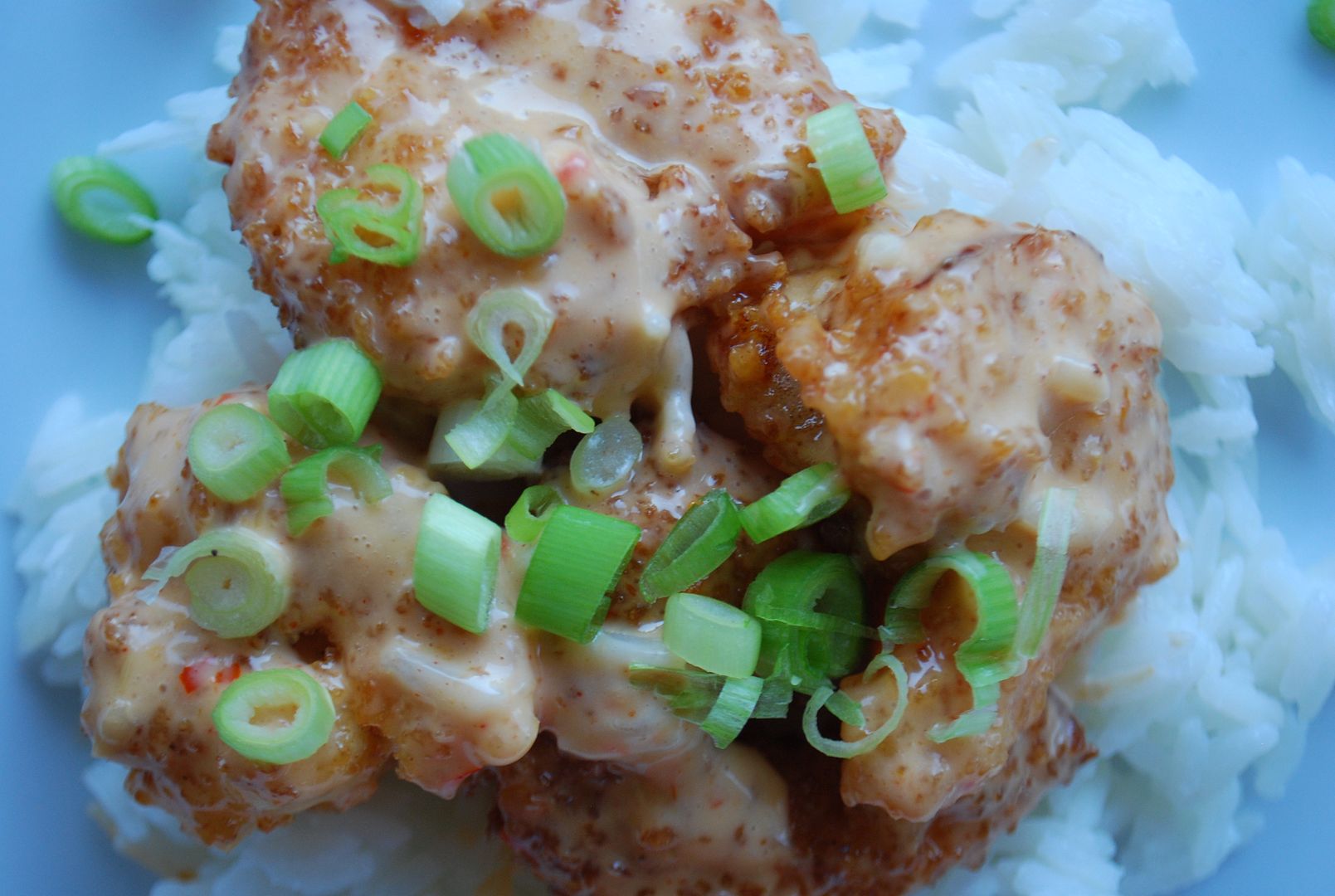 In the spirit of full disclosure, I've never been to Bonefish Grill, which is apparently where this recipe originated.
I've seen the restaurant many times because it is across the parking lot from Fresh Market, my favorite grocery store/butcher/deli
(if they ever opened one in Conway, I'd never shop at Kroger or WalMart again)
. But I make my trips to Little Rock in the morning. I like to get my grocery shopping out of the way early and, sadly, Bonefish Grill isn't open at 8:30am.
Many people I know have extolled the virtues of "Bang Bang Shrimp," so when I Googled the name, I got back a list of recipes. Some of them recommended using
Dinni's Spicy Shrimp Sauce
, while other recipes listed ingredients for the sauce. At five bucks a bottle plus shipping, I wasn't about to purchase the sauce when I could make it myself with what I have in the refrigerator: mayo, sriracha and Thai sweet chili sauce.
Of course, all the measurements for the ingredients in the sauce were different in each recipe, and since I didn't have any preconceived idea about what it should taste like because I'd never tasted the dish, I pretty much just measured to suit my own taste.
I don't know if this tastes exactly like Bonefish Grill's Bang Bang Shrimp, but it was delicious. Instead of serving it over cabbage as an appetizer, I served it as an entree for dinner with some Coconut Rice. It was really good and left us wanting more. The sauce was sweet and spicy, the shrimp was crispy on the outside and succulent on the inside. I may even make it again...as an appetizer...this weekend.
I cook a lot, probably 28 out of 30 days a month, so (as I'm sure I've mentioned before) I buy a lot of my products online in larger sizes. I've only seen a couple of brands of Sriracha sauce, but
this one
appears to be the most prevalent. I purchase
Mae Ploy Thai sweet chili sauce here
in the 32-ounce size. When I first purchased this brand a year ago, I had a little bit left of a bottle of another brand and when I tasted them both, I threw the other bottle away. Mae Ploy chili sauce tastes like fresh ingredients. The other brand I purchased in a much smaller bottle at Kroger tasted like spicy paste in comparison. And there you have an unsolicited testimonial.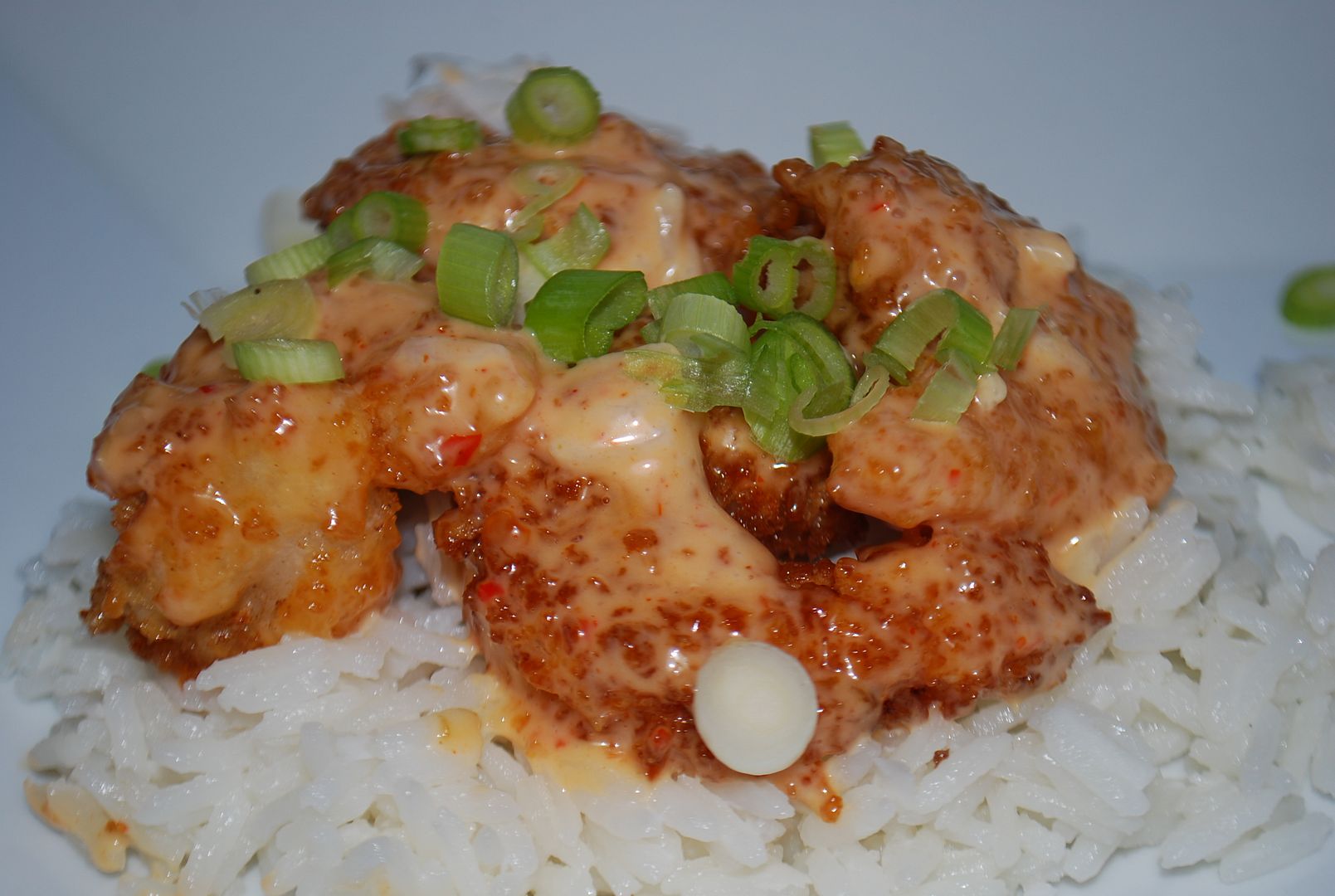 My Bang Bang Shrimp
18 medium sized shrimp, peeled and deveined
3/4 cup mayonnaise
3 tablespoons Thai sweet chili sauce
1 tablespoon Sriracha (or more, according to your taste)
1 tablespoon rice vinegar
Enough milk to cover the shrimp (I used 2%)
1-1/4 cups Panko bread crumbs
1/2 cup corn starch
oil for frying
green onions, sliced for garnish
shredded cabbage for serving
Put the peeled shrimp in a bowl and add enough milk to cover. Set aside and allow to soak while making the sauce.
In a small bowl, combine the mayonnaise, Thai sweet chili sauce, Sriracha and rice vinegar. Whisk until completely combined and set aside.
Preheat oven to 200°.
Measure the Panko bread crumbs and corn starch on to two separate plates or in two shallow bowls.
In a medium sized skillet, add about an inch of canola, peanut or vegetable oil, enough to cover the shrimp when frying and bring the oil to about 325°.
Remove a shrimp from the milk, dredge it in the cornstarch, then back into the milk, then dredge in the Panko bread crumbs. Set aside on a plate until you have 4 or 5, then add them to the hot oil. Fry until golden brown, about 2-1/2 to 3 minutes. Remove from the hot oil and place on paper towels on a heat proof dish to drain. Keep warm in the oven. Repeat with remaining shrimp.
When all of the shrimp are cooked, transfer to a large bowl, add the sauce and toss gently until all of the shrimp are evenly coated. Serve on top of a mound of cabbage (or rice, as I did) and sprinkle with sliced green onions.