Okay, this is the third time I've started this post. I guess I am a little disoriented because I keep hitting the wrong keys. I have mistakenly closed this post twice and closed my browser altogether once.

So, yes, we are back early. I will not belabor our reasons for returning, other than to say, Tent + Cold + Rain + Illness + Endless Driving = Miserable. The next time I visit, I will not camp. I will rent a travel trailer or stay at one of the resorts in Yellowstone. I will visit again. The Rockies are simply breathtaking. This is just a sample of the beauty that surrounded us, taken last Thursday at dusk from the shore of Jackson Lake a few steps from our camp site...




You will notice the clouds. It rained that night. Luckily it wasn't a torrential rain. Thunderstorms and heavy rains were expected Saturday and Sunday. We left Saturday morning as the clouds began to form and we pulled into our driveway on Sunday night about 9:00pm, a 24-hour drive over two days. Whew!

On Monday afternoon, I sat down to the computer and checked my Google reader. Aw, shucks, ONLY 410 entries! But one post stood out. A simple recipe posted by Karen @ Karen Cooks for homemade ricotta cheese. It only required 3 ingredients and it looked so darn simple, I had to try it.

I put 8 cups of whole milk (1/2 gallon) and 1 teaspoon of kosher salt in large pot and brought it to a simmer over medium high heat.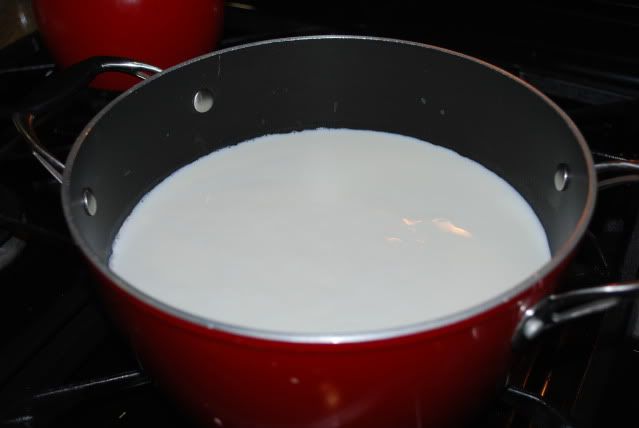 When the milk started to simmer, I stirred in 3 Tablespoons of fresh squeezed lemon juice and turned off the heat. You can just barely see the curds beginning to form.




I had lined a colander with four layers of cheesecloth and after about 5 minutes, I started scooping the curds out with a slotted spoon (with small holes) into the lined colander over a large bowl and allowed the curds to drain for about 10 minutes.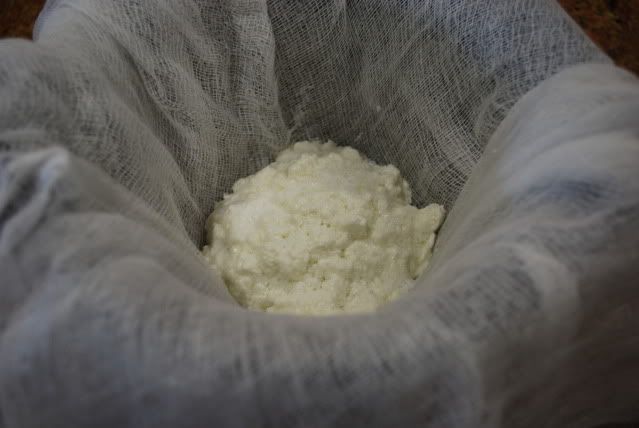 The recipe yielded about 1-1/2 cups of fresh ricotta cheese, but I had a pot full of whey and I just couldn't throw it away! So I ran to the computer to get some ideas on how to use this stuff.

Now let me say here that I think I did something wrong with the first batch I made because the whey was not clear. It looked almost like regular milk. I don't think I let the milk get hot enough.

Anyway, I found this article about making Ricotta Cheese from the whey of other cheeses. I have to admit that I only skimmed the article before I decided to make more Ricotta from the Ricotta whey. Had I read the article completely, I would have seen the part that said, "PLEASE NOTE that you cannot make Ricotta from the whey left over from making an acid precipitated cheese such as Panir/Queso Blanco or whole milk Ricotta. That is because you've already precipitated out all the albumin protein the milk has to give using acid and heat and there is nothing left over in the remaining whey to make whey Ricotta. Since the Ricotta I made is "whole milk Ricotta," I should not have been able to make more Ricotta from the whey. That's why I think I did not make it properly the first time.

So here's what I did. I lined the colander with fresh cheesecloth and placed it over a large bowl. I put the whey on the stove and brought it to 200° (I just used a digital thermometer). When it reached 200°, I stirred in 1 Tablespoon of distilled white vinegar. It immediately formed curds...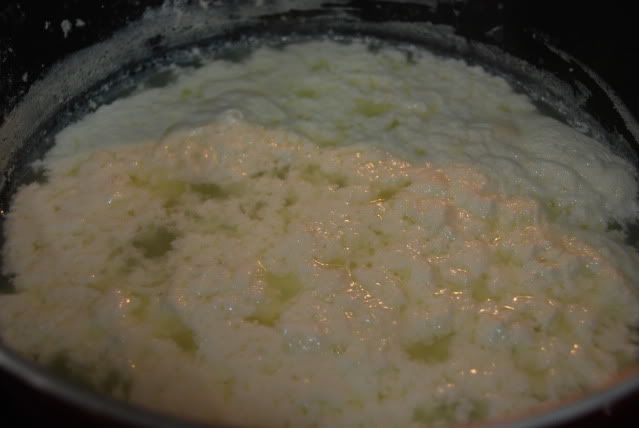 I poured the curds and whey into the colander and lifted the colander out of the bowl over another large bowl to allow the cheese to drain. It was just like the first batch. Rich, creamy and very tasty. You can't tell them apart.




I was fearful that the vinegar would give the cheese a different flavor. It didn't. They both taste the same.

I wasn't planning anything specific to prepare with my fresh Ricotta, so today for lunch we had sliced french bread (drizzled with olive oil and baked in the oven for about 10 minutes) slathered with fresh Ricotta and topped with fresh basil and chopped tomatoes (drizzled with a little olive oil and balsamic vinegar, and sprinkled with salt and pepper). Heaven.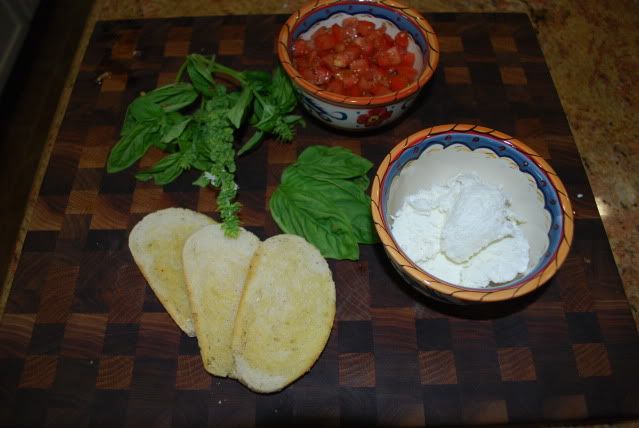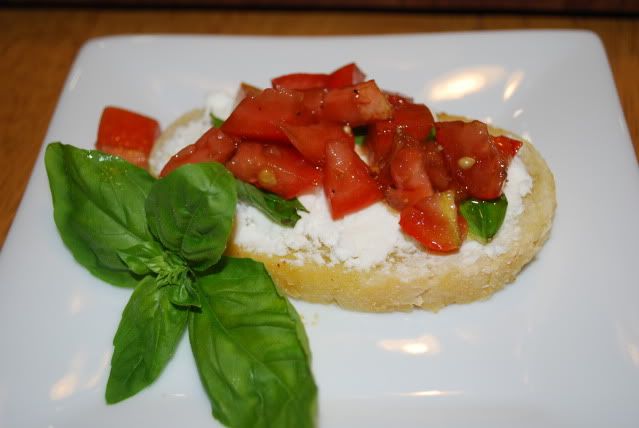 Tomorrow night's dinner will be Chicken Breasts Stuffed with Ricotta and Basil.