Since we got back from Yellowstone, we've been cooking up a storm.

The ricotta cheese I made last week was delicious and I will make it again next week after we return from Memphis.

We used a little of my first batch for our little bruschetta appetizers, but we had about 1-1/2 to 2 cups left so Tom decided to stuff a chicken breast.

I've been buying boneless, skinless chicken breasts in bulk, vacuum sealing and freezing them. I used to buy large bags of pre-frozen breasts and break them down into serving size portions. The large bags contained 10 pounds of chicken breasts and you couldn't tell one from another. They were all just about the same size. Lately, though, I have been buying packages of fresh boneless, skinless chicken breasts in the "family packs" and it's turned out to be a much better deal for us. Some of the breasts in the packages are so big, we can use one to serve both of us, so I generally vacuum pack them one per package. One of those chicken breasts was all we needed for Tom to prepare the Ricotta & Basil Stuffed Chicken Breast.




Tom really doesn't use a recipe for this dish. He just adds what he likes. Sometimes he uses basil, particularly when it's fresh from our garden, and sometimes he uses sage. Both are delicious.

Here's what he did:

He first preheated the oven to 350 degrees.


He sprayed a shallow baking dish with cooking spray, then poured about 3/4 cup of white wine in the bottom and added about 2 Tablespoons butter, then set it aside.


In a small bowl he mixed the remaining 1-1/2 to 2 cups of ricotta cheese with a handful of chopped basil, some minced garlic, salt, pepper, about a 1/4 cup of parmesan cheese.


He used a knife to cut a large pocket in the chicken breast, making sure not to cut through to the outside.


He then stuffed the pocket with the ricotta mixture until the pocket was almost overflowing (some stuffing will be leftover). When he finished, he tied the breast with string to keep it closed and to achieve a uniform size for even cooking. (NOTE: Tom said next time he will butterfly the breast, spread the mixture across the meat, then roll it and secure with string).


Tom heated a couple of tablespoons of oil in a frying pan and quickly seared the chicken on all sides; then he placed the chicken breast in the baking dish.


He laid whole basil leaves over the top of the chicken breast; then pressed the rest of the ricotta filling on top of the basil leaves; then sprinkled with a little more parmesan cheese.



The chicken goes into the oven for about 30 minutes, longer if the breast are large (to an internal temperature of 165 degrees). Serve the pan juices as a sauce on the side.
The basil and ricotta mixture fell off the chicken while baking, so Tom just served it on the side. It was mighty tasty anyway.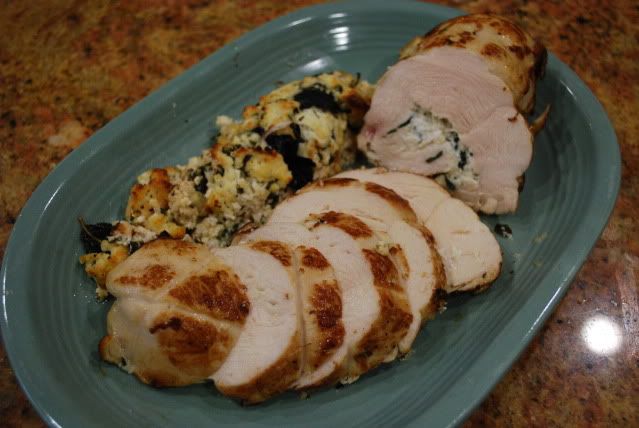 The pasta I served with the chicken couldn't be more simple or delicious. I just put a couple of tablespoons of olive oil and a couple of tablespoons of butter in a frying pan; add about a tablespoon of garlic and cook it on medium until it is translucent. Then I add a lot of chopped fresh basil, maybe two good handfuls, and a cup of white wine and reduce to about half, then add salt and pepper to taste and a nice pinch of crushed red pepper for a little heat. Add about a half a pound of cooked angel hair pasta, mix well and serve.
Fresh ricotta, fresh basil, juicy chicken, a little wine...what could be better?