June in Arkansas has been unseasonably hot. My plants are suffering and when we returned early from our vacation, we had some serious casualties.

My squash plants did not survive...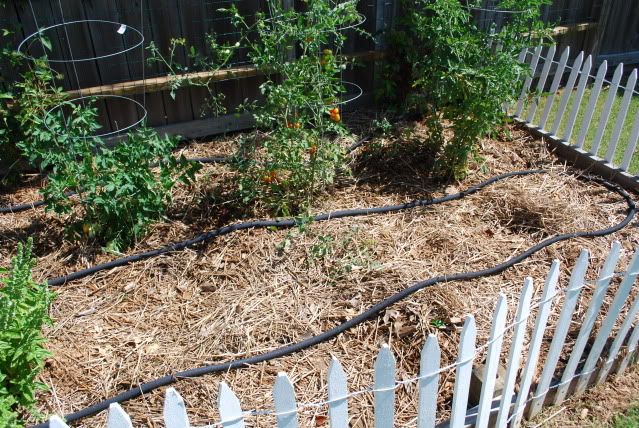 Maybe in the fall I'll plant something else in their place. Right now it is too hot to plant anything.

I had to rip out what was left of my 2 year old thyme and my oregano is looking at me with soulful eyes, pleading with me to save it. It's just pitiful...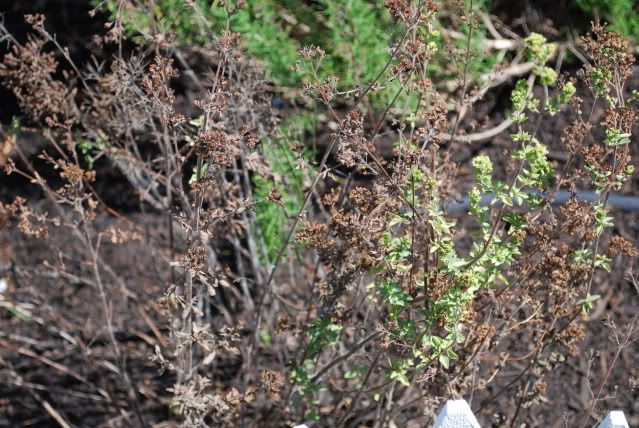 And, yesterday, I ripped out the nasturtium. It was just barely holding on...




What's left? Chives, Italian parsley, basil and Texas tarragon are all doing well.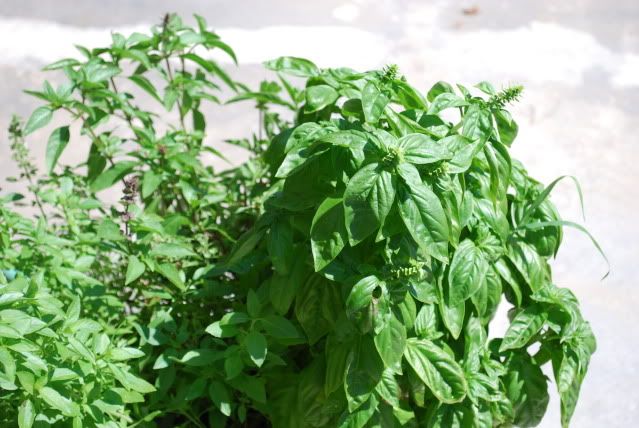 The rosemary is showing signs of distress, but surviving.




I've picked a few roma tomatoes and some of these grape tomatoes...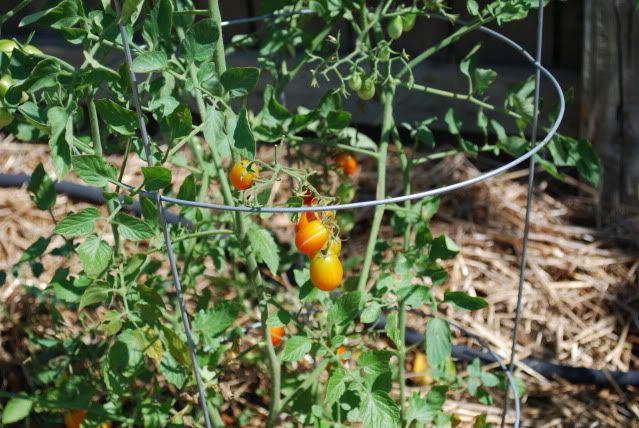 But my heirloom tomatoes refuse to blossom. I have no idea why, but we are taking some desperate measures. I decided to take the no-dig organic garden approach.

We bought 4 soaker hoses and 4 yards of compost and Tom has laid about 3 yards of the compost in the garden, around the blackberries and under the roses. We left last year's straw in the herb/vegetable garden and put the compost right on top of it. Every bed has at least 3 to 4 inches of compost on top and a soaker hose buried underneath it. The rest of the compost is in a pile in the back of the yard waiting to be fortified with more organic material that we add from the kitchen and the yard, and a couple of bags of rotted manure. I refuse to use chemicals!

Even the blackberries are showing signs of stress, some of it caused by some damage to the canes when a large branch of our neighbors tree broke off during a storm and fell over the fence onto blackberry plants. But, the intense early heat and lack of water hasn't helped either.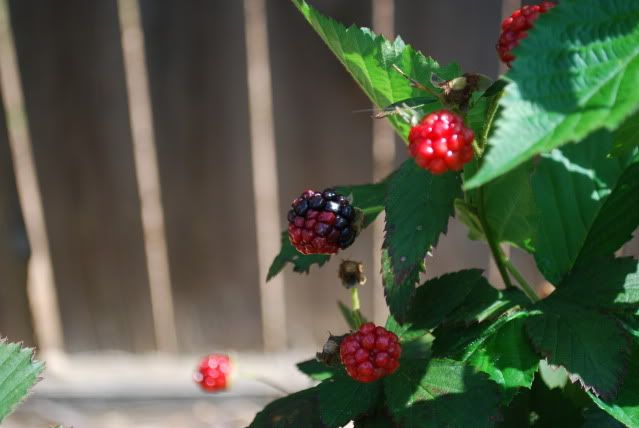 But, Tom was able to salvage enough to make a Blackberry Cobbler.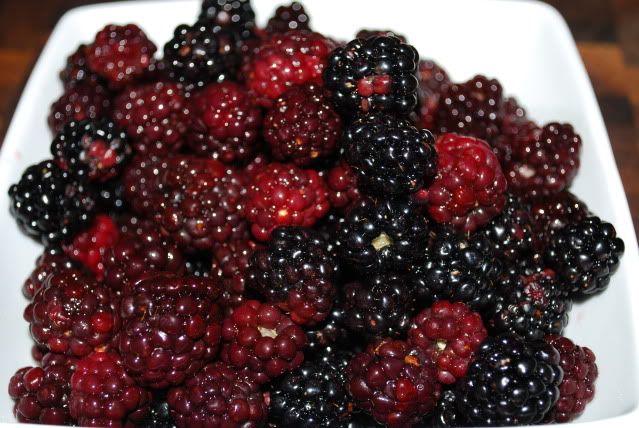 As you have probably guessed by now, I'm not really a baker. Sure, I make cookies, bars, an occasional cake (usually from a cake mix) and a pretty good apple pie, but I really don't bake like some of you out in the blogosphere. I'm getting more adventurous though and baked these sweet potato rolls for last Thanksgiving and made scones for the first time when I saw these.

Consequently, I don't have a cache of recipes for cobblers and, once again, had to go searching. I decided on a recipe from the Betty Crocker website. But, I can't help myself, I did tweak it a little bit. Although the original recipe called for only 2-1/2 cups of blackberries, I had 4 cups and wanted to use all of them, however I did not increase the amount of batter. Oh, yeah, and I also added lemon juice to the blackberries. Following is the recipe with my changes. If you'd like to see the original recipe, just click on the "Betty Crocker website" link above.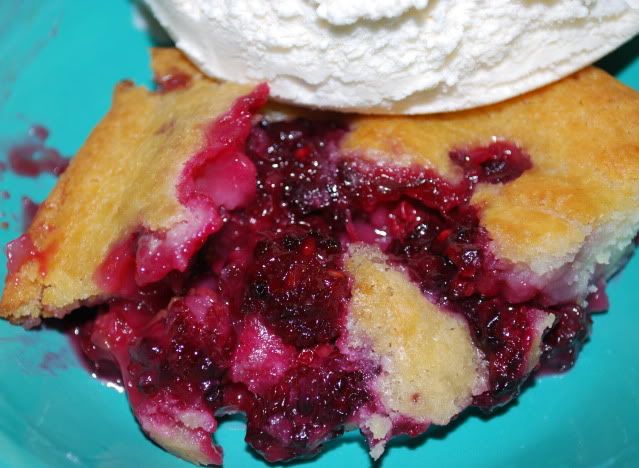 Blackberry Cobbler
adapted from a recipe from BettyCrocker.com
4 cups fresh or frozen (thawed and drained) blackberries
1-1/2 cups sugar
juice of 1/2 lemon
1 cup all-purpose flour
2 teaspoons baking powder
1/2 teaspoon salt
1 cup milk
1/2 cup butter, melted
In a medium bowl, stir together blackberries, sugar and lemon juice. Let stand for about 20 minutes or until fruit syrup forms. Heat oven to 375°F.
In a large bowl, stir together flour, baking powder, salt and milk. Stir in melted butter until blended. Spread in ungreased 8-inch square pan. Spoon blackberry mixture over batter.
Bake 45 to 55 minutes or until dough rises and is golden. Serve with ice cream or cream.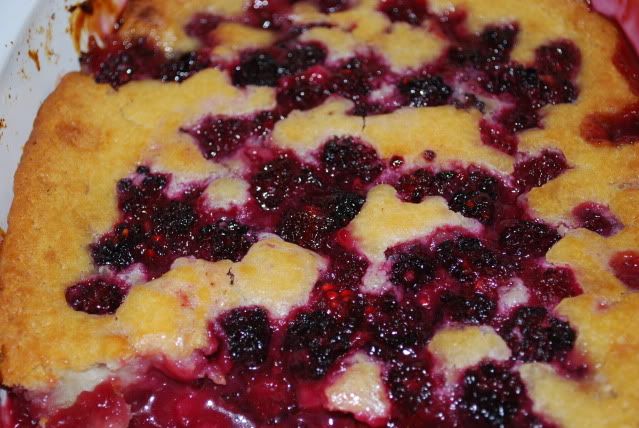 And the
Little Teaser
? Well, I got so excited when I was able to make that wonderful ricotta cheese, I thought I'd try my hand at some others...
Stay tuned!