Marx Foods is giving away morels!

The last contest I entered at Marx Foods, I didn't win :( and I really wanted these babies...



It is the Ritrovo Artisan Salt Collection. I didn't win them, so I bought them! They are wonderful!

Now, they have a new contest and they are giving away 2 pounds of morels. Can you even imagine what you can do with those? Sauteed in a little butter with a little salt and some fresh ground pepper and finish them off with a little sprinkle of Truffle & Salt from my salt collection, or a little white truffle oil. Pile on a little toasted crostini. Mmmmmm.

All you have to do is leave a comment. I've already left my comment, so I'm probably going to win. But, just in case I don't, why don't you give it try?

You can enter here: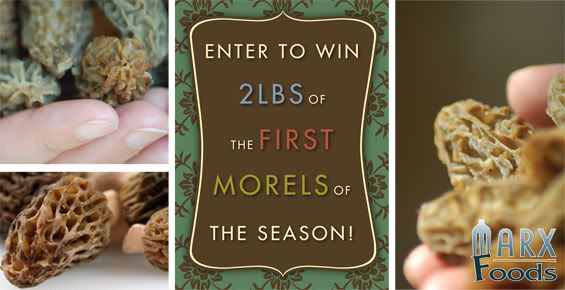 Good Luck!! (and, no, they are not paying me to advertise - I just really love their products).