I'm tired today after being up in the middle of the night cleaning up after an exploded wine bottle (see this post for a complete explanation).

But, I'm here on Wednesday, albeit a little later than usual, to show you what's outside my kitchen window and to actually share some food stuff ~ oh, how long has it been? Since April? Inexcusable.

Let's start with the view. The pond is coming along nicely. The one water lily has come and gone, but the rest of the plants are starting to bloom extremely well...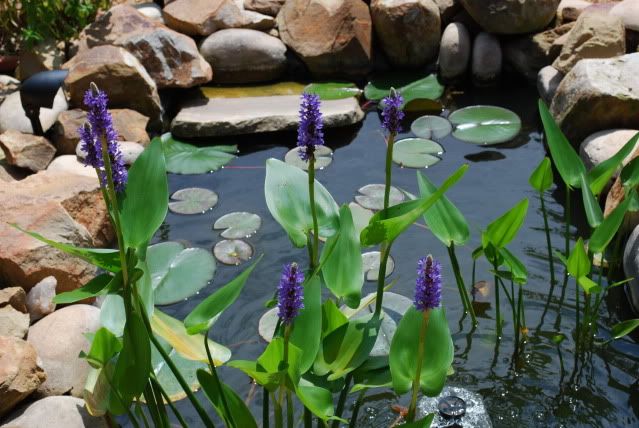 My goldfish survived the winter and are fat and sassy this year...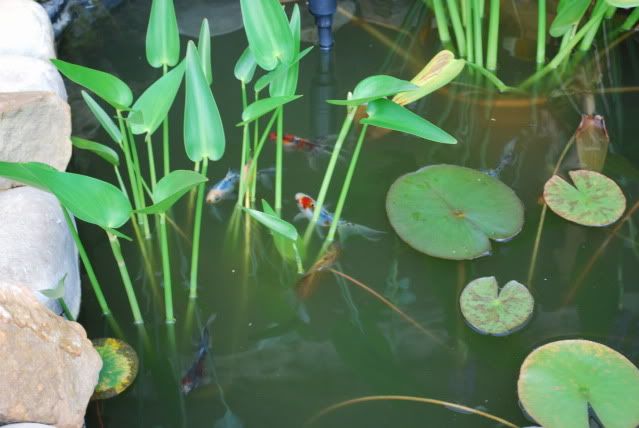 Tom's blackberries are showing signs of changing color. Another month and they will be ready to use in a nice cobbler...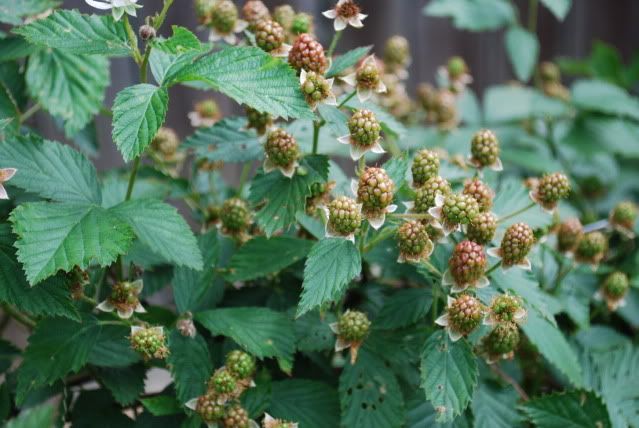 The squash are doing okay. They have lots of leaves and flowers, but the squash that set just shriveled up because of all the rain. I think it has rained every day for nearly a month, but I could be slightly exaggerating.
I am hoping these babies grow into big, or just bigger, zucchini...
And, it looks like my basil is winning the battle of the bugs. It still has a few holes, but it refuses to be intimidated and give in to the chomping...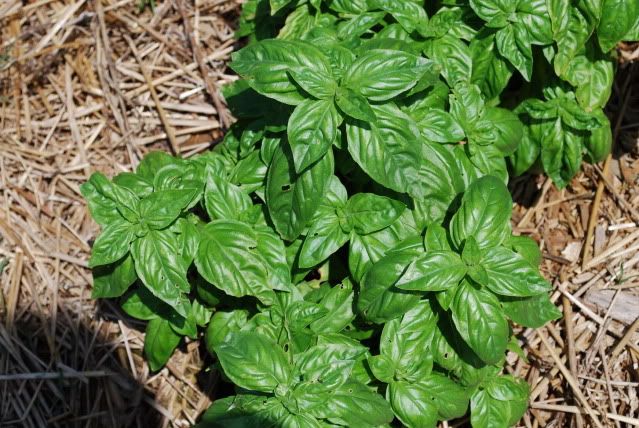 I finally have a few daylillies with more ready to bloom...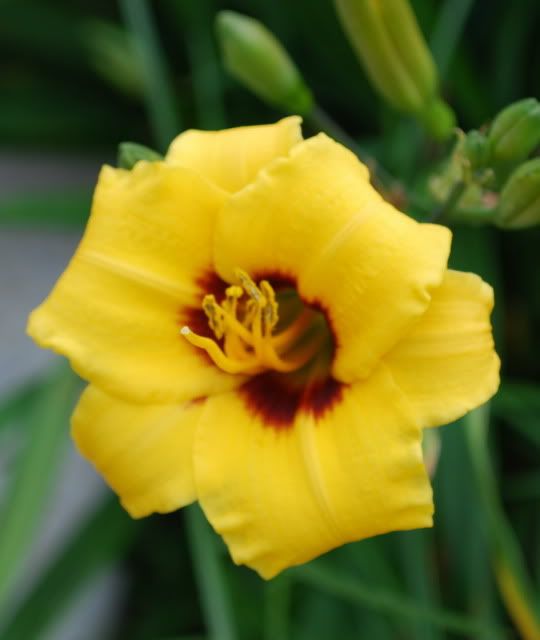 and there are just a few of those wonderfully fragrant honeysuckle blossoms hanging on...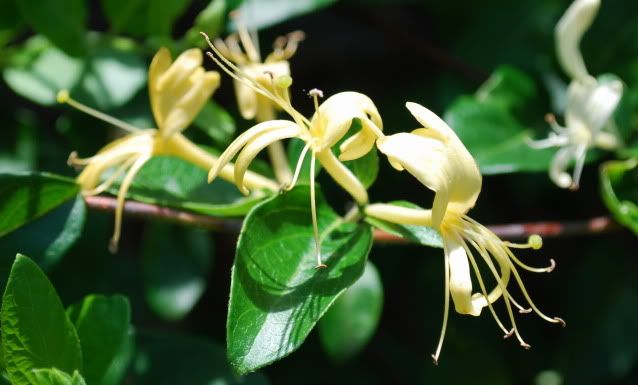 Sadly, I am a shallow woman who cares about appearances, so this skanky looking 3-year-old mint is doomed for the yard waste recycling bin and will be replaced by the younger, lovelier Lily of the Nile. I mean, hellooo, she's just eye candy!
Last but not least, I have failed to post photos of our spa. Technically, it is not in my line of sight outside my kitchen window. But, I'm not an attorney so technicalities mean nothing to me. We had the spa delivered as soon as the new patio and patio roof were finished just about two years ago. One of our friends built the stairs around it. I hung curtains on either side for privacy (yes, don't gag, but I've been known to enjoy the warm massaging waters in the buff). Tom just recently made a stand for the two rhododendrons which had been taking up space around the table on the patio. It was Tom's idea to surround the spa with the foliage. I think it was a good one.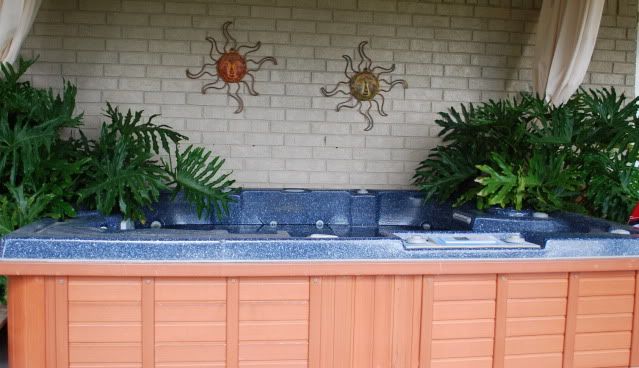 For more Kitchen Window Wednesday, visit
Debbie @ The Friday Friends
. Debbie started and promotes Kitchen Window Wednesday.
You might also want to take a look at
Karen's garden @ Karen Cooks
. She's going to have one fine garden!
So, now to the ever lingering question...What have we been eating? We've been eating light. It's been raining a lot, which means higher humidity. Who wants to eat heavy when the air is heavy? Not me. So last Saturday, after we took our son to the airport we stopped to pick up some brie and fruit. First, Tom baked some bread rounds that had been brushed with olive oil. Then I cut up some fresh pineapple and an apple and arranged it on a plate with some seedless grapes. We baked the brie in a 400 degree oven for about 10 minutes until it was just barely bubbly around the edges. All that and a glass of cold Riesling. It was heaven...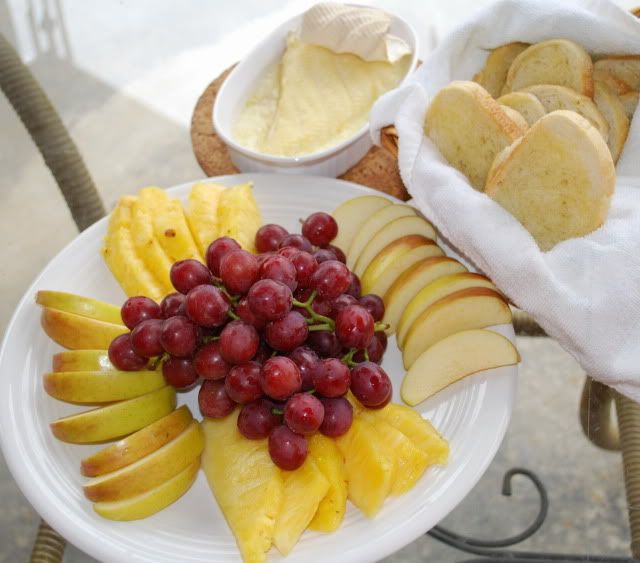 This past Sunday we still felt like just nibbling and made an antipasto tray ~ mortadella, cappicola, mozzarella, provolone, sliced tomatoes, steamed asparagus and assorted stuffed olives.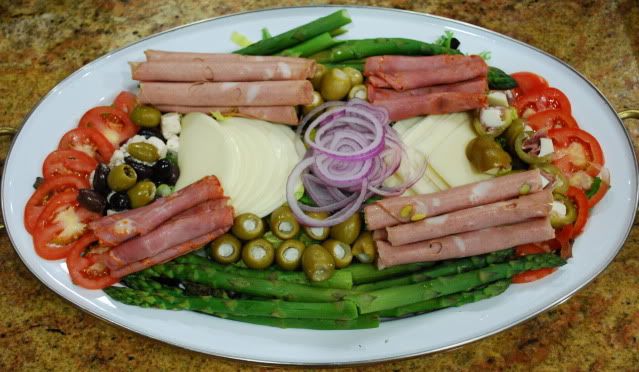 I also love salads and one of my favorites is Cobb Salad...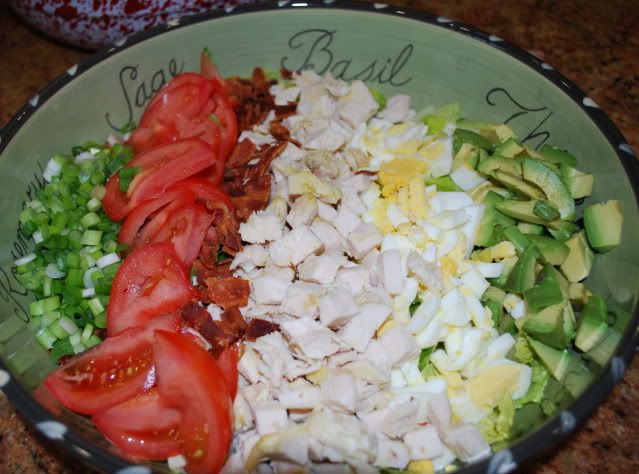 The ingredients are simple: On a bed of lettuce (I use romaine hearts because I like the crunch) I lay in sections diced, poached chicken; diced tomato or halved cherry tomatoes; diced avocado; 2 to 3 chopped hard-boiled eggs; 4 to 5 sliced of crisp cooked bacon, crumbled; 4 or 5 sliced green onions. Authentic Cobb Salad also calls for crumbled blue cheese, but I usually leave that out because I think it sometimes tends to overpower the other ingredients. Just before dressing and serving, I sprinkle the top with a couple of sliced radishes for a little more crunch.
When we are ready to eat, I pour just enough of the dressing over the salad to barely moisten it, toss it altogether and serve. This vinaigrette just makes the salad.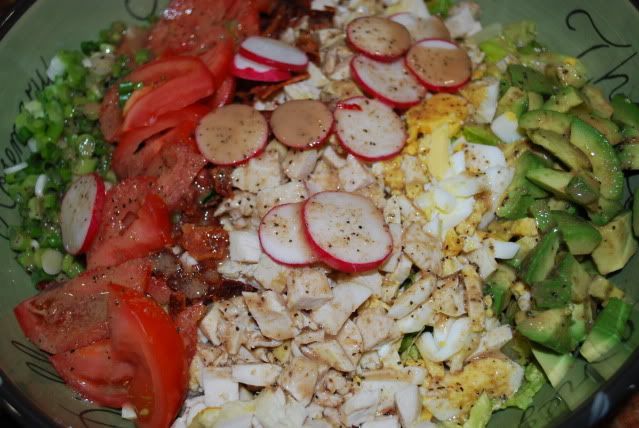 Cobb Salad Dressing
by Terri Powers for Terri's Table
1 egg yolk
2 cups vegetable oil
1/2 cup red wine vinegar (although I've also used cider vinegar with fine results)
2 teaspoons kosher salt
2 teaspoons fresh ground black pepper
3 teaspoons garlic powder
3 teaspoons onion powder
3 teaspoons ground dry mustard
2 teaspoons Worcestershire sauce
With a whisk or in your food processor, whip up the egg yolk until light and a little fluffy. Slowly add the oil to the egg whisking constantly until completely combined. Then add the rest of the ingredients, one at a time, whisking the mixture to combine. Chill slightly.
Note: You can leave out the raw egg if it gives you the heebie-jeebies, but the texture will be slightly different and the dressing will tend to separate.