It has cooled down considerably. Yesterday, the high was in the very low 70's and today is cooler and raining. Even with the rain, I'm enjoying it. This afternoon, I am wearing a long sleeve shirt, long pants and socks. It's been several months since I've worn long sleeves. Next stop, turtlenecks and Ugg boots.

Another thing I like about the onset of cool weather is having a nice hot bowl of homemade soup for dinner.

My mom was a soup maker. Not professionally, mind you, but I thought she made darn good soups. When I was growing up, I came to love the thick soups or chowders she would throw together with just a few ingredients. The seven of us (five girls and our parents) would sit down to dinner and make a meal of a large pot of thick soup and some bread. It was delicious, filling and warmed the tummy.

When Tom and I married over 40 years ago (41 years on the 19th of this month, thank you very much), the only type of soup I knew how to make was thick and hearty, made with beans, potatoes, rice or noodles ~ anything to thicken the broth. The first time I sat down to a meal of soup at my in-laws, I thought I might come away from the table still hungry. The soup pot was filled with a thin beefy broth, a few pieces of meat, some chopped vegetables and homemade "noodles." It filled me up, but it was nothing like I was used to.

Although I now appreciate a nice brothy soup, I still gravitate towards thick, hearty and flavorful. My favorites are clam or seafood chowder, bean soup, wild mushroom soup and the Tuscan soup my sister, Karen, introduced to us when she lived with us earlier this year. This is Karen's favorite soup, her rendition of a soup she had while living in Las Vegas.

Although I really liked her soup...you know me, I cannot leave well enough alone. I had to doctor it up with some herbs and spices to suit my palate. I have also made the soup using two different methods to cook the Italian sausage: 1)cooking the sausage with casings on, then slicing it, or (2) removing the casings before cooking the sausage and breaking it into chunks as it cooks (much like cooking hamburger). I like either method, but I'm lazy and often use method #2 because it takes the slicing step out of the recipe. The photo is of the soup using method #2.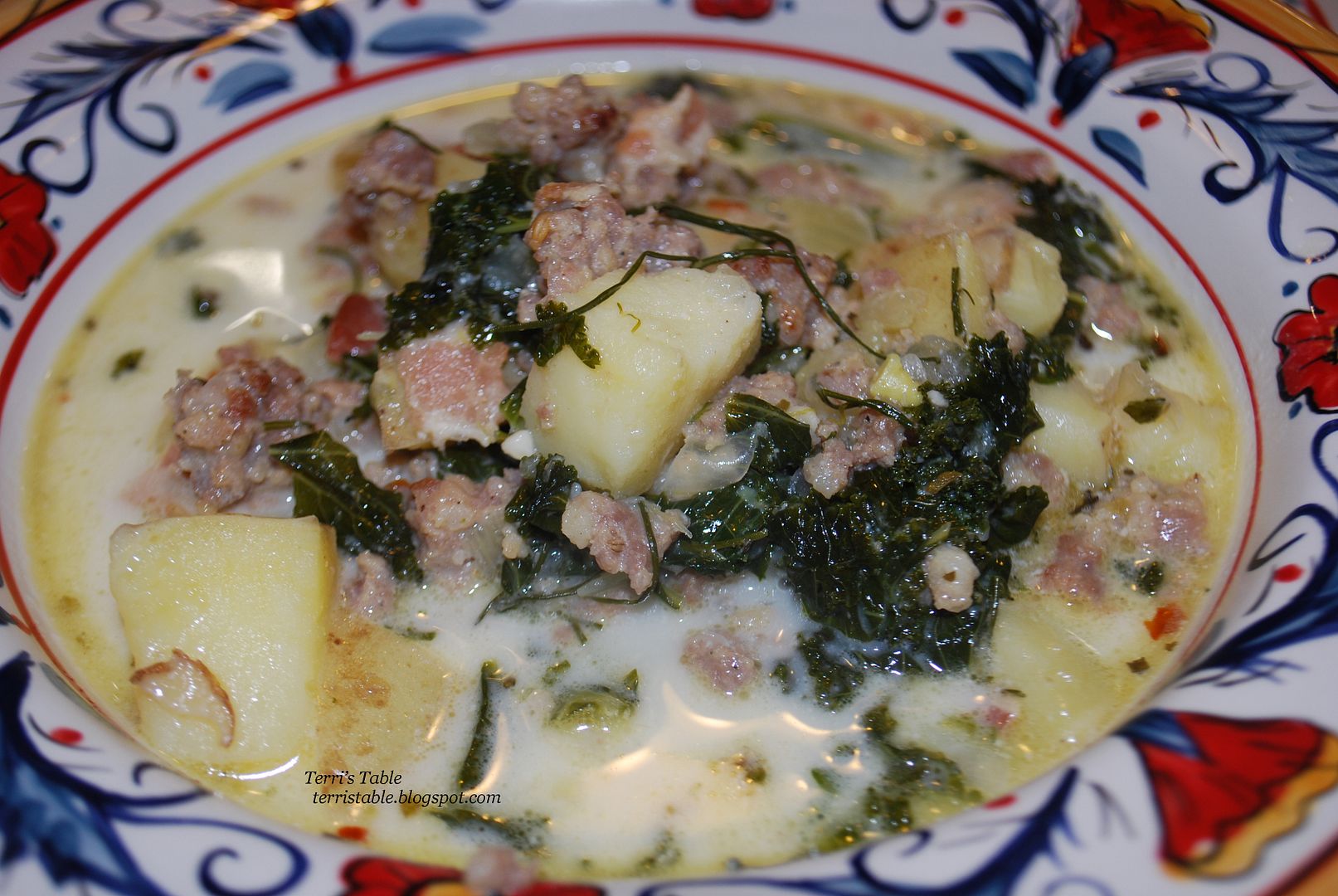 Tuscan Soup
by Terri Powers (adapted from my sister, Karen's recipe)
1-1/4 lbs sweet Italian sausage, about 5 (I have also used sweet Italian turkey sausage with great success)
4 slices bacon, chopped
4 medium potatoes (I use Yukon Gold and don't bother peeling them), cut into bite-sized pieces
1 onion, diced
1 fennel bulb, roughly chopped
1 clove garlic, minced
1 teaspoon dried basil
1/2 teaspoon ground rosemary
1/2 teaspoon dried oregano
2 teaspoons ground fennel
6 cups chicken broth
1 cup heavy cream
1 bunch kale, stems and center veins removed and roughly chopped
olive oil
salt and pepper
In a large pot or dutch oven, add a couple of tablespoons of olive oil and (Method #1)cook the Italian sausage links until cooked through, about 6 or 7 minutes. Remove the sausages from the pot to a plate and allow to cool slightly. ~ OR ~ (Method #2) Remove the sausage from the casings and cook the sausage meat, breaking up with a fork, until cooked through. Remove from the pot to a plate or bowl.
Add the bacon to the pot (with the drippings) and cook until done, but not too crisp.
Add the onion to the pot with the bacon pieces and saute until the onion is translucent, about 3 or 4 minutes.
Add the garlic, fennel bulb, potatoes and spices to the pot and cook for about 3 or 4 minutes until the mixture is fragrant and hot.
Add the chicken broth to the pot and bring just to a boil, then reduce the heat to a simmer.
If you have used Method #1 to cook the sausage, slice it now into approximatey 1/4 inch slices and add back to the pot and mix well. If you have used Method #2 to cook the sausage, add it back into the pot and mix well.
Simmer the soup until the potatoes are almost soft enough to pierce with a fork, then add the kale and the cream. Bring back to a simmer and cook for about 5 or 6 minutes longer. Season with salt and pepper to taste.
Serve with hot with a crusty bread.