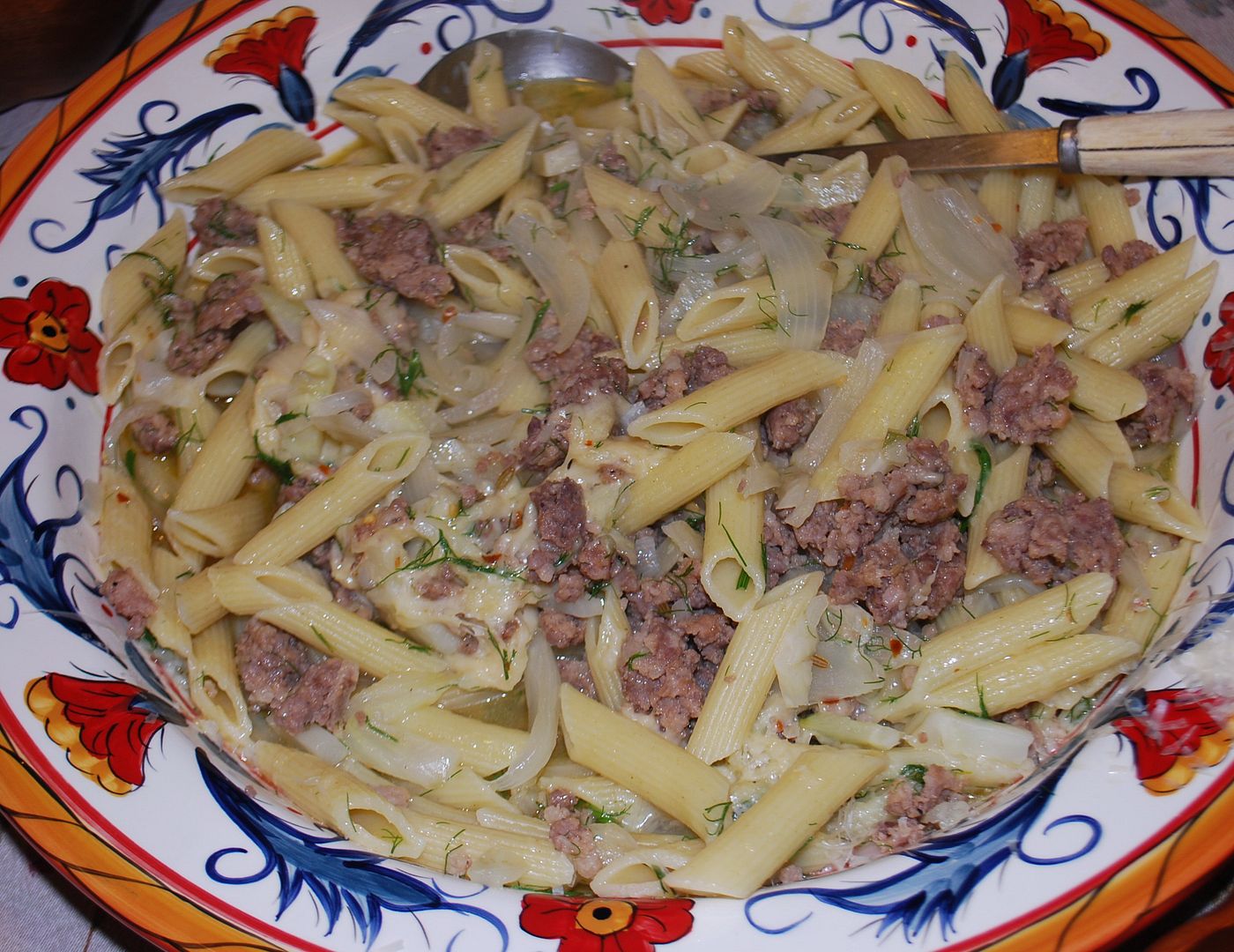 My husband Tom started to become an adventurous cook back in the late 70's and early 80's. Our two growing and very hungry sons were in middle and high school. My career was taking off and I was working late hours and commuting back and forth to work over an hour each way, which left little time for cooking up great meals every night. Tom's schedule was far more flexible than mine, so he did most of the grocery shopping and cooking. I rarely asked him what he was cooking for dinner. I would just come home from work and eat what was put in front of me. Everything was generally pretty good and I was so appreciative that Tom had just jumped in with both feet and made certain all of us were well fed.
By the time both boys had graduated from high school, Tom was quite an accomplished cook. He had even purchased a couple of cookbooks that included several recipes we've used for many years.
I remember the fall of 1992, my sister-in-law invited me to her cabin at Lake Almanore to vacation with her and a couple of her friends. Carol taught me to cross stitch that fall and the four of us talked, walked, played cards, read and had a great time.
At the end of our vacation week before we left the lake, I called Tom to let him know that I would be home between 5:00 or 6:00pm, in time for dinner. He was excited to let me know that he was going to prepare a new pasta dish for my homecoming.
"What is it?" I asked.
"Pasta with sausage and peas," he said.
My heart sunk. It sounded just awful. Honestly, I was hoping that at the very least I wouldn't gag when I took my first bite.
When I got home, Tom started cooking. I looked at the ingredients (Italian sausage, peas, onions, garlic, fresh rosemary, white wine) and tried not to roll my eyes in disgust.
How can this possibly taste good
, I thought.
There's hardly anything in it!
My reaction seems silly now when I think back. At the time, I considered myself an adventurous eater. I didn't have a problem eating escargot (snails) or ceviche (fish "cooked" by the acid of lemon and lime juices). But I was turning my nose up at these "normal" ingredients he was about to put together for dinner.
Boy, was I proven wrong. Not only was the dish delicious, it became one of my favorites. When I'm craving pasta that's fairly light but big on flavor, pasta with sausage and peas is my choice.
So, a couple of weeks ago (with the aforementioned culinary experience under my belt) when Tom pulled out an old recipe he'd cut out of a magazine years earlier and said, "I'm going to try this dish," I said, "Go for it."
Pasta with Sausage, Onions & Fennel is a recipe from Cooking Light magazine. I only know that because on the back of the torn magazine page in a separate article it says, "Cooking Light." I couldn't find the recipe on the Cooking Light website, but, guessing from the yellowing magazine page, the recipe is several years old.
The original recipe calls for 1/4 cup of tomato paste, which Tom eliminated and added white wine instead and reduced the pasta cooking water by half. He also added the butter at the end to finish.
This recipe is so good. It's light, but quite filling and comforting. The sauce is not thick, but lighter and thinner than the usual pasta sauce and full of flavor.
If you've never used or tasted fennel, this would be a great recipe to try. The light anise flavor gives a real brightness to this dish.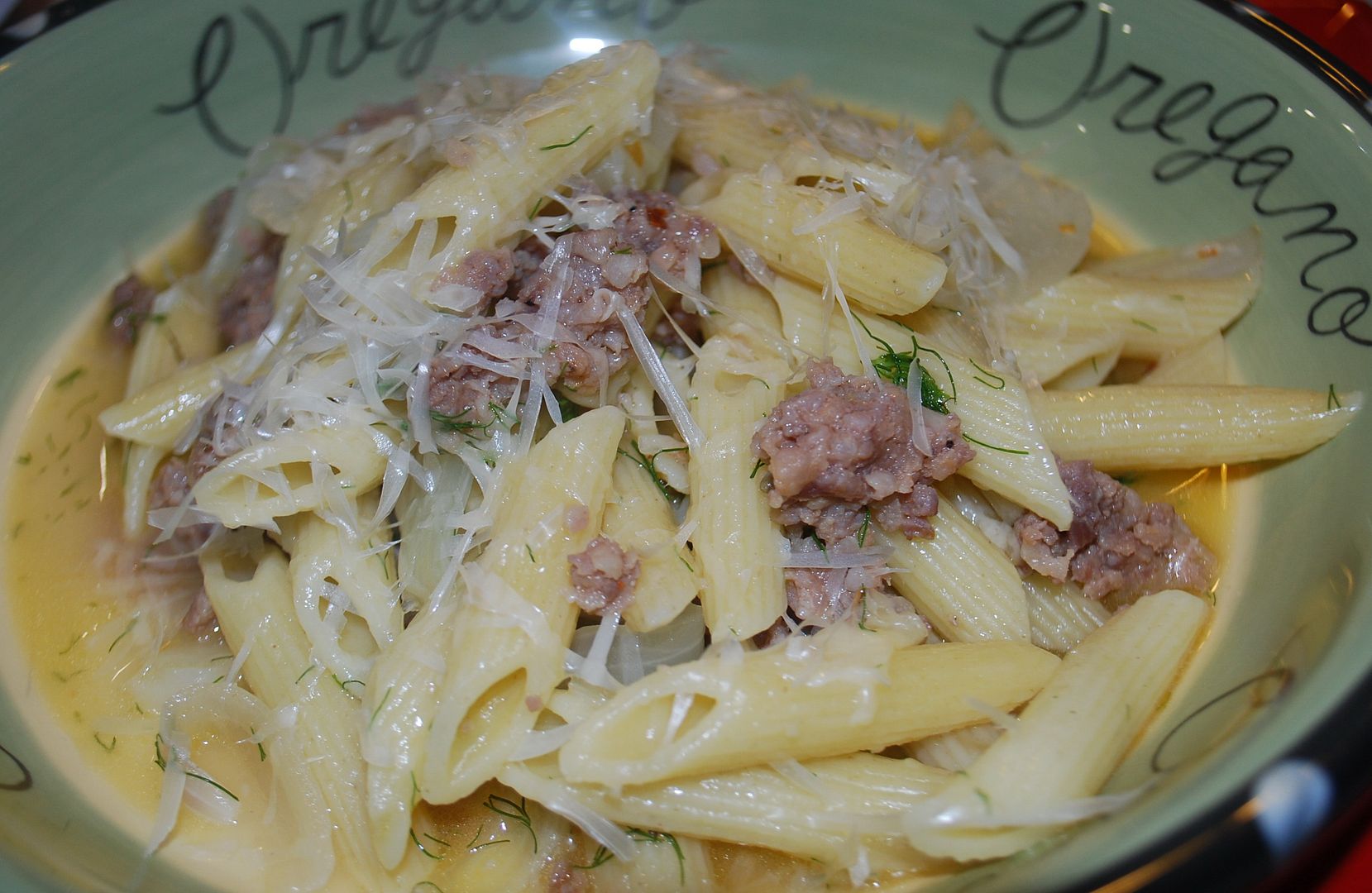 Pasta with Sausage, Onions & Fennel
Adapted from Cooking Light Magazine
1 (1-1/4-pound) fennel bulb
6 quarts water
2-1/4 teaspoons salt, divided
1 pound uncooked penne or ziti (short, tube-shaped pasta - Tom used Penne)
1 tablespoon olive oil
1 pound sweet Italian sausage (you could substitute turkey sweet Italian sausage)
2 cups (1/4-inch-thick) onion wedges (about 2 medium onions)
1 cup white wine
1/2 teaspoon crushed red pepper
1/4 cup (about 1 ounce) grated fresh pecorino Romano cheese
2 tablespoons butter
Trim fennel, reserving fronds and bulb. Cut fennel bulb in half lengthwise; cut each bulb half lengthwise into (1/4-inch-thick) slices. Cut bulb slices into 2-inch-long pieces. Chop fennel fronds to measure 1/3 cup.
Bring 6 quarts water and 2 teaspoons of salt to a boil in a large stockpot. Stir in pasta; partially cover, and return to a boil, stirring frequently. Cook 8 minutes or until the pasta is almost al dente, stirring occasionally. Drain pasta in a colander over a bowl, reserving 1 cup cooking water.
While pasta cooks, heat oil in a large Dutch oven over medium-high heat. Remove sausage from casings. Add sausage to Dutch oven; cook 2 minutes or until lightly browned, stirring to crumble. Push sausage to one side of pan. Add onion to open space in pan; cook 1 minute or until onion begins to soften. Stir onion into sausage. Push onion mixture to one side of the pan. Add fennel bulb to open space in pan; cook 1 minute or until fennel begins to soften. Stir fennel into onion mixture. Stir in the red pepper flakes and 1/4 teaspoon salt; cook 2 minutes.
Add reserved 1 cup of the pasta cooking water and the wine to the pan, stir to combine; bring to a boil. Reduce heat, and simmer 6 minutes or until fennel is tender. Add the butter, fennel fronds and pasta; cook 2 minutes or until pasta is al dente, tossing to combine. Remove from heat; stir in cheese. Serve immediately.
PRINT THE RECIPE HERE