I was born and raised in California. The Hispanic influence, particularly in food, was prevelant everywhere, but most notably in southern California because of it's close proximity to Mexico.

While Taco Bell, Del Taco and other Mexican style fast food establishments were popping up all over the country, San Diego County, where I lived, had the 'Berto's', small taco shops that served authentic Mexican dishes, freshly made and fast all with "Berto" at the end of their names.

Alberto's and Roberto's battled it out in downtown Oceanside near the beaches, while Alberto's cornered the market in Vista. Then came the battle. Besides Alberto's and Roberto's, others opened as competition...El Roberto's, Ramberto's, Juanberto's, Aiberto's, Filiberto's, Rigoberto's and Adalberto's.
My son's swore by Roberto's in Oceanside and that's where they and all of their high school friends could be found having a late night snack every Friday and Saturday night around midnight or so before heading for home.

Less than a mile from where Tom and I lived in Vista, was the Alberto's we visited almost weekly. We'd stop in to take food home: hot corn tortilla chips fresh from the fryer, sprinkled with finely grated cheddar cheese with a side of creamy guacamole. The fish burritos were homemade flour tortillas filled with chunks of battered and fried fish fillets with a crunchy crust on the outside and tender, flaky, juicy white fish on the inside, rolled in a warm tortilla with finely shredded cabbage, cheese, tomatoes and chopped cilantro with a spicy, smokey pink sauce. Oh my. My mouth is watering.

I miss Alberto's. I miss real Mexican food. But when I crave a wonderful fish burrito, I can come pretty darn close to Alberto's.

Granted, I don't make homemade flour tortillas, but I sure can make their simple guacamole (avocado, salt, pepper, lime juice, garlic powder and onion powder - that's it). But it's the crispy, batter-fried fish and the smokey sauce that takes me back to that little taco shop.

FISH BURRITOS
by Terri Powers for Terri's Table


For the fish...

1 quart vegetable oil for frying
1 lb. cod fillets
1 cup all-purpose flour (plus a little more for pre-dredging)
1 tablespoon garlic powder
1 tablespoon paprika
1 teaspoon salt
1 teaspoon ground black pepper
1 egg, slightly beaten
1 -12 oz. bottle or can of beer (I use Corona. Do not use a light beer.)
For the Burritos...
4 to 6 burrito size flour tortillas, warmed slightly
grated cheddar cheese
chopped cilantro
bag of finely shredded cabbage or coleslaw mix
chopped tomatoes
Fish Burrito sauce (recipe follows)
Cut cod fillets into approximately 1/2-inch square strips that are 4- to 6- inches long.
Heat the oil in an large iron skillet (which I use) or deep fryer to 365 degrees. Dry the fish strips and lightly season with salt and pepper.
Combine flour, garlic powder, paprika, 1 teaspoon salt, 1 teaspoon pepper. Add the egg to the flour mixture, then add the beer, whisking constantly, until completely combined into a thin batter.
Put a 2 or 3 tablespoons of flour on a small plate. Roll the fish strips in the dry flour to coat and gently shake off the excess. Now dip the fish strips into the batter and drop each strip one at a time into the hot oil. I use my fingers for this, but you can use a fork.
Fry the fish until both sides are golden brown, turning to evenly brown. Drain on paper towels or on a paper bag.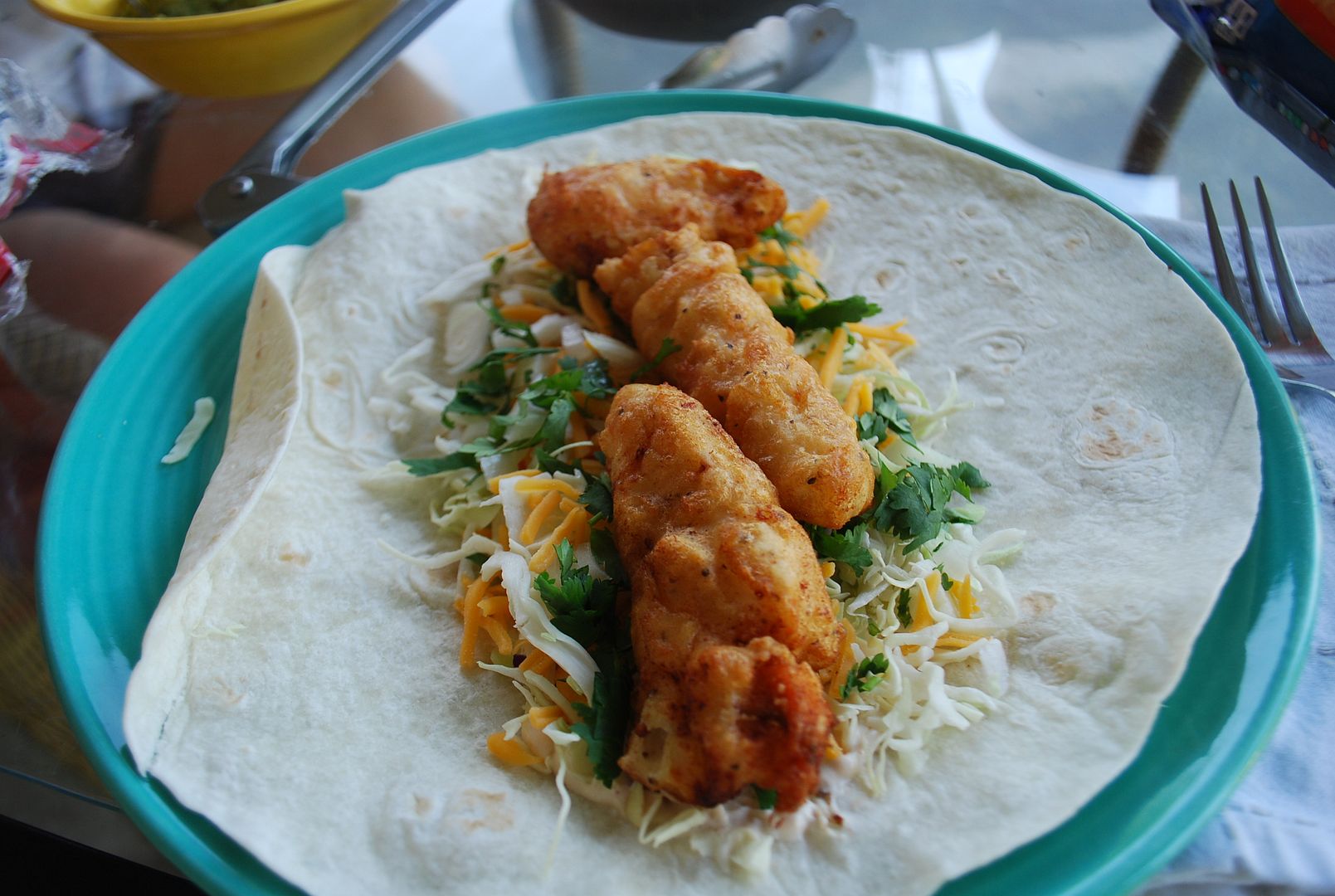 For the Fish Burrito Sauce...
1/3 cup low-fat sour cream
1/3 cup low-fat mayonnaise
1 teaspoon sugar
1 or 2 canned chipotle peppers in adobo sauce (finely minced), plus about 1 teaspoon of the adobo sauce (I put what left in the into a small canning jar and store it in the refrigerator)
the juice of one lime
the juice of 1/2 of a lemon
Mix all the ingredients together and allow the flavors to combine while you are preparing the fish.
To serve...
On one tortilla, spread a some of the Fish Burrito Sauce down the middle of the tortilla, add the cabbage, sprinkle with cheese, cilantro and chopped tomato. Top with 2 or 3 pieces of the hot fish. Roll up and enjoy!
PRINT THE RECIPE HERE