Between you and me, this recipe is not for our food purist friends. It calls for two package mixes - cake and instant pudding, both of which are enough to send a purist screaming from the kitchen.

Although I generally prefer to use fresh ingredients and make dishes from scratch, when a recipe has worked very well for a number of years...and, of course, the ingredients don't put your life or well-being in danger...I say, why change it?

I've been making this cake since the early 1970's when I received the recipe from a friend and co-worker. The cake is so flavorful, it stands, undressed, on its own merits very well so I used to just finish it off with a dusting of powdered sugar. But several years ago I decided a chocolate glaze would be even better and I was right.

This is a rich, dense, moist and very chocolaty cake that's easy to make and freezes well. I usually cut the cake into quarters and freeze three of the pieces for a later date.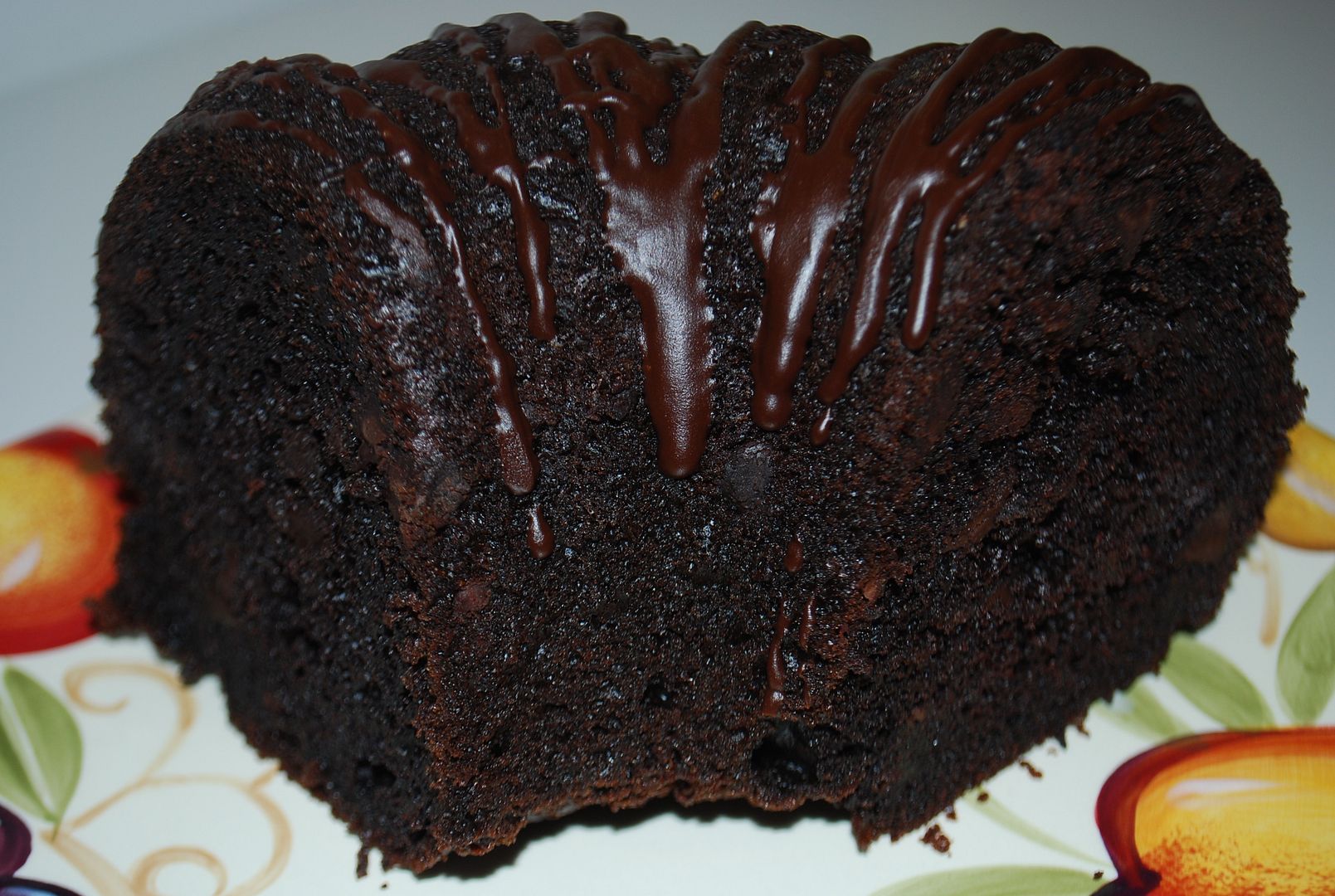 Triple Chocolate Cake with Chocolate Glaze
by Terri Powers for Terri's Table
1 - 18.25 ounce packaged devil's food or chocolate fudge cake mix (I prefer to use the chocolate fudge cake mix)
1 - 5.9 ounce package instant chocolate pudding mix
1 cup sour cream (I used low-fat)
1 cup vegetable oil
4 eggs, gently beaten
1/2 cup warm water
2 cups semisweet chocolate chips
2 tablespoons butter
2 - 1 ounce squares semisweet baking chocolate
Preheat oven to 350 degrees.
Prepare a bundt pan by wiping generously with shortening, butter or vegetable oil or spraying with cooking spray. Set aside.
In a large bowl, dump the cake mix, pudding mix, sour cream, oil, eggs and water together. Mix well with an electric mixer on medium until completely combined and smooth. Stir in the chocolate chips and pour into prepared bundt pan.
Bake in preheated oven for 50 to 55 minutes or until a wooden toothpick inserted comes out clean.
Cool the cake thoroughly before glazing.
For the glaze:
Put the butter and baking chocolate squares into a small microwavable bowl and heat on high in the microwave, checking and stirring every 15 seconds, until just melted and chocolate and butter are combined and smooth. While the glaze is hot, drizzle over the top of the cake, allowing the glaze to run down in inside and outside of the cake. Allow the glaze to cool completely, cover the cake with plastic wrap and refrigerate.
PRINT THE RECIPE HERE