I think easy, simple dishes are the best.

A few spices can make a plain shrimp explode with flavor. A couple of common ingredients can make plain ole pasta almost addictive.

We've been making this shrimp for years. Generally we grill it, but it is equally good quickly sautéed in a frying pan.

I found the noodles from a post by Jaden @ Steamy Kitchen. Jaden describes this dish as "crack in noodle form." Yes, they are that good.

I've changed her recipe a bit. Jaden's original recipe uses Chinese egg noodles, but I simplified it by using angel hair pasta. I also added some julienned carrot and celery to the dish for a more flavor dimension and texture.

Then there is dessert. This doctored up store-bought yellow cake will make you want to hide it from your kids so you can eat the whole thing yourself.

So let's get started with dinner, shall we?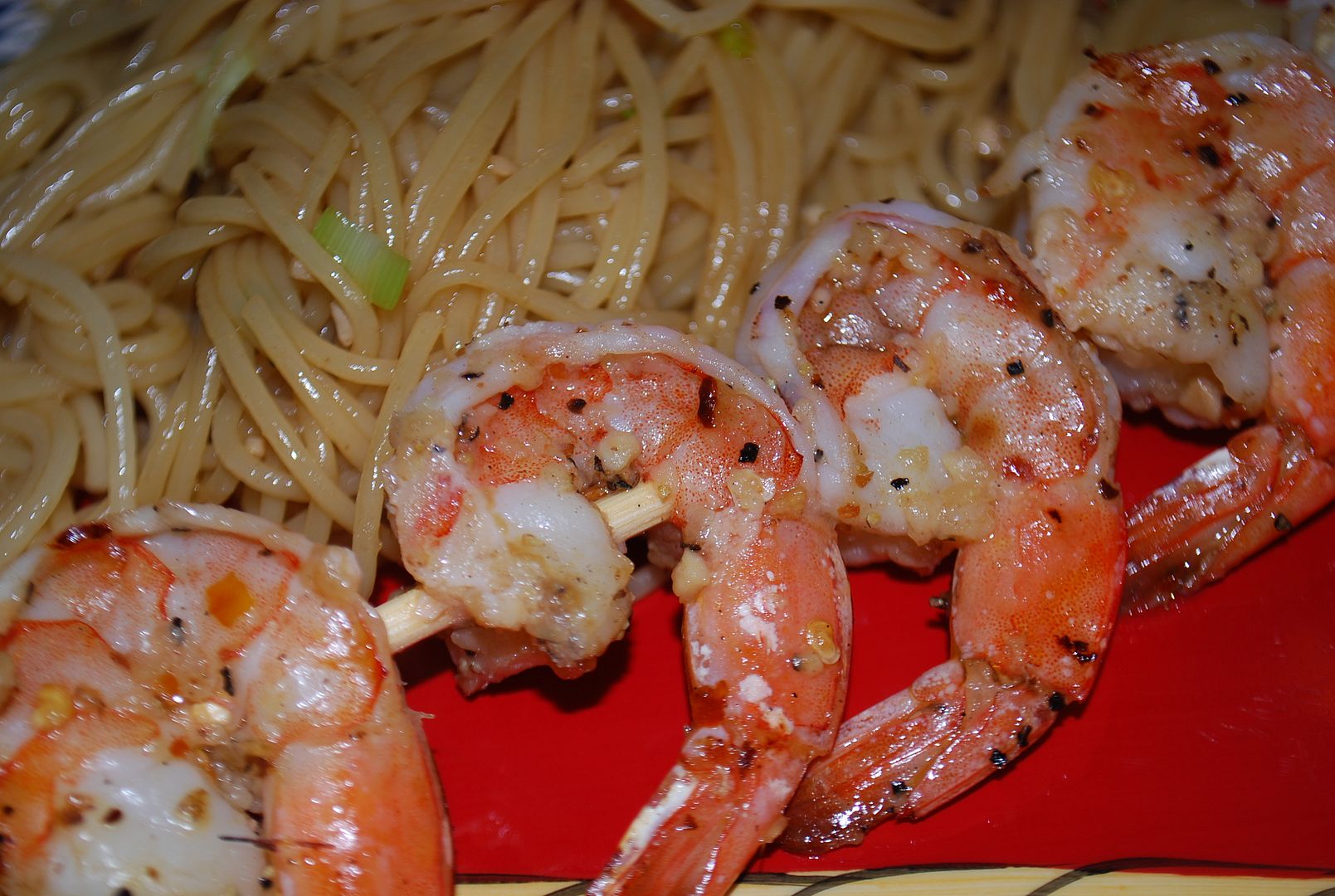 Spicy Grilled Shrimp with Asian Dipping Sauce
2 teaspoons red pepper flakes
1 tablespoon garlic, chopped
1 tablespoon fresh grated ginger root
2 tablespoons olive oil
1/2 teaspoon kosher salt
1/4 teaspoon black pepper
1-1/4 pound jumbo shrimp (21-25 per pound), shells removed but tails left on
5 -6 bamboo skewers
Place the bamboo skewers in a baking dish, cover with water and allow to sit until you are ready to skewer the shrimp.
In a small bowl, combine the red pepper flakes, garlic, ginger, oil, salt & pepper and mix well.
Put the shrimp in a medium bowl, pour the marinade over the shrimp and mix well to coat the shrimp. Cover and refrigerate for 1/2 hour.
After 1/2 hour, remove the shrimp from the refrigerator and put 4 to 5 shrimp on each skewer. Set aside.
Heat your grill to high. When it's hot, oil the grill with several layers of paper towel saturated with vegetable oil. Turn the grill down to about 350 degrees, and place the skewered shrimp on the grill, cooking no more than 2 minutes on each side.
When done, remove from grill and serve immediately with Asian Dipping Sauce.
Asian Dipping Sauce:
4 tablespoons low sodium soy sauce
1 tablespoon sesame oil
2 tablespoons water
1 green onion, finely minced
Mix all ingredients together and refrigerate until ready to serve.
PRINT THE RECIPE:
Spicy Grilled Shrimp with Asian Dipping Sauce
Garlic Scallion Noodles
Inspired by Jaden @ Steamy Kitchen
1/2 package of angel hair pasta
1/4 cup julienned carrots (about 1-inch long) or pre-packaged matchstick carrots
1/4 cup julienned celery (about 1-inch long)
1/4 cup scallions (green onions), chopped fine
3 cloves of garlic, finely minced
2 tablespoons brown sugar
1 teaspoon fish sauce (or, if you don't have it, you can substitute soy sauce)
1 tablespoon oyster sauce
3 tablespoons butter (I use Smart Balance)
Cook the angel hair pasta in boiling water until just about a minute from doneness. Drain and set aside.
Over medium heat, melt the butter in a large saute pan, then add the carrot and celery and saute for about a minute. Reduce the heat to low and add the scallions and garlic and saute until fragrant. Add the brown sugar, fish sauce (or soy sauce) and oyster sauce to the pan and mix well until the brown sugar is melted and combined with the other ingredients.
Add the pasta to the pan and cook about two minutes, mixing well with the sauce until the noodles are completely covered.
Serve hot.
PRINT RECIPE HERE:
Garlic Scallion Noodles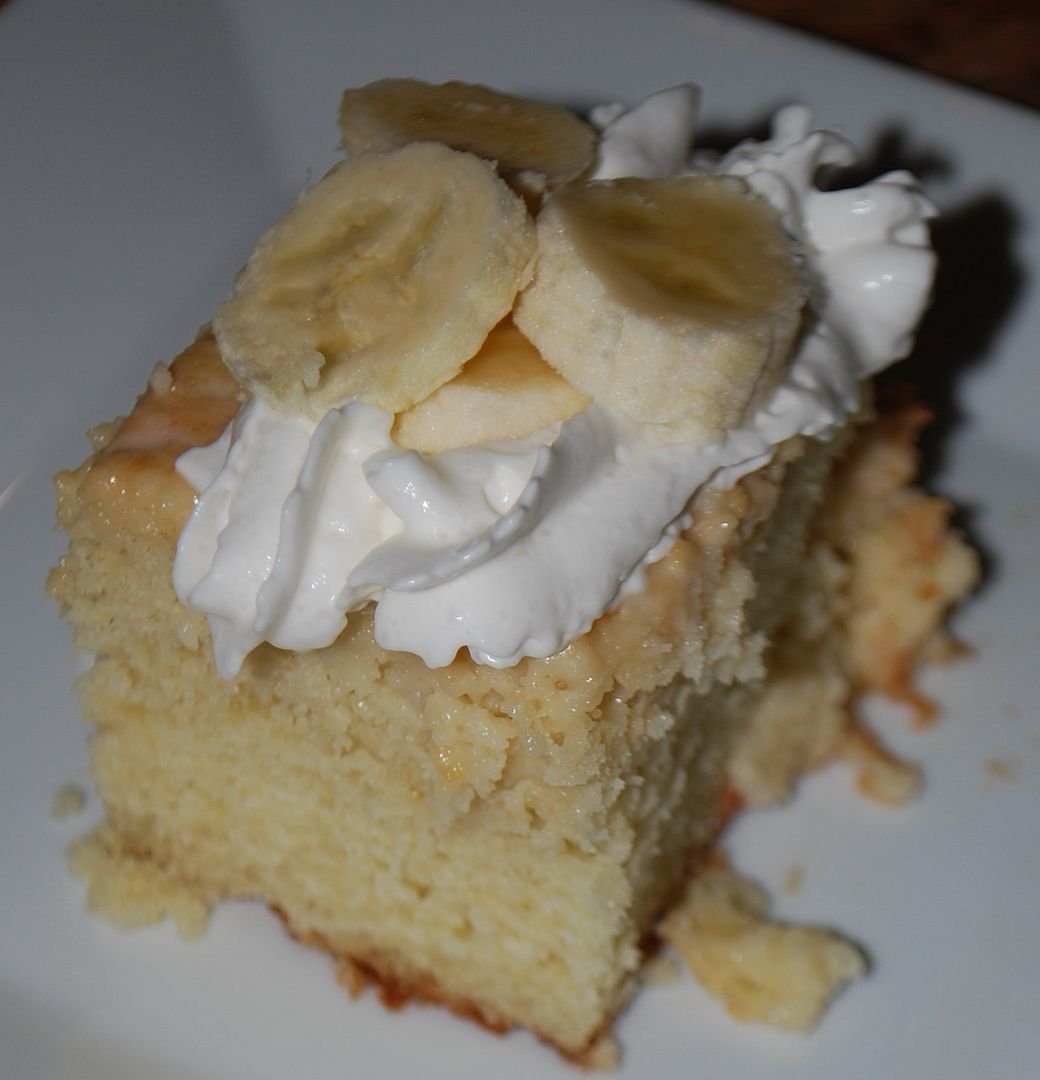 This cake calls for a can of cream of coconut. It looks like this...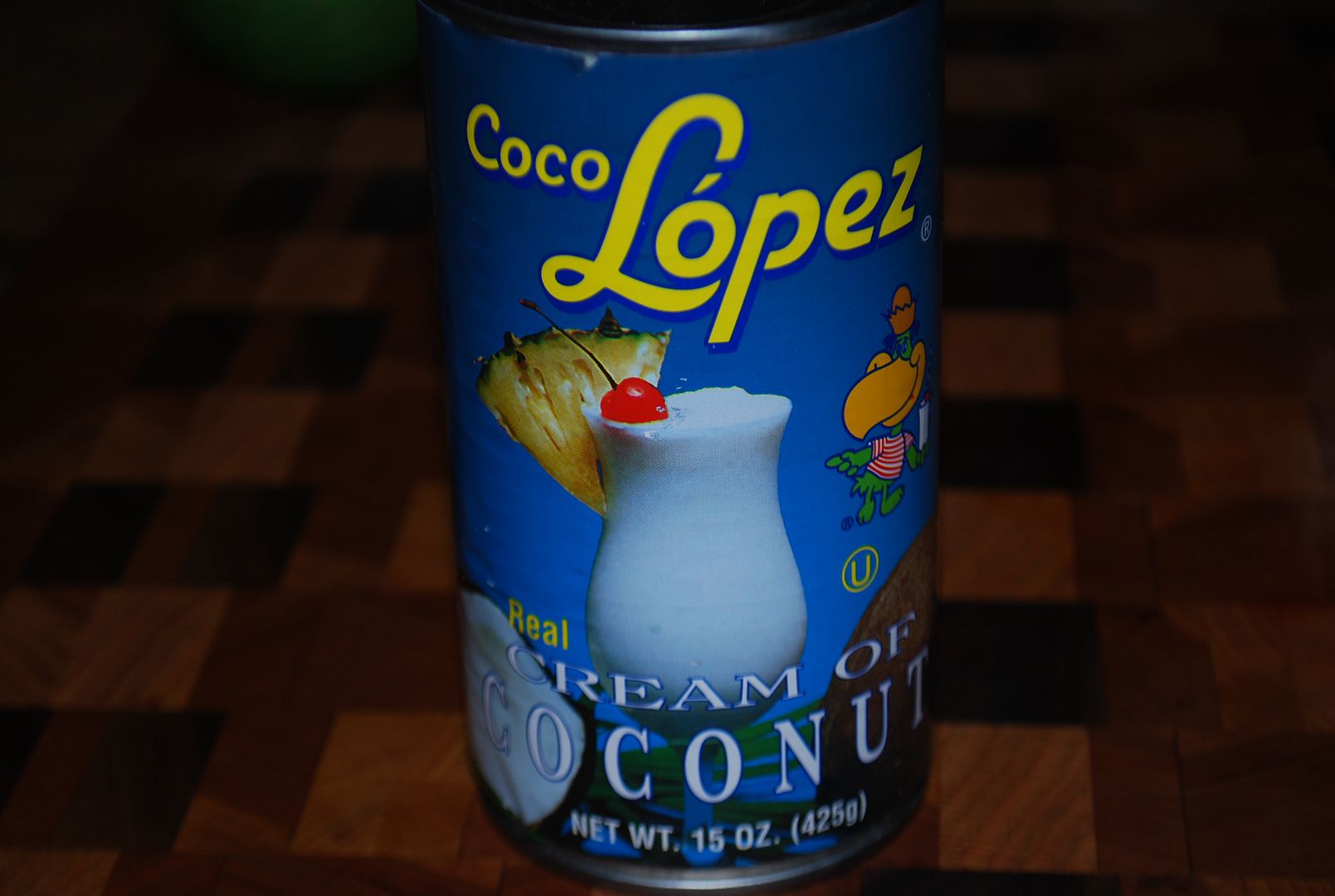 Coconut Tres Leches Cake
Adapted from My Kitchen Cafe (www.melskitchencafe.com)
For the cake:
For the milk syrup:
1 can (15 oz.) cream of coconut
1 can (12 oz.) evaporated milk
1 cup heavy whipping cream
1 teaspoon pure vanilla extract
Garnishes:
2 medium ripe bananas
Whipped cream
1 cup sweetened flake coconut, toasted (spread on a rimmed baking sheet and bake at 350 degrees until golden brown, about 7 minutes)
Preheat oven to 350 degrees.
Lightly spray a 9X13-inch baking pan with cooking spray. Mix the cake mix and bake according to the box directions.
Remove the cake from the oven and allow to cool completely, about 1 hour.
While cake is cooling, make the syrup. In a blender, combine the cream of coconut, evaporated milk, cream and vanilla and process until smooth.
Pierce the top of cooled cake all over with the tines of a fork or a wooden skewer. Be generous. The more holes, the more the syrup will soak into the cake. With a spoon, started ladling the syrup over the cake. When the syrup begins to puddle, stop and allow the syrup to soak into the cake. Continue in this fashion until you have used all the syrup. You may still have some puddling on top of the cake. That's okay.
Cover the cake and refrigerate until all the syrup is completely absorbed, about 2 hours.
To serve, cut the cake in squares and top with whipped cream, banana slices and toasted coconut.
PRINT THE RECIPE HERE:
Coconut Tres Leche Cake