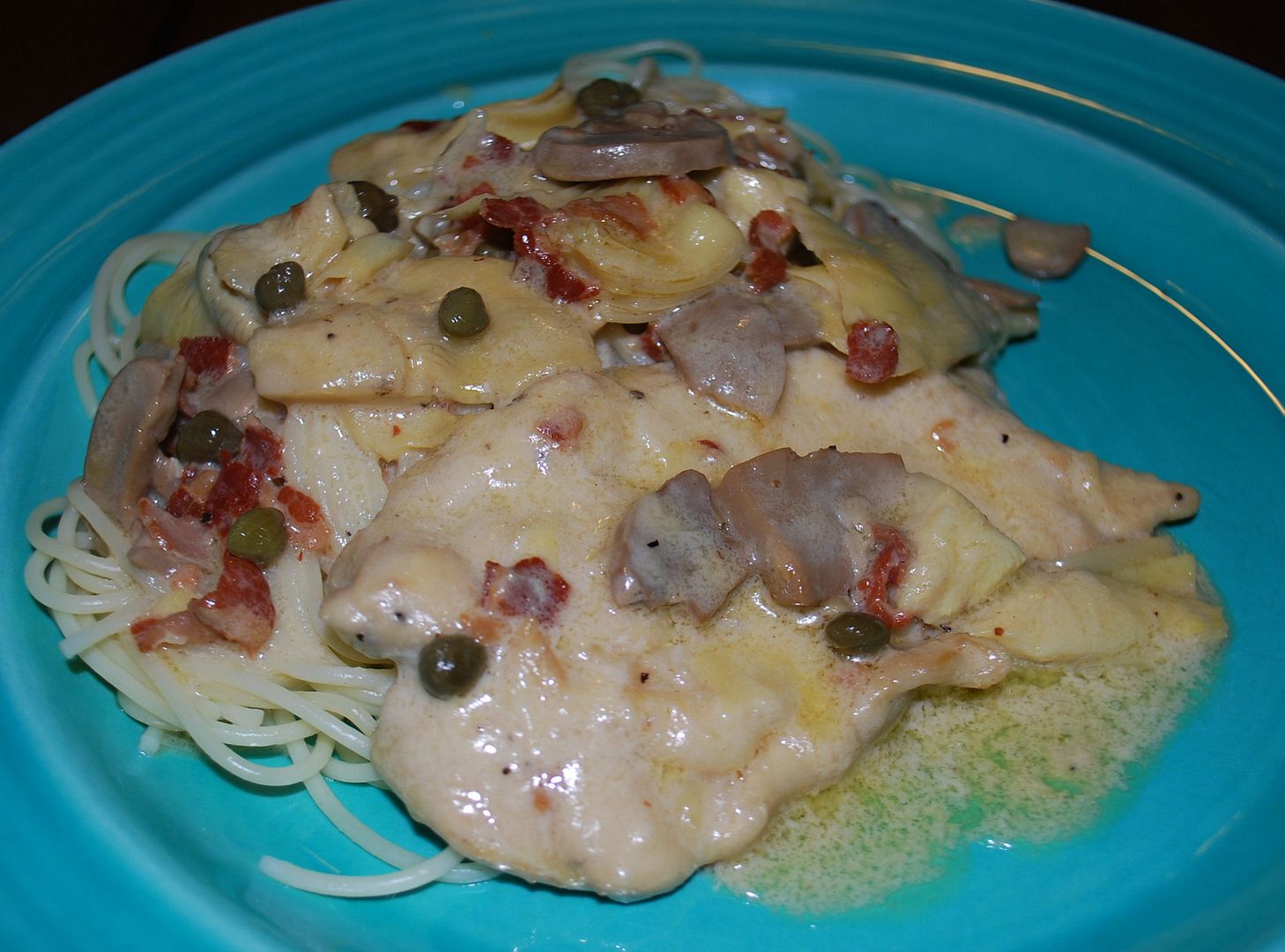 On of my favorite things to do during the spring and summer is to spend about one Sunday afternoon a month eating a late lunch/early dinner on the patio at Macaroni Grill.
There aren't many people who dine on the patio because of the dense southern heat, but the patio is shaded, ceiling fans provide a breeze and it's much quieter than dining inside, where crowds of diners have to almost shout to be heard over each other and the 'background' music sung by singers long passed away, i.e. Frank Sinatra, Dean Martin, et al.
Generally, our meal starts with the Mozzarella Alla Caprese: tomatoes, fresh mozzarella, extra virgin olive oil, aged balsamic vinegar and fresh basil. Tom will almost always order some sort of fish for his main course. I always have the Chicken Scaloppini: Sauteed chicken with artichokes, mushrooms, prosciutto and lemon butter over pasta.
We haven't been to Macaroni Grill for quite some time, maybe a year or so, but one day I was craving the Chicken Scaloppini and tried to find a recipe for it on the internet. The recipe I found serves 10 people and contains a whole pound of butter! Um, no thanks.
I decided to try to duplicate it on my own. I use pancetta or regular smoked bacon instead of proscuitto. Either works very well. And although I do use heavy cream, I use Smart Balance spread instead of butter! My version comes really close. Though not identical, it is really tasty.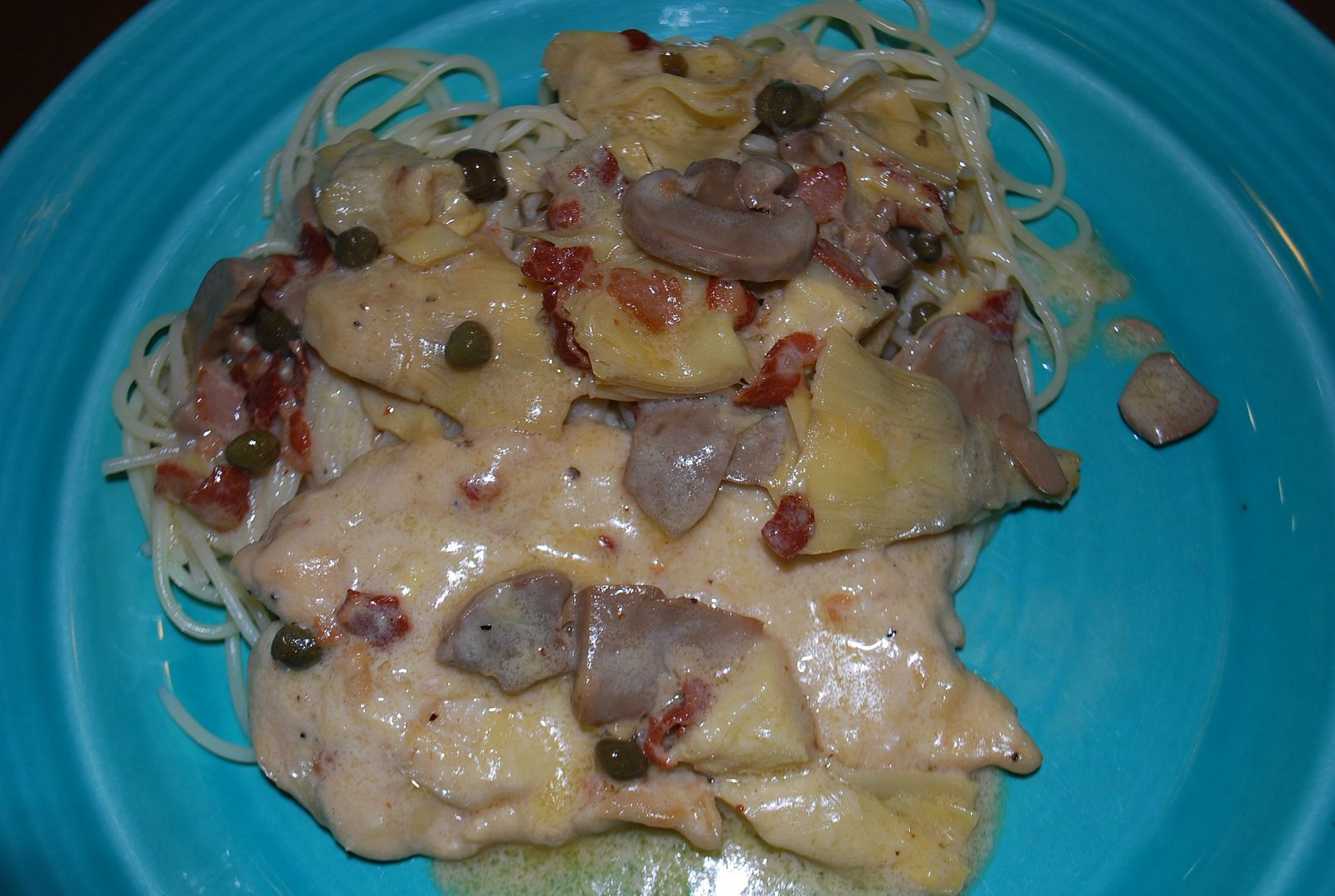 Chicken Scaloppini ala Macaroni Grill
For the sauce:
Juice of one lemon
1 cup dry white wine
1/3 cup heavy cream
4 tablespoons Smart Balance or butter
For the Chicken & Pasta
2 chicken breasts, cut in half horizontally then pounded thin
Blended oil for sauteing chicken (equal parts olive oil and vegetable oil)
1/2 to 3/4 cup flour, seasoned with salt and pepper, for dredging
4 ounces pancetta or smoked bacon, cut into 1/4-inch pieces
8 to 10 ounces mushrooms, sliced, or 1 small can sliced mushrooms, drained
1 - 14 ounce can artichoke hearts, drained well and roughly chopped
2 tablespoons capers
1/2 pound angel hair pasta, cooked
Parmesan cheese, grated, for garnish
To Make the Sauce:
In a small saucepan, heat the lemon juice and white wine over medium high heat and bring to a boil. Reduce the liquid by one third. Add the cream and simmer the mixture until it thickens slightly, about 4 to 5 minutes. Whisk in the Smart Balance or butter until it's melted and completely incorporated. Season with a little salt and pepper, then remove from heat and keep warm.
To Make the Chicken and the Pasta:
In a large frying pan, cook pancetta or bacon until just crispy. Remove from pan to paper towel and set aside. Drain grease from frying pan.
Cook pasta and drain.
Heat about 3 tablespoons blended oil in the large frying pan. Dredge chicken pieces in flour mixture and saute in hot oil, turning only once, until browned and cooked through. Remove chicken from the pan to a plate. If you are using raw mushroom slices, add to pan and cook until mushrooms are softened and cooked through, then add chopped artichokes, and capers to pan and cook until heated through.
(If you use canned mushrooms, you can add the mushrooms, artichokes and capers to the pan at the same time.)
Add the chicken and bacon back into the pan with the other ingredients. Add the prepared sauce to the pan, mix well and bring to a boil.
To serve, place a portion of cooked pasta on the plate. Top with chicken mixture, using a little extra sauce on the pasta if needed. Garnish with grated Parmesan cheese.
Served with a nice green salad and a glass of Chianti....yummy!