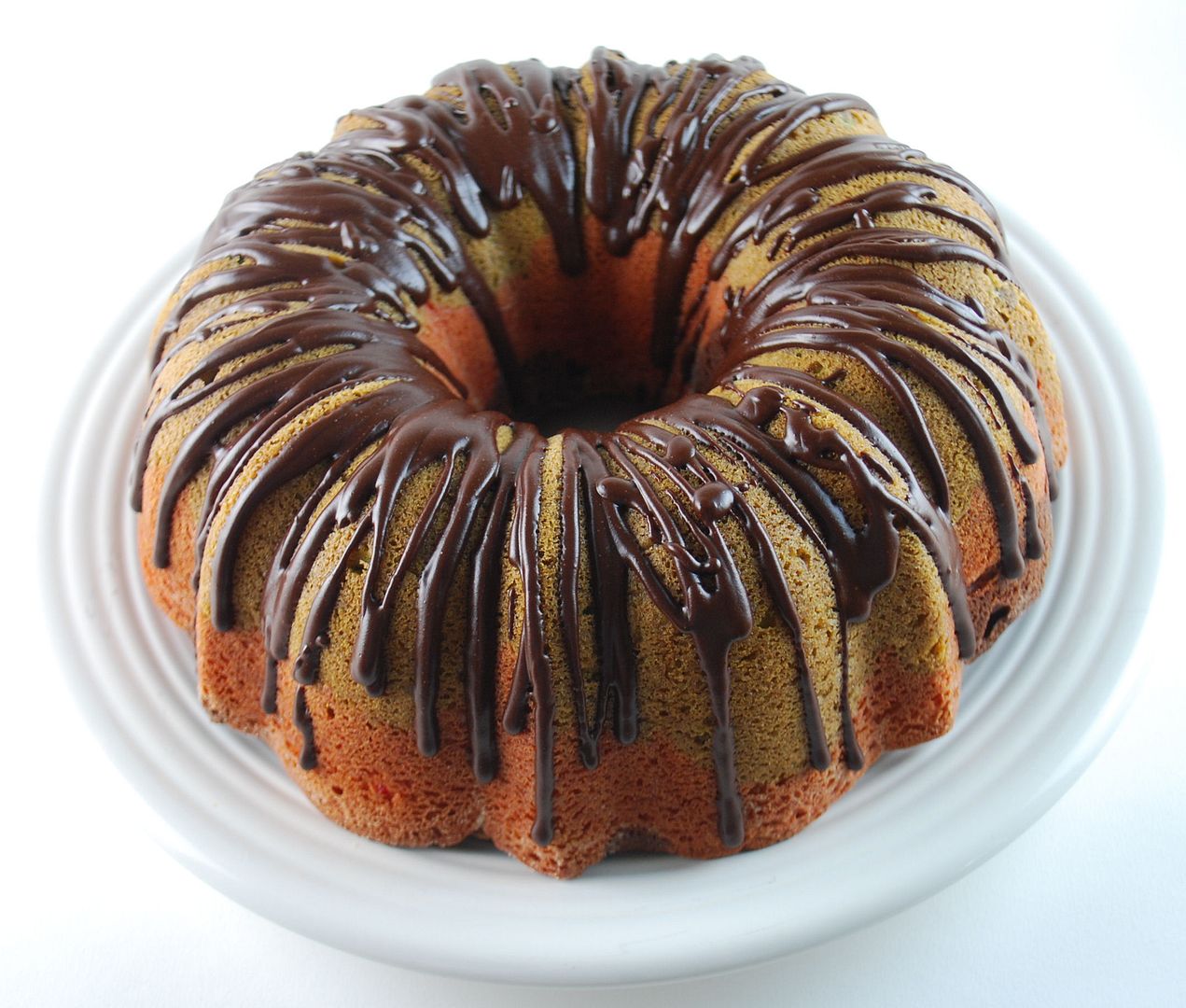 Spumoni is Tom's favorite ice cream flavor. Well, except for any combination with peanut butter in it. Anyway, what he loves about spumoni is the nut, cherry and chocolate flavors layered and swirled with each other to create the unique combination, yet retain their own individual flavors. When I saw
Katy's Spumoni Cake @ Food for a Hungry Soul
, I knew I had to give it a try.
Traditional Italian spumoni is a combination of pistachio ice cream with chopped pistachios, cherry or fruit flavored ice cream with candied cherries or fruits, and chocolate ice cream. Although Katy's recipe calls for an almond flavored cake layer, I decided to stick with the traditional version and use pistachio flavoring and pistachio nuts. However, I didn't have any candied fruit, so I stayed true to Katy's use of maraschino cherries. I think I would like a little stronger maraschino cherry flavor next time, so I ordered a bottle of maraschino cherry flavoring to use next time.
I did not frost the cake, but instead drizzled it with a semisweet chocolate glaze.
The result was a very moist, tender cake that is as tasty as it is festive.
Spumoni Cake
Adapted from Food for a Hungry Soul
1 box yellow cake mix (I used Duncan Hines)
4 large eggs
3/4 cup vegetable oil
1 cup sour cream (I only had "lite" sour cream so that is what I used)
1 small box vanilla instant pudding
1/3 cup chopped pistachios
1/2 teaspoon pistachio flavoring
1 - 4 oz. jar of maraschino cherries, drained and roughly chopped
2 squares unsweetened chocolate
2 squares semisweet chocolate
2 tablespoons butter
red and green food coloring
Preheat oven to 350 degrees. Grease one large tube or bundt pan with cooking spray or oil.
Combine the cake mix, eggs, oil, sour cream and pudding in a large bowl. Beat at medium speed with a hand or stand mixer for about 2 minutes until the batter is thick and smooth.
Put 2 cups of the batter in a smaller bowl. Add the pistachios, pistachio flavoring and 4 to 6 drops of green food coloring. Mix by hand with a rubber spatula until completely combined. Transfer the batter to the bundt pan, smoothing the batter slightly. Wash and dry the bowl and spatula.
Put 2 more cups of the batter into the clean bowl. Add the maraschino cherries and 4 to 6 drops of red food coloring. Again, mix by hand with the clean rubber spatula until completely combined. Layer that batter in the bundt pan on top of the green pistachio batter, being careful not to mix the batters together. Wash and dry the spatula.
In a small bowl, microwave the unsweetened chocolate until it is just melted, checking and stirring every 15 seconds or so. Do not overheat the chocolate as it will become grainy and separate.
Add the melted chocolate to the remaining batter and mix well. Pour the chocolate layer over the cherry layer.
Bake the cake for 50 to 60 minutes. Check the cake by inserting a toothpick or small skewer into the cake. If it comes out clean, it's done. Cool slightly and invert cake onto a plate.
While cake is still slightly warm, put the semisweet chocolate squares and butter into a small bowl and microwave until it is just melted, checking and stirring every 15 seconds or so until the mixture is smooth. Drizzle over the cake with a spoon.