When I was growing up, my mother rarely served ham, but when she did, it was usually one of those canned, boneless, jellied things. She'd doctor it up with a little brown sugar, stick some whole cloves in it and bake it in the oven. It was never my favorite meal, but I ate it because I was hungry. What else can you do?

I can only remember once or twice during my childhood that my mom served a "real" bone-in smoked ham. To stay within her budget, she bought the cheapest one available. All I can remember is salty, salty, salty.

It has only been the last 15 years or so that we have occasionally enjoyed a meal of ham and creamy scalloped potatoes, but the reason I don't fix it very often is because we have so much leftover. I wind up cutting the ham into pieces or slices, bagging it and freezing for later to make split pea soup, red beans and rice, or ham and potato soup. Not very creative.

This last time, I wanted something different, so I Googled and found these babies. They are supposed to be appetizers, but I served them as the main course of a meal with a little marinated white bean salad and some asparagus spears.

This is the original recipe which makes 24 mini-sandwiches, but I cut the recipe in half to make only a dozen. However, I inadvertently added the entire 2 tablespoons of poppy seeds instead on 1 tablespoon. They were still delicious. Next time I will make a full recipe and send some to my father-in-law. He will love them!


Marinated Ham & Swiss Buns
Adapted from the recipe by Peggy Trowbridge Filippone, About.com
For the Marinade:
1 cup (2 sticks butter)
1/4 cup sweet onion, finely minced
2 tablespoons poppy seeds
1/2 teaspoon garlic powder
1 tablespoon Worcestershire sauce
2 tablespoons hot or spicy mustard
(I used horseradish mustard)
1/4 brown sugar
1 tablespoon chopped parsley
For the Sandwiches:
24 (about 2 X 2-inches each) small dinner rolls
Horseradish mayonnaise
(I used Kraft Horseradish Sauce)
24 thin slices of deli ham
(I used leftover ham, sliced not too thin)
24 thin slices of Swiss cheese
Line two 9 X 13-inch baking sheets with non-stick foil or butter traditional pans
(I sprayed my pan with non-stick spray)
.
To prepare marinade, saute the onion in the butter over low heat until onion is soft and translucent. Add the poppy seeds, garlic powder, Worcestershire sauce, mustard and brown sugar. Stir until brown sugar is melted into the sauce. Remove from heat and stir in parsley. Set the marinade aside.
Slice the buns in half. Spread the bottoms of the buns with a thin layer of horseradish mayonnaise.
Fold the ham slices to fit the bottom of each bun.
(You can see, that I just used pieces of my leftover ham.)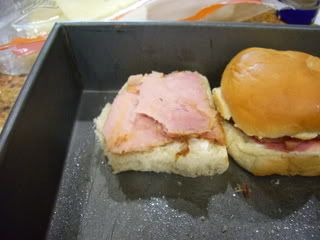 Repeat with the Swiss cheese slices, folding to fit the buns. Replace bun tops and place ham and cheese buns into a the prepared baking pans.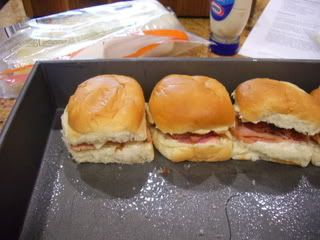 Pour the marinade evenly over both pans of buns.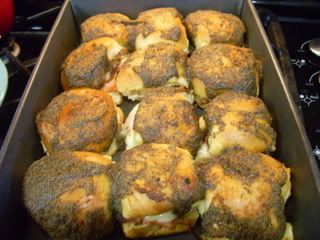 Cover tightly with foil and refrigerate overnight.
To serve, preheat over to 350 degrees F. Baked the marinated buns, covered, for 25 minutes. Remove the foil and continue baking for an additional 10 minutes.
Mmmm, mmmm, good!