I know. It's been a while since I last posted. I honestly don't know why. I have been cooking...every single day... unless I just get sick of it and ask Tom to cook, like I did last Thursday when I asked him to please cook Saturday and Sunday. He obliged.

The weather in Arkansas has turned much cooler and has been damp for a couple of days. I don't usually do a weekly menu. My moods are much too unpredictable to put anything in writing and actually stick to it. But I made a menu last week, which I have, for the most part, followed until this morning. I went to bed planning to have Cashew Chicken for dinner, but when I woke up this morning to another gloomy, damp day, all I could think about was soup. So I have a huge pot of Minestrone soup on the stove and I am much more satisfied already.

So, what have I been cooking? Well, for a week I wasn't cooking anything because I was driving to and from Las Vegas in 5 days. But since I've been back, I've been furiously feeding my body and my soul with food. AND making lots of desserts and giving half of them away to the neighbors.

Last Friday, this cake was kind of an after-thought. Early last week I used a new recipe for gingerbread cookies. They weren't my cup of tea. I liked the soft, cake-like texture, but they lacked that nice gingerbread flavor. I gave most of them away. But I still had a sweet tooth, which is a rarity for me. Then I saw this recipe on Friday Friends. Dense, rich, simple, easy, non-pretentious. My kinda cake. The only change I made was that I did not use the cream cheese based frosting. The cake recipe is Debbie's of Friday Friends. The frosting recipe is mine. The recipe for Debbie's frosting is at the link above.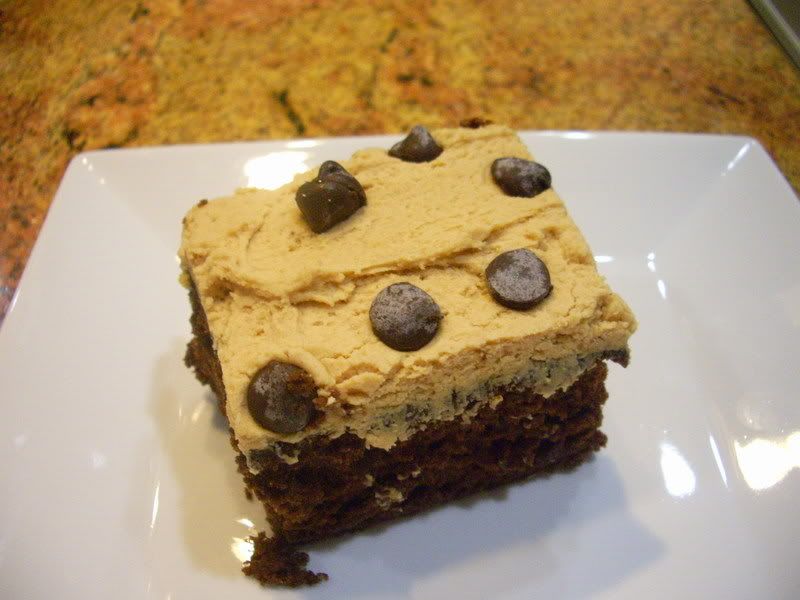 Chocolate Cake
adapted from Friday Friends



2 cups all purpose flour
2 cups granulated sugar
2/3 cup unsweetened cocoa powder
1 teaspoon baking soda
1/s teaspoon baking powder
1 teaspoon salt
2 eggs
3/4 cup milk
2/3 cup cooking oil
1 teaspoon vanilla extract
2 teaspoons instant coffee crystals (which I did not have, so I used instant espresso)
1 cup cold water

Grease a 13x9x2-inch baking pan and set aside.

In a large bowl, stir together flour, sugar, cocoa powder, baking soda, baking powder and salt. Add the eggs, milk, oil and vanilla. Beat with an electric mixer on low speed until combined, then on medium speed for 2 minutes.

Dissolve the coffee crystals in the cold water and add to batter. Beat on low speed until smooth (batter with be thin).

Pour the batter into the prepared baking pan. Bake in a 350 degree oven for 35 to 40 minutes or until a toothpick inserted in the center comes out clean. Cool in the pan on a wire rack.

Frost when completely cool.



Peanut Butter Frosting
by Terri Powers for Terri's Table



5 tablespoons butter, softened
1-1/2 cups confectioners sugar
1 teaspoon vanilla extract
1 cup smooth peanut butter
2 to 5 tablespoons milk

In a medium bowl using a mixer, combine butter, sugar and vanilla and beat well. Add the peanut butter and 2 tablespoons of milk slowly, beating until it is very cream. Add up to 3 more tablespoons of milk to achieve the desired consistency. Frost the cooled cake.

Debbie suggests sprinkling the cake with about 3 tablespoons of miniature semisweet chocolate chips, but I used the regular because that's what I had. I couldn't think of a better way to massage my sweet tooth!