It started cooling off here in Arkansas about three or four weeks ago, although we had a few unseasonably warm days.

All summer long, we ate grilled meats and fish, every kind of salad imaginable and maybe only one or two cold soups, like Gazpacho. So when the weather turns, I'm ready for warm, comfort foods.




I started our soup season with Cream of Mushroom soup. It was delicious and we had enough to have as a meal with truffled croutons the first night...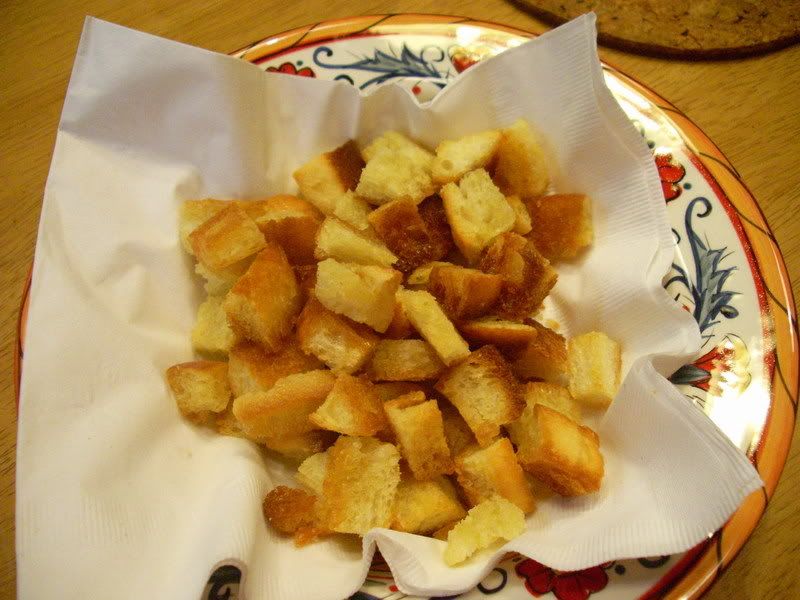 ,

and as a first course drizzled with a little truffle oil the second night.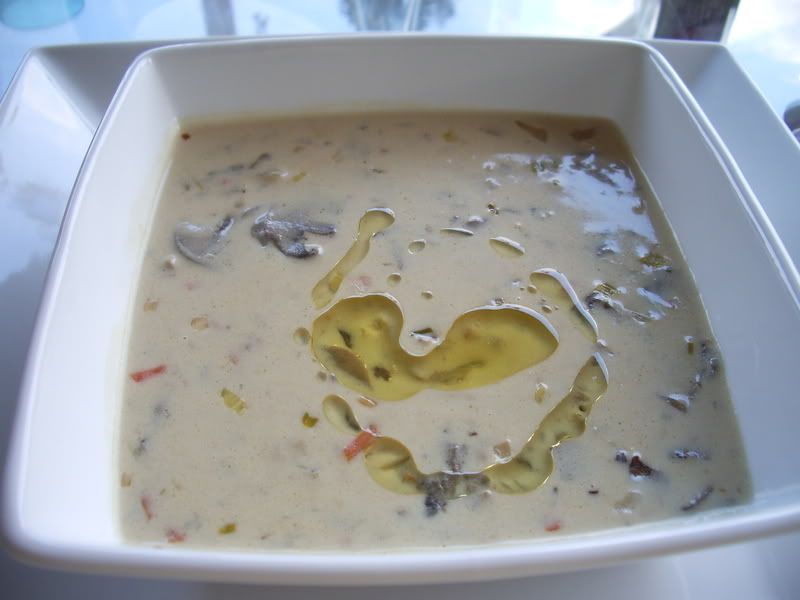 This soup was so good, in fact, that the next day Tom came home with four packages of different kinds of wild mushrooms for me to use next time I made this, which he hoped would be very soon.

Keep in mind when purchasing your mushrooms, you can use any combination of mushrooms you like. I've made this soup with several different types of mushrooms with the same delicious result.



Cream of Mushroom Soup
by Terri Powers for Terri's Table



1 package (about 6 - 8 ounces) fresh shitake mushrooms
1 package (about 8 - 10 ounces) fresh crimini mushrooms (they are called Baby Bellas here)
1 package (about 14 - 16 ounces) white button mushrooms
2 tablespoons olive oil
1 stick (1/4 pound) butter
1 small onion, finely chopped
1 stalk celery, finely chopped
1 medium carrot, finely chopped
1 medium sized sprig of fresh thyme, leaves removed and finely minced
1 bunch of green onions, sliced thin (white and green parts)
1/4 cup all purpose flour
4 cups chicken broth
1-1/2 cups white wine
1 cup half and half
1 cup heavy cream

Clean the mushrooms, remove the woody stems from the shitake mushrooms and thinly slice the mushroom caps.

In a large pot, heat the olive oil. Add the onion, carrot, celery and fresh thyme and cook over medium high heat until the onion is almost transparent. Add the mushrooms and green onion and cook for about 10 to 15 minutes, until the mushrooms have softened. Remove everything from the pot to a bowl and set aside.

To the empty pot, add the butter and allow to melt completely, scraping the bottom of the pan to loosen any vegetable bits. Add the flour to the butter and cook over medium heat until your roux is lightly browned, about 2 to 4 minutes. Do not allow to burn. Using a whisk, stir the chicken broth into the roux in a steady stream until all the broth has been added and the mixture is smooth and does not have any lumps. Stir in the wine.

Add the mushroom mixture back into the pot, mix well to incorporate into the broth. Bring the broth back to a boil, reduce to a simmer and cook uncovered for about 45 minutes, allowing the broth to thicken a little and reduce slightly.

A few minutes before serving, add the half-and-half and cream, and season to taste with salt and pepper. Heat the soup through, but do not allow to boil. Serve with croutons.



Truffled Croutons
by Terri Powers for Terri's Table



1 loaf of french bread
olive oil
2 to 3 teaspoons black truffle infused oil

Preheat oven to 400 degrees.

Cut the loaf of french bread into crouton-sized pieces and put into large bowl. Start adding olive oil a tablespoon at a time, continually tossing the bread, until all the cubes of bread are pretty evenly coated. Continue to toss the croutons while you sprinkle the infused truffle oil over them a teaspoon at a time.

Spread the croutons in a single layer on a large cookie sheet or baking pan. Bake for about 10 to 12 minutes, until crunchy but not hard. Sprinkle on soup to serve.