Or...

Are you sick of turkey yet because it's almost time to roast another one!

I love turkey. Really I do. But I am sick of it. But, by the time Christmas rolls around I will be craving it again. I do this every Thanksgiving and Christmas.

Every year I say I am going to roast a turkey more often, but I don't. I don't know why. I roast chicken, why not turkey? It doesn't make sense to me, but then nothing makes much sense to me during the holidays. My head is filled with baking cookies, bars and quick breads and trying to decide what to buy whom for Christmas.

So, anyway, back to the turkey. We roasted a 22 pounder and had 8 people for dinner (plus a take-home-care-package-dinner for my niece who was in New York oogaling Daniel Radcliff ~the star of Harry Potter, if you're not up on those kinds of things~ as he came out of the theatre where he stars in Equus. Anyway, we had LOTS of leftover turkey and all the trimmings.

Leftovers, Day One: Of course, the first dish I made using the leftover turkey was the obligatory Turkey Soup, but I punched it up just a little by adding some tortellini I had in the pantry.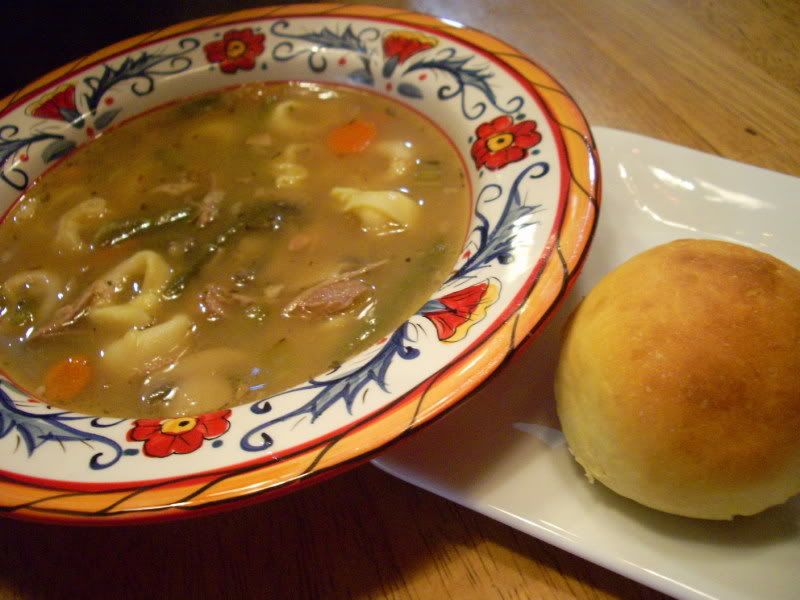 I bought some mushrooms and a zucchini, threw in some onion, carrot, celery and our leftover green beans. I make a large pot of turkey stock to use for making the gravy and I used what was leftover from that, plus a little chicken broth, thyme and a bay leaf. I served it with those amazing leftover Sweet Potato Buttermilk Rolls that I made using the recipe from Pinch My Salt and voila! Dinner is served.

Leftovers, Day Two: I was watching the Today Show Friday morning and saw a segment with the Scottos using leftover turkey and thought, Gee, I think I might have some around here somewhere! One dish that caught my eye was turkey in a marsala cream sauce over pasta. Yeah, I know. I'm a sucker for a velvety cream sauce.

Tom made it Saturday night...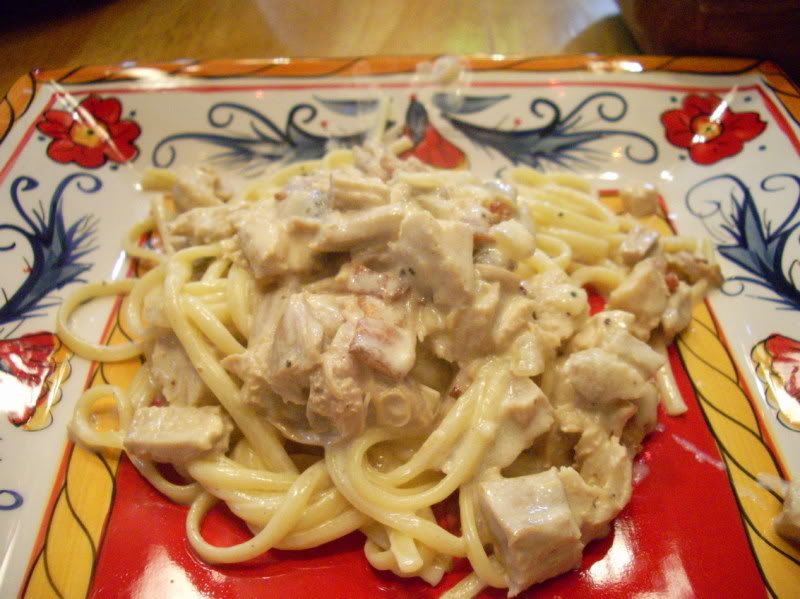 Following is the recipe, cut in half, with Tom's changes:


Fettucine with Turkey, Mushrooms & Onions in a Cream Sauce
Adapted from The Today Show, from Fresco by Scotto Restaurant
1 pound linquine
3 tablespoons olive oil
3 tablespoons butter
1/4 cup bacon, cut into small pieces
1/2 cup onions, diced
1/2 cup mushroom, sliced
2 cups diced leftover turkey, cut into 1/2-inch dice
1-1/2 cups heavy cream
1/2 cup leftover turkey gravy
1/2 cup Marsala wine
salt & pepper
3/4 cup grated parmesan cheese
In a large saucepan, combine the oil and butter over medium heat. When the butter is melted, add the bacon and saute until crispy. Add the onions and mushrooms and cook until the onions are almost transparent. Add the turkey meat and toss to mix evenly.
Add the Marsala wine to the pan and cook for about 1 minute. Add the cream and the gravy, bring to a boil, then reduce to a simmer. Season with salt and pepper to taste.
Cook pasta according to package directions. When the pasta is cooked, drain, and add directly to the turkey sauce. Toss well to mix evenly. Serve immediately with grated parmesan cheese.
Leftovers, Day Three:
By this time, we are wishing we had purchased a 10 pound turkey, but we marched forward. I had some puff pastry shells and a bag of peas and carrots in the freezer, so I pulled those out. I chopped up some onion and celery and made a nice gravy base with a butter and flour roux and the last of the leftover turkey gravy and a little chicken stock. I added the turkey, onions, celery, half of the bag of peas and carrots and a small can of corn I had in the pantry. I baked the puff pastry shells and we had Sort-of Turkey Pot Pie...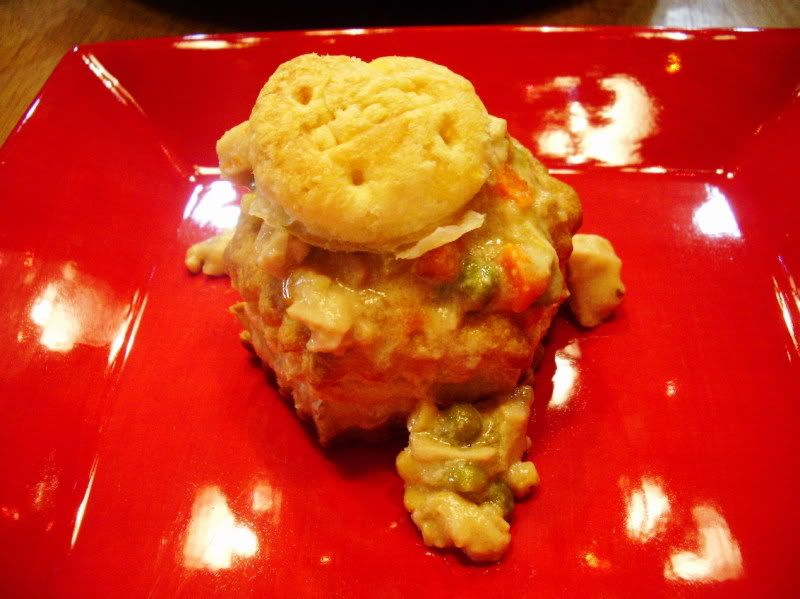 I had a little homemade cranberry sauce left so I made a cranberry sauce vinaigrette by adding some raspberry wine vinegar, dijon mustard, sugar, oil and salt and pepper and served it with salad greens and tomato slices. I think it kind of over powered the greens and would have been better on a chunky chopped salad, but it was good enough...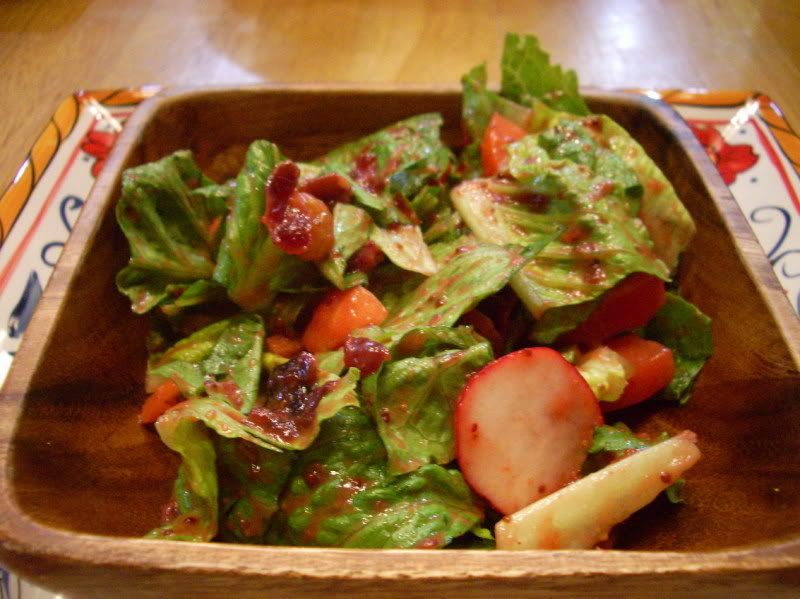 And, best of all, it used the very last of the leftovers! Can I get a
Hallelujah!