I have already covered this topic to some degree on my personal blog (link is on sidebar), but the topic really belongs here.

I purchased an AeroGarden. I had been thinking about it for a very long time, but I figured with my herb garden outside in the spring, summer and early fall, I could purchase herbs at my local grocery store for the few short months my herb garden wasn't producing.

I changed my mind. I did my final last minute shopping for Thanksgiving the Wednesday before and I bought some basil ($4.00). It didn't look great, but it looked usable, and I was going to chiffonade the leaves to add to a cheese mixture, so I knew they would wilt. When I got up Thursday morning and pulled them out of the refrigerator, they looked liked this...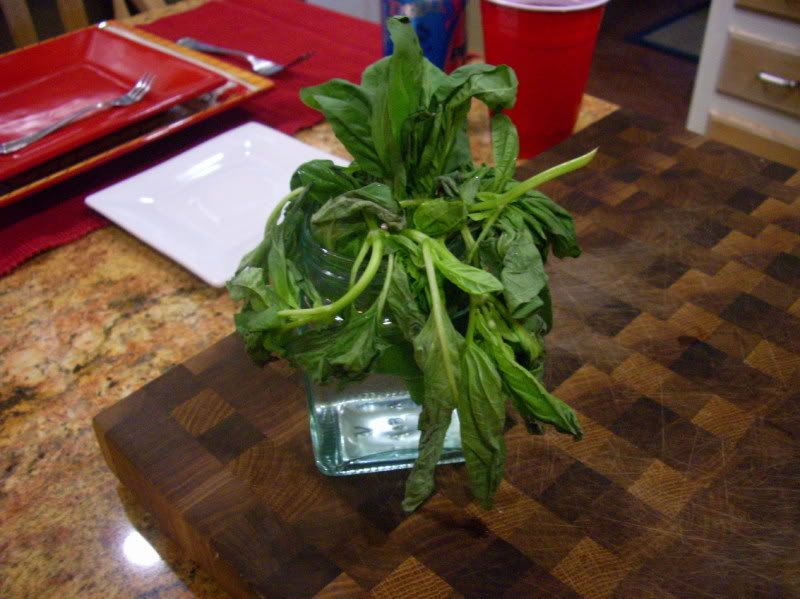 I was only able to salvage less than half of the leaves, which left over half my cheese appetizers without basil. This wasn't the first time this had happened and, frankly, I just got tired of it.

So, I purchased a silver "classic" AeroGarden from Hydroponic-Home-Garden.com. I paid $149.00 and the shipping was free. The kit included the AeroGarden, in parts ready to assemble, a gourmet seed packet (which included Italian basil, purple basil, chives, dill, thyme, parsley and mint), nutrient tablets and instructions. I received it within 3 days.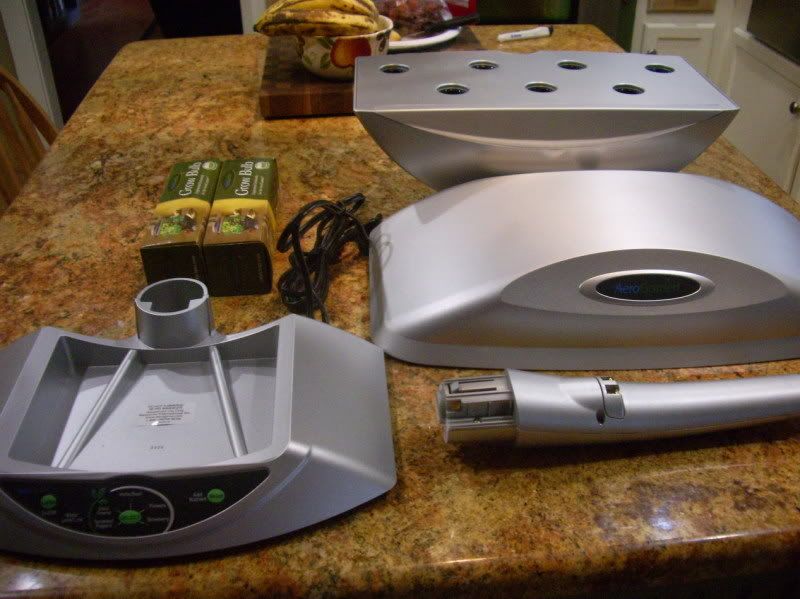 The instructions were easy to follow, assembly was extremely simple and I didn't need any tools. All the parts snap together snugly and, before adding the water, the entire unit is very lightweight because it is made of some sort of plastic.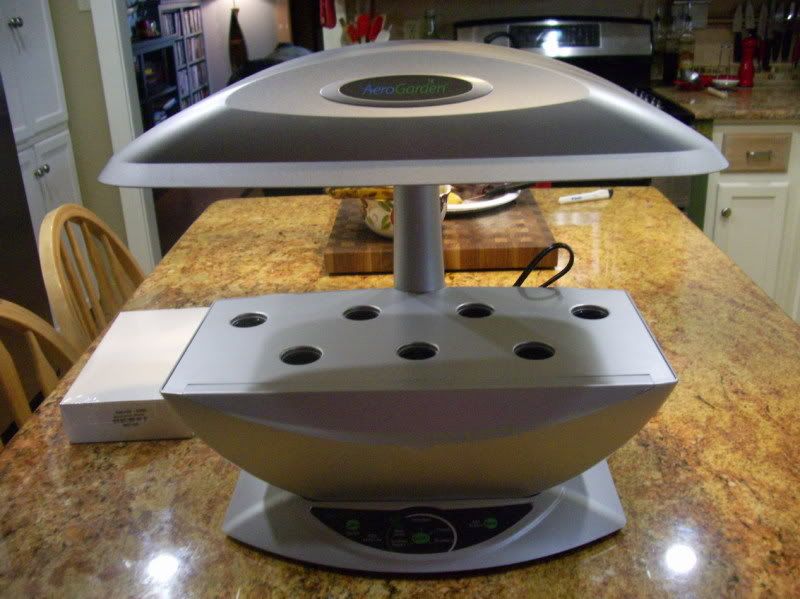 I set the unit on a shelving unit and added the water. The seed pods come pre-seeded and ready to insert into the holes in the top of the water tank. I inserted the pods and covered them with the little plastic domes and plugged it in. The grow lights lit up and the water pump started. As instructed, I added two nutrient tabs to the water. It was as simple as that.




This morning is the end of week one and this what it looks like.


The back row, left to right ~ Mint, the dome is still in place because it is just now starting to sprout. Next to the mint is the Italian basil, dill and thyme, which have all sprouted and so the dome is then removed. The front row, left to right ~ Parsley, the dome is also in place because it has not yet sprouted, but if I look closely, the seeds are just now germinating. Next to the parsley is the purple basil, and next to that is the chives. They are all doing well.

My thoughts and more information:


I think the unit is a little pricey, but I'm thinkin' that it's cheaper than a greenhouse, which I cannot afford right now.


At $19.95, the seed kits are a little pricey, too, about twice what it would cost to buy your own packets of seeds with a lot more seeds to plant. However, the company does offer a "Master Gardener's Seed Kit" for $49.95 (currently on sale for $10.00 less) which gives you a growing guide, 7 bio domes, 21 seed pod labels, 21 grow sponges, 7 reusable seed pods and a years supply of small and large nutrients. You supply your own seeds.


I would recommend that you read some reviews of the product. Andrea of Andrea's Recipes also blogs at Andrea's Reviews and has a three-part very detailed review, which I found extremely helpful.


Another site for additional information is AeroGarden Reviews, an excellent source of information. I am sure with a single Google search you can find others.


Before I invest in anything else (except maybe more nutrition tabs and grow light bulbs), I'll just see how these herbs progress. I will keep you posted.