I don't particularly love winter, especially in Arkansas. We don't get a lot of snow and snow, I think, is what makes winter bearable because it makes everything look beautiful; never mind the ice, the brown slush, the chains and snow-tires, the snow shovels, wet shoes and boots. I never think of those things when I think of snow. Instead, I think of the snow-covered trees, the beautiful snow flakes, warm fires, hot tea or chocolate and everything outside white and beautiful. As you can tell, I'm much more into the fantasy than the reality. But, for me, if it's going to be really cold, then let's have some snow.

No matter if it snows or not, cold weather makes me crave comfort food ~ pots of soups and stews or big hearty casseroles. I've been seeing lots of stews and casseroles on other blogs lately and it seems one of the most popular is Beef Bourguignon. Every blog I've visited lately tempted with photos of the rich beef stew. Some recipes contain brandy, other cognac. Some cooks use shallots, other use pearl onions, still others use the standard yellow onions. But, what gives this stew it's richness is combining the beef and red wine.

Here's my really simple version: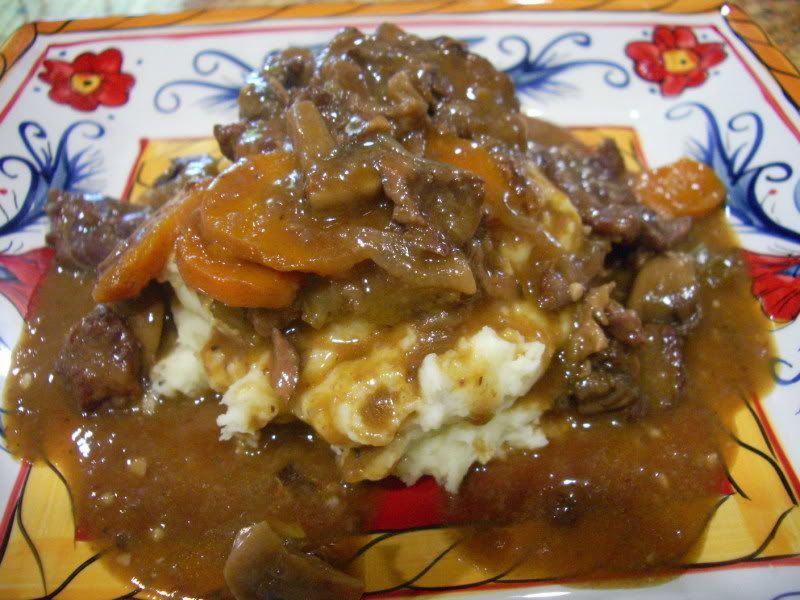 Beef Bourguignon
by Terri Powers for Terri's Table
3 pounds beef chuck roast, cut into about 1-inch cubes
1 cup flour
1 teaspoon salt
1 teaspoon pepper
1 teaspoon garlic powder
6 slices bacon, diced
1 tablespoon olive oil
2 stalks celery, diced
3 carrots, sliced
1 large onion, diced
½ pound mushrooms, sliced about ¼ inch thick
2 cloves garlic, finely minced
2 cups beef broth
2-1/2 cups of a full-bodied red wine
1 tablespoon tomato paste
1 sprig of fresh thyme, leaves removed and chopped
1 bay leaf
salt and pepper
Heat a large pot or dutch oven over medium high heat and, when hot, add the diced bacon. Reduce heat to medium and allow to cook until almost crisp. Remove the bacon pieces to a paper towel and set aside. Add olive oil to the bacon drippings in the pot.
Sprinkle the beef cubes lightly with salt and pepper. In a large bowl, combine flour, salt, pepper and garlic powder. Add the beef cubes and toss until they are coated well.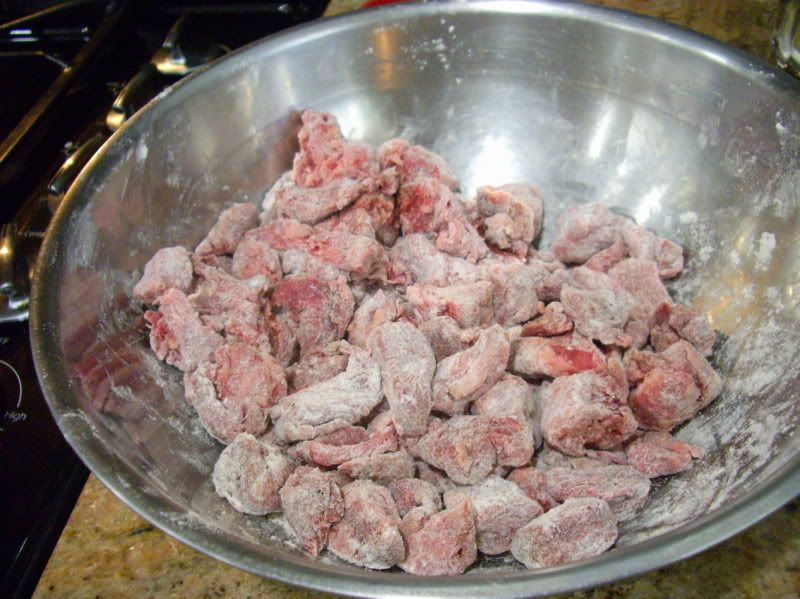 Brown the beef cubes in the pot a few at a time, removing the cubes when they are browned and adding the rest of the cubes in small batches until all the beef is browned, adding more olive oil a tablespoon at a time, if necessary.
Remove all the beef from the pan.
To any remaining drippings (if no drippings remain, add a little olive oil), add the onion and saute about 12 to 15 minutes until nicely browned and caramelized. Add the carrots and celery and sauté for an additional 5 minutes. Add the mushrooms and garlic and sauté about another minute or two. Pour the wine into the pot, stirring constantly to deglaze the pan. Stir in the beef broth and add the beef chunks and bacon back into the pot. Add the tomato paste, thyme and bay leaf to the pot and mix well.
Bring the mixture to a simmer. Cover the pot tightly, lower the heat to a very low simmer and allow to cook about 2½ hours, stirring occasionally. When done, the meat and vegetables should be very tender and stew should have thickened. Season with salt and pepper to taste.
I prefer to serve this over mashed potatoes, but you can serve it over pasta, polenta or even grits.