Technically it's week 2-1/2.

So far, so good. All of the herbs have germinated and are doing well. On Monday, precisely two weeks from the initial setup, both the "water level" and "add nutrients" warning lights flashed and continued to do so until I added both and reset them. The instruction booklet states that you need to add water and nutrients about every two weeks.

This is how the plants look...



The plants are developing more leaves and growing taller. The Italian basil is starting to look like basil instead of just a little green shoot.



And the chives are definitely looking like chives...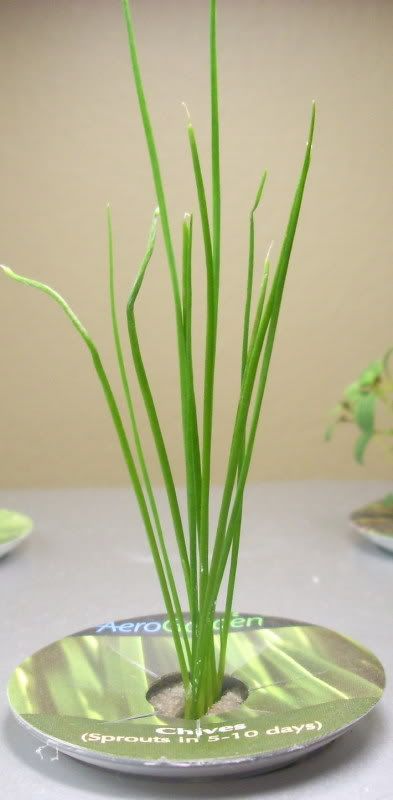 And, if you look inside the water tank, you can see the roots beginning to grow longer and reach towards the water (so sorry for the blurry photo)...




I have to say, I'm really excited about this. It's doing much better than I expected.

It is definitely not as noisy as I expected. The unit sits in my dining room on a metal shelving unit, which they do not recommend because it tends to be noisier. Most of the time, I cannot hear it unless I am sitting at the dining table and the house is really quiet. Even then, I can just barely hear the pump hum and the water trickle through the sponges back into the tank.


The light doesn't bother me either. The hood directs the light onto the plants and keeps it from shining directly into the room.


The light also keeps the plants warm enough. I keep my house rather cool in the winter...about 68 degrees during the day and 55 degrees at night. The plants do not seem to have suffered at all, unless they are supposed to grow faster. But, I think they are doing fine.


I also think the light warms the surface of the unit enough to warm the water in the tank, but the surface does not get hot to the touch, just barely warm.
We are leaving on Monday to spend the Christmas holiday with our youngest son and his family in Savannah. I will top off the water tank before I go, just to be sure the level does not drop below the desired level. After a week away, I will be anxious to see how the plants have grown in my absence.