Thanksgiving, Christmas and New Years have come and gone. It's over. Thank God! Don't get me wrong. I enjoyed the holidays this year. I was in a much better mood this year (unlike many years past) and, like everyone else, I baked cookies. Tons of them. Jam Thumbprints, Spritzes, Double Chocolate Chunks, regular and Chai flavored Snickerdoodles and my mom's recipe for Bourbon Balls. We made a beautiful turkey with all the trimmings for Thanksgiving and had tons of turkey leftovers almost until Christmas.

Unfortunately, everywhere I look, bloggers are still baking endless batches of cookies, candies, cakes, pies, breads, etc.

I'm sick of sugar. Cookies, chewy bars, homemade candy. I'm tired of pumpkin. Pumpkin bread, pumpkin muffins, pumpkin pasta! Cranberries, once loved, now suck! Chocolate has never been my favorite. And, if I see another piece of turkey, I'm going to scream.

By Christmas Day, I was sick of just about everything Christmas, except enjoying time with family and the really nice chef's knife I received as a gift that morning. Luckily, my son, Chris, is quite an unconventional cook when it comes to holidays and, instead of a plate loaded with roast turkey, stuffing, mashed potatoes, gravy and cranberry sauce, our Christmas dinner looked like this:




A beautiful piece of quickly grilled tuna that had been marinated in a soy-honey-ginger sauce (Ina Garten's marinade for Indonesian Ginger Chicken) and served with a little of the reduced marinade and a wasabi cream, accompanied by a wild rice and mushroom pilaf and my daughter-in-law, Kelly's, roasted orange asparagus. I started eating this delicious dinner before I realized that I had not even taken a photo of it. It was awesome!

For New Year's Eve at home, Tom made his delicious Paella.

Somewhere in between those wonderful dishes, I needed comfort food. Something not turkey or not ham. I searched and searched to see what other bloggers were cooking, but everyone was still cooking holiday food! Well, except one. Alison at Someone's in the Kitchen posted a recipe for a Pork Chop and Potato Bake casserole that spoke to me in every language my stomach understands...Yummy, Heavy, Unabashed Comfort Food, Baby! Pork chops, hashbrowns, cheese, sour cream, canned soup and crunchy onions on top! Oh...My...God!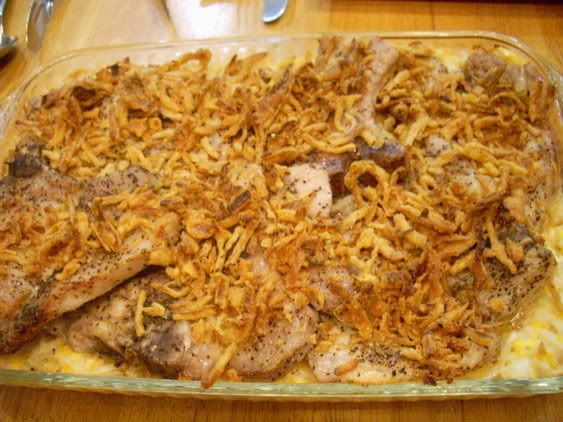 The recipe calls for Cream of Celery soup, but I was so excited about making this dish...or maybe I was just experiencing a holiday sugar overdose...that I didn't realize I was out of Cream of Celery soup. No matter. I just substituted Cream of Mushroom. This dish was soooo tasty.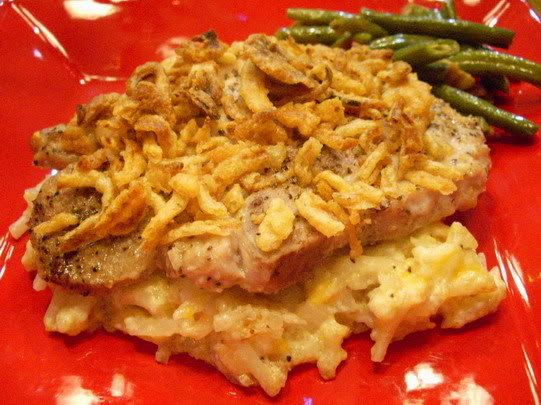 Pork Chop and Potato Bake
adapted from the recipe by Alison of Someone's in the Kitchen
Alison's original recipe is at the link above
6 pork chops
1 can cream of mushroom soup
1 small onion, diced
1/2 cup milk
1/2 cup sour cream
1/4 teaspoon pepper or to taste
1/2 teaspoon salt or to taste
24 ounces hashed brown potatoes, thawed
1 cup cheddar cheese, shredded
1 cup french fried onions
Sprinkle the chops with salt and pepper and brown them in a skillet with a little oil. Set aside.
In a large bowl, combine the soup, milk, sour cream, more pepper & salt, to taste. Stir in potatoes, cheese and diced onions. Spoon mixture into a 9x13 pan you have sprayed with cooking spray. Arrange pork chops over potatoes. Bake, covered, at 350 for 40-45 minutes. Remove cover and top with french fried onions and bake an additional 5 minutes, uncovered.
I just served it with fresh green beans. For about a pound of beans, I chop and cook four slices of bacon until almost crisp. Then I add the green beans and about 4 tablespoons of butter. That's it. No water or broth. Cover the pot and cook the beans on a medium low heat, stirring occasionally, until al dente. Add salt and pepper to taste.
If this doesn't soothe and heal anything that ails you (except high cholesterol, that is), nothing will.