It seems everyone has received free bottles of POM Pomegranate juice. Everyone, that is, except me. I had to buy mine. But, that's okay, I actually buy it regularly because I make a refreshing afternoon drink with it. I fill a tall glass with ice, pour pomegranate juice to fill the glass about a fourth full, then pour orange juice until the glass is half full, then fill to the top with diet ginger ale. It's sort of like an afternoon snack for me.

We were planning a cookout this past weekend and I wanted something different. I had been seeing a lot of POM recipes in the blogosphere lately and thought about making a Pomegranate Barbecue Sauce. I did some looking around the internet and every single recipe called for Pomegranate Molasses. Now, com'on folks, I live in Arkansas. There are times during the year when the grocery stores don't even carry regular molasses because it is considered "seasonal" (like nobody would use it any time other than the holidays ~ go figure). So, I KNEW there would be no way I would find pomegranate molasses. I had to use my creative genius. I decided to reduce the pomegranate juice down to a glaze. So what do you think? Looks delicious, huh?




Here's what I did. I had some sliced smoked beef brisket in the freezer that I had smoked back in November and vacuum sealed. I made the barbecue sauce and then warmed the brisket slices in the barbecue until we were ready to eat.

Last week, Debbie @ Friday Friends posted a recipe for Deviled Egg Salad...well, actually the recipe's specific title is Pan-crisped Deviled Eggs on French Lettuces, but as I said, I live in Arkansas. The only thing French you will find here are Fries. But, in defense of the state where I now live, I did find a really nice herb and spring mix at WalMart. They don't carry it often, but when it's there, I buy it because it is really tasty. I like biting into my salad and being surprised with a taste of fresh dill or basil.

So, anyway, we love deviled eggs at our house and this salad looked so darn good I just had to try it and I can tell you, I will make it again and again. It was delicious.




Okay, so technically, we didn't actually cook out, but we did eat outside. And we enjoyed every single bite.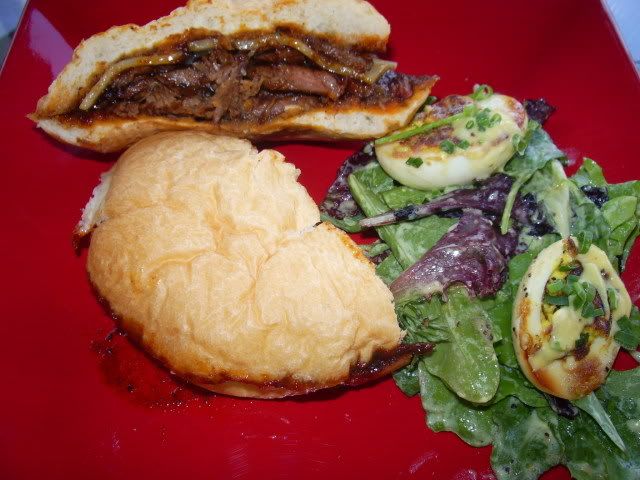 Pomegranate Barbecue Sauce
by Terri Powers for Terri's Table
1 Tablespoon olive oil
1/2 medium onion, finely chopped
2 teaspoons (about 2 cloves) garlic, finely minced
1-3/4 cup pomegranate juice
1 cup cider vinegar
1 cup ketchup
2 teaspoons dry mustard
2 teaspoons chili powder
2 Tablespoons chipotle peppers in adobo
2 teaspoons smoked paprika
3/4 cup white wine
1/2 teaspoon each kosher salt and fresh ground pepper
In a large frying pan, heat the olive oil. Add the onion and cook until translucent. Add the garlic and cook about a minute. Pour in the pomegranate juice and bring to a boil. Boil the mixture for about 9 or 10 minutes until the liquid is reduced by a third.
Add the vinegar the remaining ingredients, stirring well, bring to a boil and reduce the sauce to a simmer. Simmer until slightly thickened. Use as a glaze or sauce.
Note:
I initially did not add the white wine. I only added it later after the sauce has simmered for awhile and still had too much of a vinegar bite for me. The white wine cuts that bite very nicely.
Debbie's Deviled Egg Salad
adapted from Debbie's recipe @ The Friday Friends
For The Eggs:
8 large eggs, hard cooked and peeled
1 teaspoon Dijon mustard
2 med. garlic cloves, minced
2-1/2 teaspoons minced onion
2-1/2 Tablespoons fresh flat-leafed parsley leaves, coarse chopped
2-3 Tablespoons milk
2-1/2 teaspoons mayonnaise
1-1/2 teaspoons white wine vinegar (
I only had cider vinegar, so I used that
)
Salt and fresh ground black pepper
2 Tablespoons chives, chopped - I had to add them. They are growing beautifully in my herb garden. I also used them for garnish on the finished salad.
For The Dressing:
the leftover egg stuffing
3 Tablespoons good tasting extra virgin olive-oil
1 generous teaspoon Dijon mustard
2 1/2 Tablespoons milk
2 Tablespoons cider vinegar.(
The original recipe called for 2 1/2 teaspoons white wine vinegar
)
Salt and fresh ground black pepper
For The Salad Greens:
4 generous handfuls of mixed greens such as Bibb lettuce, mache`, and dandelion greens or frisee`, washed and dried. (
I used a full plastic container of herb and spring mix
To Make The Hard Cooked Eggs:
Place 8 eggs in a large pot and cover with cold water. Bring the water to a boil over high heat. Once the water comes to a boil, cover the pot, turn off the heat and allow the eggs to sit for 20 minutes. After 20 minutes, drain the water from the pot and cover the eggs with ice and cold water to stop the cooking and cool the eggs so they can be easily handled.
1. Cut the hard cooked eggs in half lengthwise. Gently remove the yolks with your fingers and place them in a medium sized bowl. Set the whites aside on a plate.
2. To the yolks, add the mustard, garlic, onion, parsley, milk, mayo, vinegar and chives. With a fork, crush everything together into a thick paste. Add salt and pepper to taste.
3. Pack the egg yolk mixture back into the hollows of the egg whites. Fill so that the stuffing mix even with the surface of the egg white. DO NOT mound the stuffing. You will have leftover stuffing and this becomes the base for your salad dressing.
4. To the bowl with the leftover egg stuffing mix, add the salad dressing ingredients and whisk until smooth. Set aside.
5. In a large non-stick skillet, heat 2 - 3 tablespoons of olive oil over medium heat. Gently place the eggs in the pan, stuffed side down. Cook until the eggs are beautifully browned, 3-5 minutes. Sprinkle them with salt and pepper as they cook.
5. As the eggs saute`, put the salad greens into a large bowl. Add all but 2 tablespoons of the dressing to the greens and toss until well coated. Remove salad greens to a large platter.
6. Gently lift the eggs from the pan, turn them filling side up and set them on the greens. Be careful! They are really slippery little suckers. I had one casualty.
7. To serve, drizzle remaining dressing over eggs, sprinkle with chopped chives and serve.