I didn't post last Wednesday. In fact, I haven't posted much of anything since the end of April, except the Happy Mothers Day post.

It's been raining consistently since the end of April. As of last Friday, May 8th, we had received 10-1/2 inches of rain so far in May. That is a lot of rain. More rain is predicted through Saturday. In addition, the weather has cooled off considerably. I think the high yesterday was 64 degrees. It's warmer now at 8:00 am than it was at 3:00 pm yesterday.

But, I took photos last Wednesday and this morning, so... lucky you ... you get a two-fer... and we have a lot of ground (pun intended) to cover so let's get started.

The pergola is taking shape nicely. The wisteria is growing like crazy and the whole top of the pergola is nearly covered with the vines. But, I've made some changes to what's underneath.

I had been searching for a large, really nice, well-tuned wind chime and a couple of weeks ago I found a beautiful Gregorian Baritone wind chime. You can hear a sample audio of the chime here. It arrived last Friday.

Around the same time two weeks ago, I received a flyer in the mail from Pier 1 advertising a sale on glassware (did I ever mention I have an obsession with all sorts of dishware?), so I took a trip to the store.



As I was meandering through the store, as I often do, I saw this statue of a Buddhist monk holding out his begging bowl. I fell in love with it, stroked his head gently for a few moments, but I left the store without him. The next day I went back and bought him and we placed him under the center portion of the pergola (notice the puddle of water from our non-stop rain)....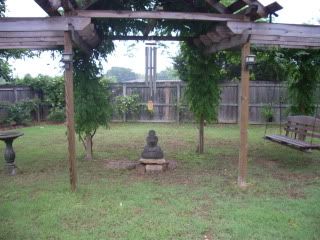 And last Friday, when the wind chime arrived, Tom hung it over the statue and set the statue on some stones to raise him up off the ground, so now it looks like this...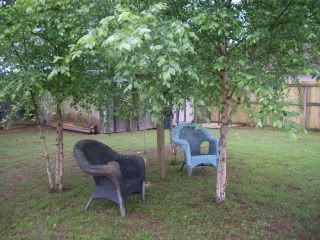 The old worn out rattan chairs that were sitting where my monk is now perched were moved over under the trees where the bird and squirrel feeders hang...










| | |
| --- | --- |
| Tom moved my porch swing from the patio... | to underneath the pergola... |
...Aaahhhh, much better. We were able to relax there a couple of evenings after dinner when the rain subsided briefly.
So let's get on with the plants. Tom's Arapaho blackberries are doing extremely well.
| | |
| --- | --- |
| Last week they looked like this... | This morning... |
| | |
| --- | --- |
| Daylillies last week.. | and this morning... |
By next week, I should have photos of the flowers.
The planter near the pond is doing well, but it looks like the nasturtium is going to be the dominant flower.
| | |
| --- | --- |
| Last Wednesday... | and this morning... |
Speaking of the pond, the plants are really growing.
| | |
| --- | --- |
| Last week... | and this week... |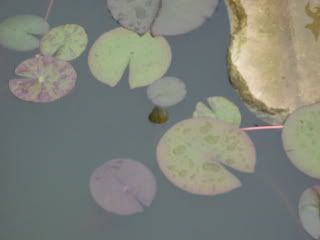 A closer look at the plants in the pond and you will see a little something peeking up through the water. Yes, my friends, that is a water lily bud peeking through...
My garden is doing just okay. Insects are eating my basil and everything else is barely growing because of the continual rain, lack of sun and cooler temperatures. If I listen carefully as the sun goes down, I can hear the poor plants pleading,
Help me. Help me. I'm drowning!
And I feel so helpless!
| | |
| --- | --- |
| Last week... | to this week... |
Not much difference, but in anticipation of weather more conducive to gardening, I bought tomato cages anyway.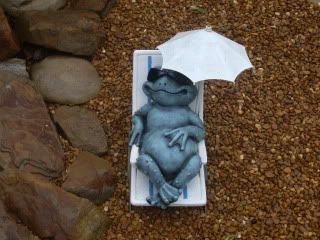 Yes, my dear readers, it has been a thoroughly wet, dreary, bleak, damp, totally yukky two weeks and the only person who seems not to notice is this guy.
Kermit was wrong. It apparently is not only easy being green, but downright pleasurable.
For more Kitchen Window Wednesday, visit
Debbie @ The Friday Friends
.