I am hoping that is true because I've had a string of bad cooking luck lately and I would like for it to change.

A couple of weeks ago, I saw a blog post for recipe for Banana Chocolate Cake. It looked great and I had some bananas on the verge, so I made it. I wound up throwing it away. It was like eating a sponge.

Then we found a source (foodies have "sources" in Arkansas because we have to) for soft shell crabs so we could make my favorite dish from Mike's Place, Tilapia Ponchetrain.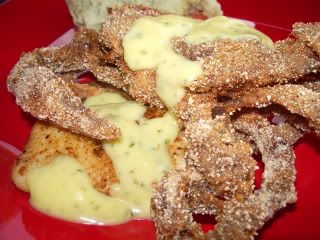 It wasn't quite as good as Mike's (too much corn meal, I think), but we have a freezer full of soft shell crabs.

For Easter, I bake a wonderful Orange Dreamsicle Cake. I got the recipe from Alison's blog, Someone's in the Kitchen. It turned out really good, even though I couldn't find the Orange Supreme cake mix and had to improvise. But the only photo I got was this one...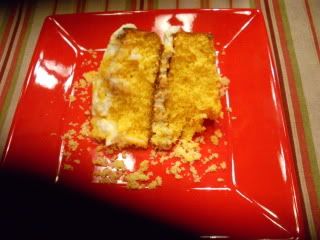 The last lonely piece of cake taken with a camera that was on the fritz. GRRRR! And, it was a beautiful cake, too.

A couple of weeks ago, while folding laundry, I was watching Barefoot Contessa on the Food Network and caught the end of a dessert she was preparing, Couer a la Creme. I looked up the recipe and was so disappointed when I learned it was made primarily with cream cheese. Now, I'm not a cream cheese lover. I don't even like cheese cake all that much, so I scoured the internet for another recipe that called for ricotta cheese. I used the lemon zest and vanilla bean just as Ina's recipe called for and I also made her Raspberry Sauce (which was out-of-this-world delicious). But, the Couer a la Creme...well, that is another story...which began with my quest to find a Couer a la Creme mold (Huh? was the most common response to my inquiries) and ended with using these small plastic colanders I finally found at Target...


| | |
| --- | --- |
| | |
The final result tasted good, but the texture was just too soft.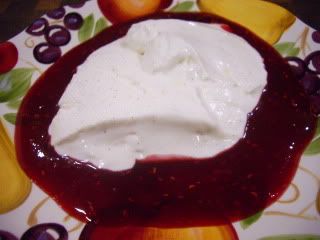 Then there was my Italian Cheese Bread. It is delicious, but the photo is so washed out that the color resembles my white thighs in the winter. Ick!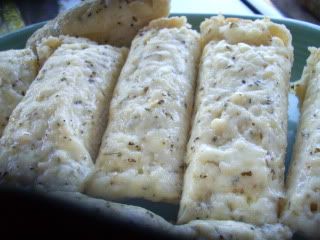 And, finally, the Thai Seafood Chowder I got from the
Bon Appetit website
. I spent $13 on scallops. We couldn't find mussels, so we bought clams (another $10). And I used about $6 worth of shrimp. I had never ventured much into Thai cuisine and used only minute amounts of Thai green curry paste in other dishes, but I was willing to give the
6 TABLESPOONS!!!
the recipe called for a good ole college try. I tasted the broth as I was cooking and it was so hot and spicy that I added an additional can of coconut milk to cool it down some, but it was still too hot.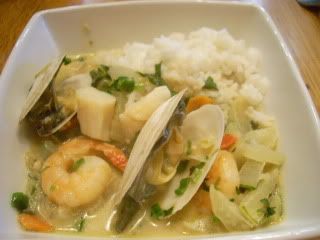 Neither Tom or I could tolerate the level of heat. We threw the chowder away and Tom went to Shorty Small's for burgers.
So what's next? Well, I have made a couple of things that turned out great which I will post at another time, but a little culinary good luck would be in order, don't you think?