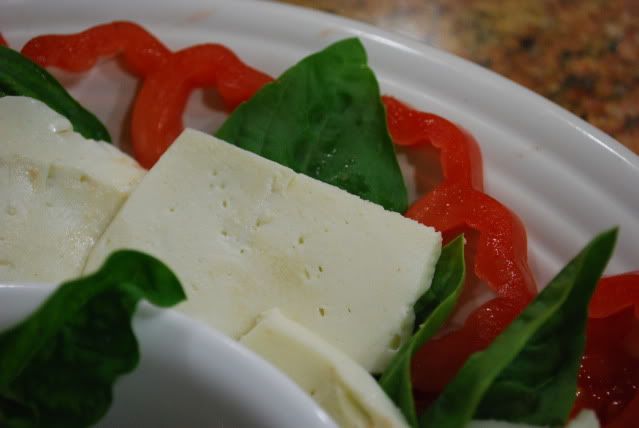 When I read Karen's blog about how easy it was to make
Homemade Ricotta Cheese
, I tried it and
it was a success!
The cheese was smooth, creamy and the perfect consistency with none of that kind of "grainy" feel or texture that I sometimes find in the store bought versions.
My first cheese making success gave me the confidence I needed to try others. So, once again I went searching and came across
this site
, which touts "30 Minute Mozzarella!" Ricki Carroll's instructions, just like Karen's, made it sound easy enough, so I ordered the starter kit.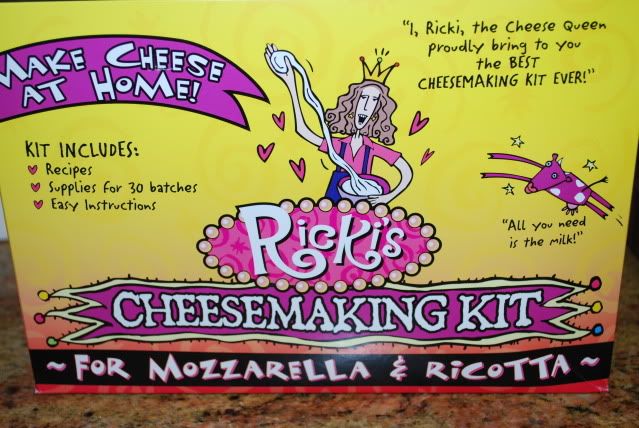 Click on the photo to order your kit!
Yesterday, Tom and I made mozzarella cheese!!
(Gulp!!) Here we go. Pour a gallon of milk into the pot. So far, so good...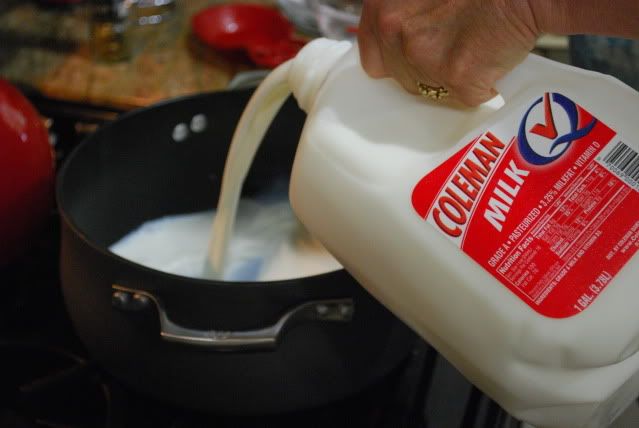 Add the citric acid solution. Bring it up to temp, then add the dissolved rennet. Yep, easy enough...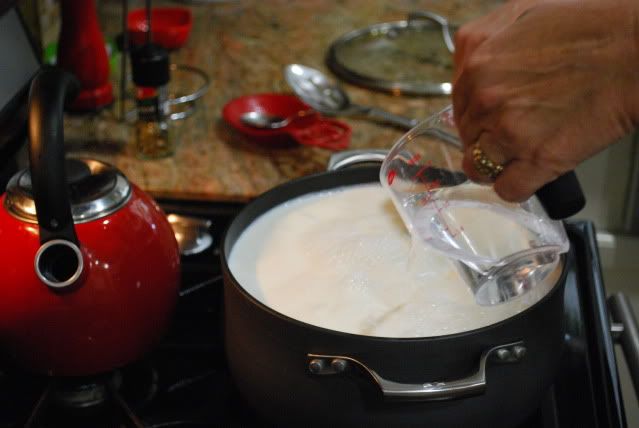 Cover and wait for about 5 minutes.(I'm good at waiting). Now, check the curd. (Uh oh, It's not exactly like the photo in the instructions, but I'll try to be patient)...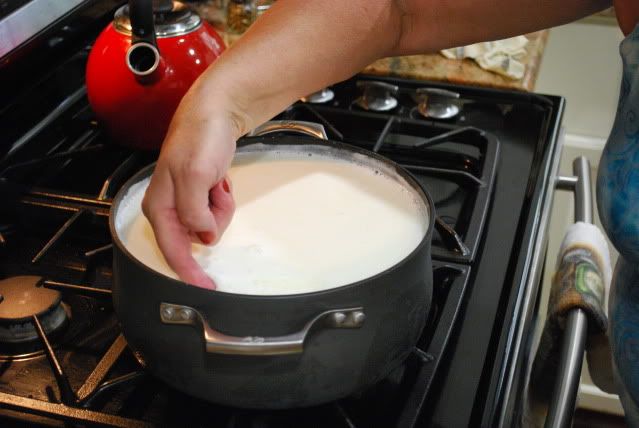 Cutting the curd with the knife...check



Stirring slowly (I don't think it's supposed to look like this)...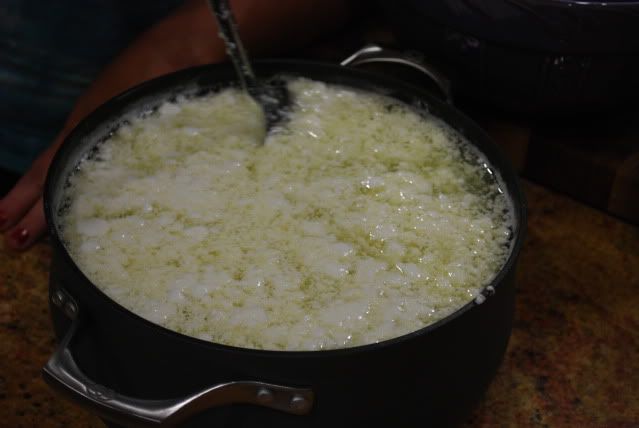 When I finished the slow stir, I removed the curds to a microwavable bowl(I was using the microwave method for heating the curd). After a minute in the microwave, I took out the bowl of curds and added the salt, then back in the microwave for 30 more seconds.
When it came out it was HOT! Tom has tough hands, so he took it out of the bowl and starting stretching it...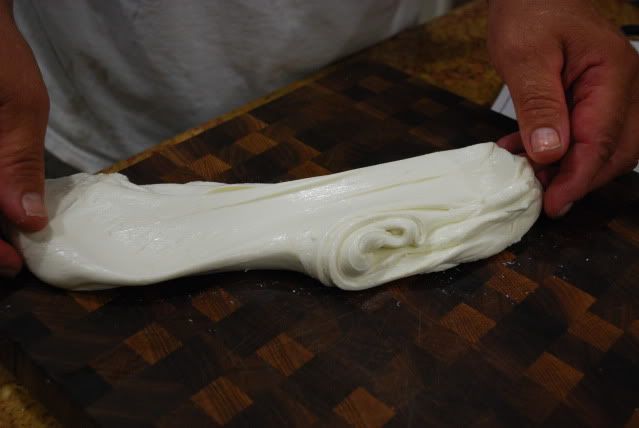 More stretching until it was smooth and shiny (Oh my Gawd, it's really turning into cheese!!!)...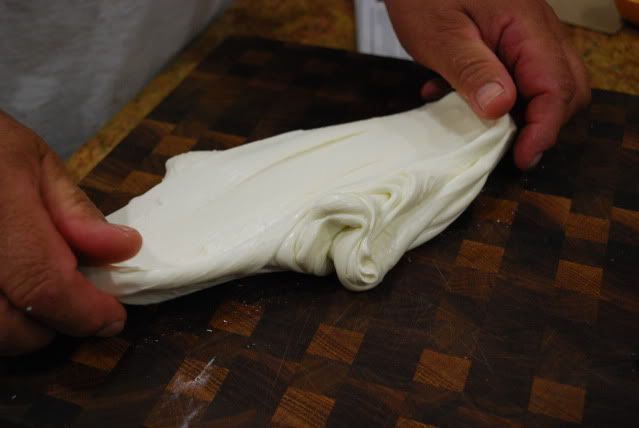 IT'S CHEESE !!!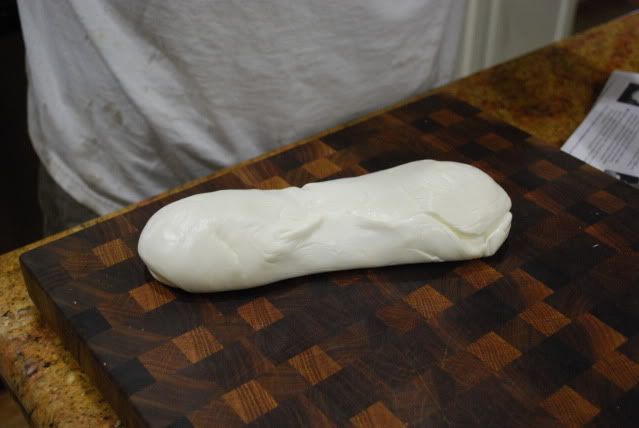 Now for the water bath...

And what do you think we had for dinner? Well, fresh homemade mozzarella cheese, of course...and some beautiful heirloom tomatoes...and fresh basil from my herb garden, then drizzled with just a little olive oil and white balsamic vinegar. In the middle of the plate is just a little Eggplant Tapenade (1 small eggplant, diced; 1/4 cup onion, finely chopped; 3 cloves garlic, finely minced; 1 heaping tablespoon of capers, chopped; 2 anchovy fillets, chopped; all cooked together in a little olive oil and adding at the end a little salt, a little pepper and a splash of balsamic vinegar), all of which was simply perfect with some sliced french bread, brushed with olive oil and toasted in the oven.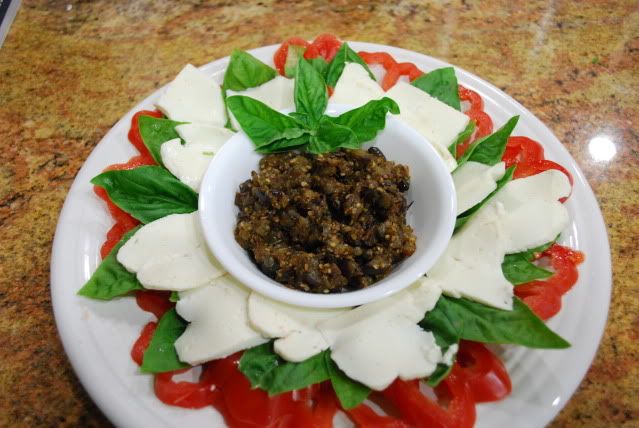 It was so unbelievably tasty that I may never buy mozzarella again.