I did it. I deleted a food blogger from my Google reader. Actually, I've deleted more than one.

I don't cook every single recipe I read from every post I receive. I couldn't. There are far too many. I think I subscribe to just under 90 blogs, most of them food related. When I do try the recipes, I attempt to post the results and give credit to the blog from which I "borrowed" the recipe.

I deleted the first blogger because credit was rarely given where credit was due. I attempt to skim through the posts in my reader on a daily basis, so I have a good idea of who is posting what sort of dishes. When I see some of my very favorite bloggers posting wonderful original recipes and photos, then two or three days later see this one blogger posting the same recipe with no credit to the original blogger, and I see this blogger doing it repeatedly, it just ticks me off. Delete!

Another blogger writes really well, gives credit where it is due, but even though the photos make the food look wonderful, the food sucks. I tried three of this blogger's recipes and all three were really just horrible, throw-in-the-trash-don't-eat-it bad. Sorry, but delete.

Yet another blogger posts recipes almost daily of the food cooked from the night before and only occasionally posts a recipe for something for which I could have already guessed the ingredients, and the rest of the time doesn't bother to give a recipe. Delete.

I'm getting much more selective with my subscriptions. Perhaps it will slow down the accumulation of posts I receive on a daily basis.

So with the general housekeeping out of the way, I want to share with you a dish I cooked (sort of) last night that was not my idea.

I have been craving salad. Big salads, with lots of stuff in them, but I'm tired of Caesar Salad (does anyone really get tired of it?), Mexican Chef's Salad, Cobb Salad...the whole lot. I wanted something different. Then I opened my Google reader to this post @ Beariatric and started salivating immediately. While I didn't use Tom's recipe, it was definitely his post that inspired me to put this salad together.

I've been using my son, Mike's, Buffalo Chicken Wings recipe for years. I think it is the best I've EVER eaten. And, I make an adaptation of Chef Paul Prudhomme's recipe for Blue Cheese Dressing from his Louisiana Kitchen cookbook. Mike's wings are flavorful and as spicy as you want to make them and Chef Paul's Blue Cheese is cool, but a little spicy with definite onion-y undertone.

For this dish, I adapted Mike's recipe to shrimp and halved Chef Paul's recipe for the dressing. This salad was cool, flavorful, spicy and satisfying.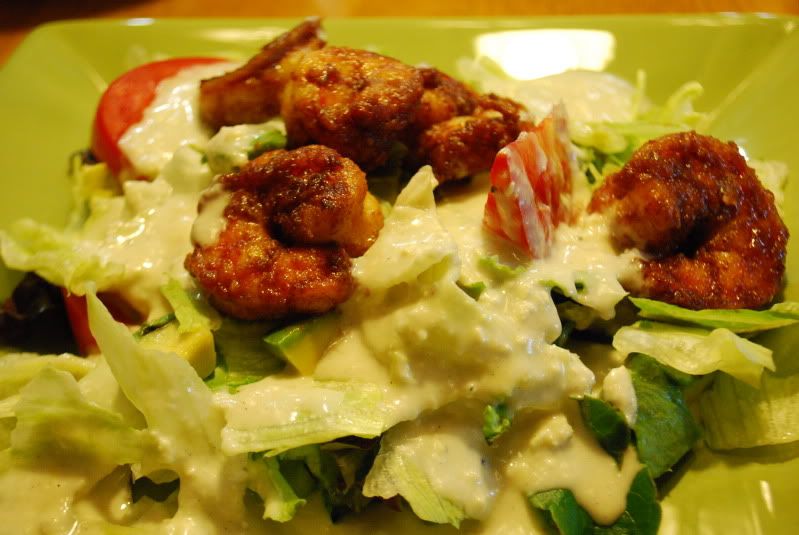 Buffalo Shrimp Salad with Spicy Blue Cheese Dressing
Buffalo Shrimp recipe adapted from Mike Powers
Blue Cheese Dressing adapted from Chef Paul Prudhomme Louisiana Kitchen
For the Blue Cheese Dressing:
1 egg
1/2 cup chopped onions
1 teaspoon minced garlic
2 cups vegetable oil
1/2 cup buttermilk
2 teaspoons white pepper
1 teaspoon salt
1/2 teaspoon ground cayenne pepper
(I used crushed red pepper)
1/2 pound blue cheese, coarsely crumbled
In a food processor or blender, combine the egg, onions and garlic; process a few seconds until well mixed. With the machine running, add the oil in a thin, steady stream; then add the buttermilk and seasonings and process a few seconds more until well mixed, stopping once to push the sides down with a rubber spatula. Add half of the blue cheese and pulse the mixture until the cheese is broken up into smaller pieces and combined with the dressing. Add the remaining cheese and just pulse a couple of times to mix, but leave the cheese somewhat lumpy. Remove to a jar or bowl and refrigerate until ready to use. Makes about 1 quart of dressing.
For the Buffalo Shrimp Salad:
20 large shrimp, shells removed and cleaned and deveined
Buffalo Seasoning Mix (see recipe at bottom of page)
5 tablespoons butter
2 teaspoons hot sauce (Tobasco or Louisiana ~
I used Louisiana
2 tablespoons all purpose flour
1 bag of mixed greens
1/2 head of iceberg lettuce, cut into bite sized pieces
1 tomato, cut into wedges
1 avocado, cut into chunks
Place the greens, iceberg lettuce, tomato and avocado in a large salad bowl. Keep cool.
To Make the Buffalo Shrimp:
Put the shrimp in a bowl and sprinkle with 1-1/2 tablespoons of the seasoning mix and the flour. Mix until evenly covered. Set aside while you get the sauce ready.
In a small frying pan, melt the butter with the hot sauce. Add the remaining seasoning mix and cook one minute. Keep warm.
In another pan, pour in enough oil so that the oil is about 2 inches deep. Heat the oil on medium high until it reaches 350 degrees. Add the shrimp a few at a time (do not overcrowd) and fry for about 1 minute until just done and golden brown. Remove from oil and put in frying pan with sauce to keep warm. Continue this process until all of your shrimp have been cooked.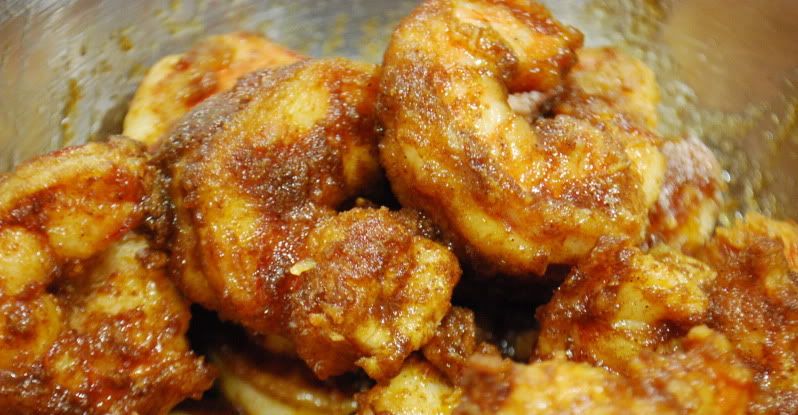 When all of the shrimp have been added to the sauce, dumped the shrimp and sauce into a bowl and mix well.
To serve, toss greens and lettuce well and pile on a plate. Top with shrimp. Pour Blue Cheese Dressing over all.
Seasoning Mix:
2 tsp paprika
1/2 to 1 teaspoon cayenne (depending on how spicy you like it)
3/4 teaspoon white pepper
1 teaspoon garlic powder
1 teaspoon onion powder
1 teaspoon celery salt
Use a fork or very small whisk to thoroughly mix the seasonings together and set aside.