Getting ready for vacation is just a crazy time.

We've rented a travel trailer and we are setting aside stuff to pack in it when Tom picks it up later this afternoon. But, we've been getting ready for vacation for a week in order to be gone on vacation just less than a week. Go figure

Because we are so busy, I've tried to pick dishes that cook quickly and are delicious, but I started running out of ideas. Then I remembered I copied down the recipe for Melissa d'Arabian's Four Step Chicken. In case you haven't been following the most recent season of The Next Food Network Start, Melissa was the winner. In her last taped demo she did for the competition, Melissa made her version this dish, in addition to Potato Gratin made in muffin cups (I'll share that dish another time).

Basically, Melissa's chicken recipe is four steps:

1. dredge in flour & saute
2. add aromatics
3. add liquid
4. finish with butter

Easy enough, except that she also claimed that you could use different aromatics and change liquid ingredients. The recipe she uses includes chicken broth and lemon juice. I thought I'd try some of the POM Wonderful pomegranate juice I received. This is what I did.


Four Step Pomegranate Chicken
adapted from Melissa d'Arabian, Food Network
2 large chicken breasts


3 tablespoons olive oil


1 onion, sliced thin


2 teaspoons garlic, minced


1 cup chicken broth


1/2 cup pomegranate juice


1 tablespoon butter


flour for dredging (about 1/2 cup)


salt & pepper
As Melissa suggests, I first sliced the chicken breasts in half crossways ~ essentially butterflying them, but then cutting all the way through, which results in four flatter pieces. Cutting them like this eliminates the need to pound them flat, which I usually do.
Put the flour in a plastic bag. Season the chicken pieces with salt and pepper and place them in the plastic bag with the flour and gently shake or tumble the plastic bag until the chicken pieces are coated evenly.
Heat the olive oil in a large frying pan over medium high heat. Remove the chicken pieces from the bag one at a time, shaking off the excess flour, and lay them in the pan. Cook about 2 to 3 minutes on one side until golden brown, then turn over and cook another 2 to 3 minutes again until golden brown. Remove the chicken from the pan and keep warm.
To the remaining oil in the pan, add the onion slices. Cook 5 to 6 minutes until the onions are soft and translucent. Add the minced garlic and cook another minute.
Add the chicken broth and pomegranate juice to the pan, scraping all the brown bits from the bottom. Bring the sauce to a boil and simmer for about 5 minutes until just slightly reduced.
Add the butter to the sauce and stir the sauce until the butter has melted and incorporated into the liquid.
Add the chicken back into the pan and cook for a couple minutes in the sauce.
Plate the chicken and spoon some onions and sauce over the top.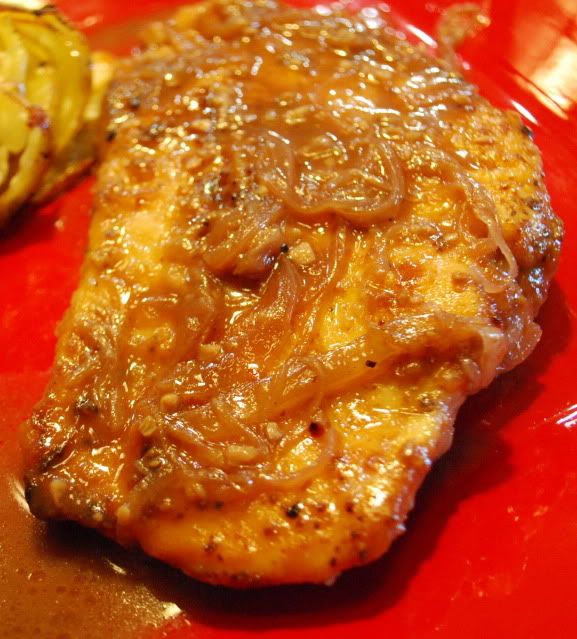 I honestly did not expect this dish to be so darn good or fast. I loved it and so did Tom.
That's not to say I didn't hit a snag ~ just one. I nearly destroyed the chicken trying to cut it. It takes a very sharp knife and a steady hand.
But, the dish really was fast. I think I had dinner on the table in 40 minutes, and that included baking the Potato Gratin an extra 10 minutes more than the recipe called for. Not bad for fast food.
I loved this dish so much that I want to try using the same 4-Step process with other meats and liquids; like salmon and orange juice, or pork and apple juice. The combinations are endless.
But, for now, I hope you'll give this recipe a shot, then let me know what you think.