I'm not different than most people. I hate going to the dentist (sorry to all you DDS's). I even hate having my teeth cleaned. But twice a year, I make the trip to Little Rock to see my hygienist.

A visit to my dentist's office always starts with that dreaded test. You know the one where he or she pokes that metal thing between your gums and teeth to come up with "the number." I aim for at least a 3, cringe if she says "4" and am mortified if she says "5" because then she can tell I've not flossed consistently.

Once the test is over and I've hopefully passed at least with an "okay, but you need to do better here, here and here," she gets down to the scraping, polishing and flossing, then my teeth are clean and slick and on my way out of Baptist Towers One, I head for Starbucks to start the process all over again.

But, I love Jamie, my hygienist. She's young (under 30), sweet and funny. She is also married with two kids, a little girl six and a little boy almost a year. She is a busy working mom.

Jamie says she visits this blog regularly and loves the recipes, but has yet to cook anything. I completely understand. I have more time on my hands to cook than she does. I probably wouldn't be doing this blog if I had as much on my plate as she does.

So, Jamie, this recipe is for you. It's so simple even your 6-year-old daughter can help put them together. It is Potato Gratin or, more simply, sliced potatoes layered in muffin cups with a little cheese and cream and baked in the oven for about 30 minutes. Once you get them in the oven, throw your pork chops in the frying pan, your veggies into the microwave and dinner is on the table in 35 minutes.

I adapted this recipe, once again, from the final "pilot" Melissa d'Arabian did for the Next Food Network Star.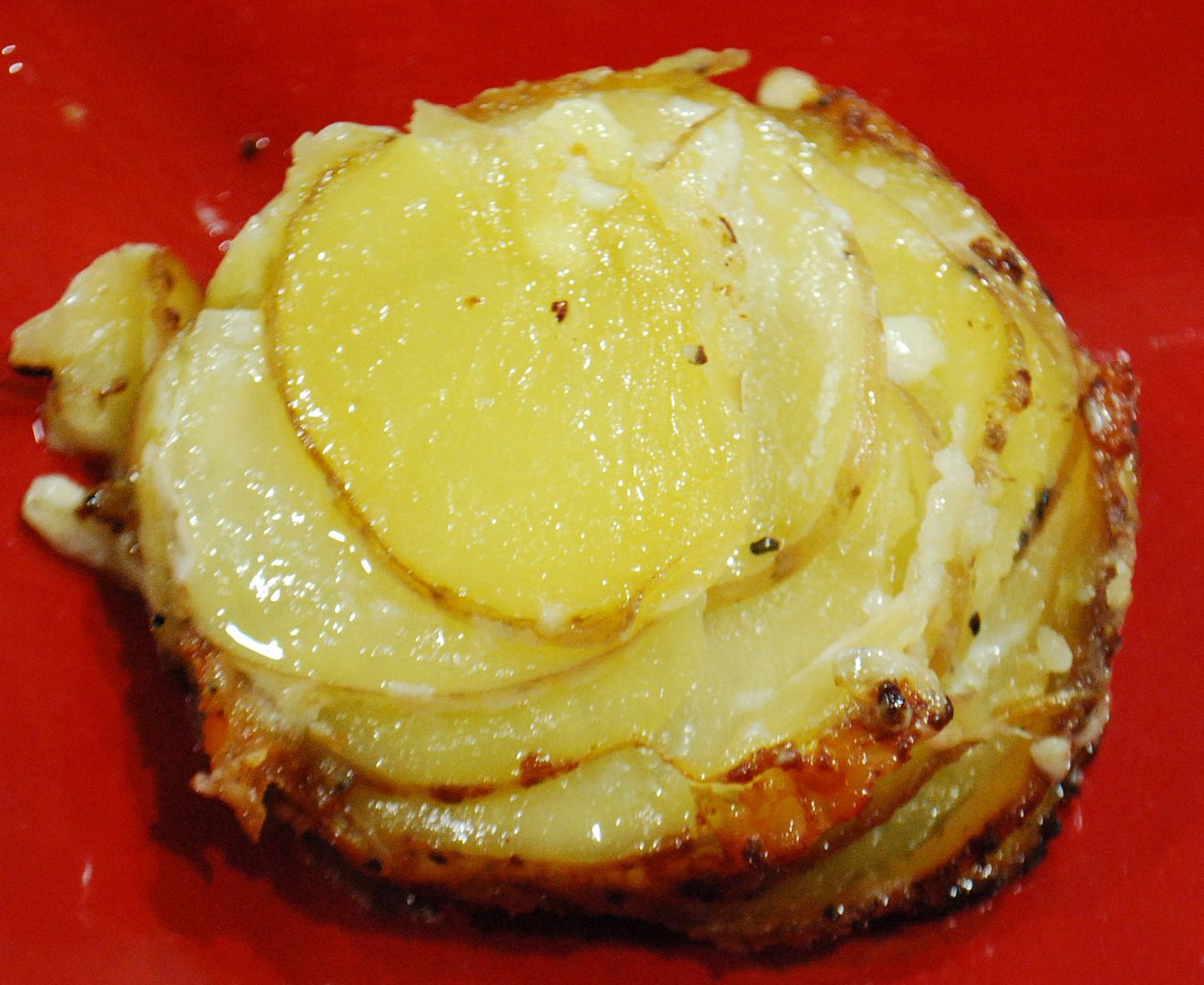 Potato Gratin
adapted from the original recipe by Melissa d'Arabian on the Food Network
2 large potatoes (I think the original recipe calls for russets. I used Yukon Gold potatoes and I washed, but did not peel them. You can peel them if you like.)


Some grated cheese (I had some sliced swiss that I used, but you can use cheddar, parmesan, pepper jack...whatever your family likes)


Some sliced green onions or chives (If your family doesn't like these, leave them out)


Some heavy cream (I used about 2 tablespoons for each muffin cup. If you use the regular muffin tins, use a little less cream)


Salt and pepper to taste


Cooking spray


One muffin pan (I used the large size with six muffin cups, but the regular smaller size would produce a perfect serving size for young children)
Preheat your oven to 375°
Spray the cups of the muffin cups with cooking spray. If you are using the large muffin tin, spray all six cups. If you are using the regular size, spray eight muffin cups. You can increase the number of cups, i.e. servings, by merely using a little more of the ingredients (another sliced potato, more cheese, etc.) until all the muffin cups are used.
Slice the potatoes very thin. Use a mandolin for this if you have one. In each muffin cup, layer potato slices, cheese, onions and season lightly with salt and pepper (if you use parmesan cheese, be careful not to over-salt, as the parmesan is already pretty salty).
When all the potatoes are used and the muffin cups are almost full, top each muffin cup with 1 - 2 tablespoons of the cream.
Cover the muffin pan with foil and bake in the oven for 15 minutes. After 15 minutes, remove the foil and continue baking for another 15 to 20 minutes. Test doneness with a fork.
When done, remove the muffin pan from the oven and immediately turn it over onto a cookie sheet that fits snuggly over the muffin pan. The gratins should come right out. If one or two of them sticks, flip the pan upright, run a knife around the edges and lift the gratin out of the cup with a fork and knife. Serve hot.
How easy is that? Jamie you could do this!