The movie, Julie & Julia, is coming out on DVD in December. I can hardly wait to buy it. Oh, I've already seen it in the theater, but I loved it and I could watch the movie over and over again.

As a young wife and mother, I watched Julia Child's television show, The French Chef, on PBS. She was inspiring to those of us who were merely "home cooks," but desired to prepare wonderful foods that didn't contain canned soup, noodles and oil packed tuna.

Then in the 80's I became mesmerized by the Italian cuisine presented by Lidia Bastianich. Before Lidia, my grandest achievement was mere spaghetti sauce. Until then, I had no idea Italians prepared so much seafood! Who knew (hellloooo, Italy = peninsula = surrounded on three sides by water = DUH!)

How did I get on the subject of Julia Child...oh, yeah, I boned three chicken thighs for the Chicken Makhani and I considered it practice for the duck I am going to bone sometime in the near future.

Yes, I am one of the many suckers who, after watching Julie & Julia, immediately purchased both volumes of Mastering the Art of French Cooking by, who else, Julia Child. Why did I do that? First, I didn't have either of those books and second, ... okay, I'll tell the truth...I was envious and challenged by the scene in the movie where the young character, Julie Powell, learns to bone a whole duck from Julia's first cookbook. If Julie Powell, a 20-something young wife, non-cook and blogger, can learn to bone a duck, then so can I. There I said it.

So, I bought the cookbooks and I bought a really good boning knife. There's the knife sitting innocently next to the chicken thighs that I boned only moments before taking this photo...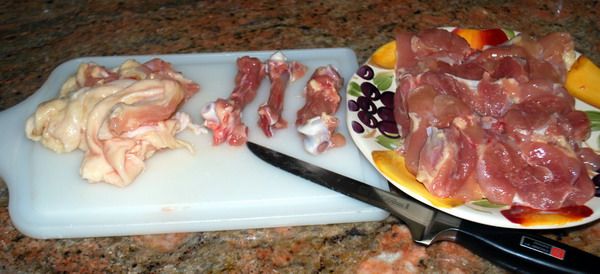 I purchased the boning knife from
Cooking.com
the first part of October and it has been sitting proudly on my magnetic knife rack since I opened the box, dipped it in hot soapy water, ran the dish cloth along the blade to clean it and deftly slit open the tip of my middle finger. After I finally stopped the bleeding (and subsequent whining), I dried the knife...very, very carefully...and placed it safely on the rack, where it sat until I got brave enough to actually try to use it. This time, I watched where I put my fingers.
But, I digress. This post is about Chicken Makhani and Naan Bread.
I don't know why it's called Indian Butter Chicken because there isn't a lot of butter in the sauce ~ only 2 tablespoons ~ but it is delicious, although difficult to describe. It tastes a little like curry, but not so much. It uses some of the same ingredients in curry, but not all. The ground coriander seed and garam masala (which I purchased at my local Kroger) add a wonderful flavor dimension. The roasted peanut oil smells like roasted peanuts and adds a wonderful nutty flavor to the dish. Unfortunately, the oil is difficult to find. I used to be able to buy Loriva Roasted Peanut Oil at Fresh Market in Little Rock, but they no longer carry it. I now purchase the oil online wherever I can find it.
The Naan Bread is a bit like a pita bread, only a little more dense and traditionally eaten with Indian curries. It's used as a spoon of sorts to scoop up and eat the curry and rice.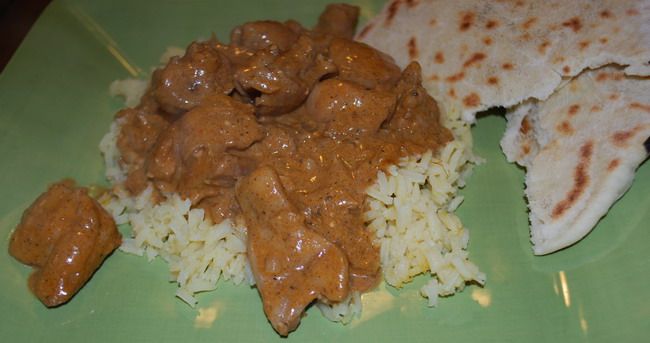 Chicken Makhani (Indian Butter Chicken)
by Terri Powers for Terri's Table
For the sauce:
1 tablespoon roasted peanut oil
1 shallot, finely minced
1/4 of a medium sized white onion, chopped
2 tablespoons butter
2 teaspoons lemon juice
1 tablespoon fresh ginger, grated
1 tablespoon fresh garlic, minced, then mashed
2 teaspoons garam masala
1 teaspoon chili powder
1 teaspoon ground cumin
2 teaspoons ground coriander
1 bay leaf
1/4 cup plain yogurt
1 cup half-and-half
2 tablespoons tomato paste, plus enough water to make one cup
1 pinch red pepper flakes
1 pinch salt
1 pinch black pepper
For the chicken:
1 tablespoon roasted peanut oil
1 pound boneless, skinless chicken thighs, cut into bite-size pieces
2 teaspoons garam masala
2 teaspoons ground coriander
Heat 1 tablespoon roasted peanut oil in a large saucepan over medium high heat. Saute shallot and onion until soft and translucent.
Stir in butter, lemon juice, grated ginger, mashed garlic, the 2 teaspoons of garam masala, chili powder, cumin, coriander and bay leaf. Cook, stirring, for 1 minute.
Add the tomato paste/water mixture, and cook for 2 minutes, stirring frequently. Stir in half-and-half and yogurt. Reduce heat to low, and simmer for 10 minutes, stirring frequently. Season with salt pepper. Remove from heat and set aside.
Heat 1 tablespoon oil in a large heavy skillet over medium heat. Cook chicken until lightly browned, about 10 minutes. Reduce heat, and season with the other 2 teaspoons of garam masala and 2 teaspoons of ground coriander. Stir in the sauce that you have set aside and simmer until liquid has reduced and slightly thickened, and chicken is no longer pink.
Serve over plain or Basmati rice.
PRINT THE RECIPE
Naan Bread
by Terri Powers for Terri's Table
2 cups all purpose flour
1 pinch baking powder
1 tablespoon dry yeast
2 tablespoons plain yogurt
1 tablespoon sugar
1/2 cup warm water
1 tablespoon oil (vegetable or olive oil)
salt to taste
melted butter to baste
There are two methods for baking the dough: The oven method, using a baking stone, and the stove top method using a non-stick frying pan or griddle. Instructions for both methods are included.
To prepare the dough:
In a mixing bowl add the flour, baking powder, salt and sugar. Mix well. Add the oil and yogurt and mix well.
Dissolve the yeast in the warm water and let it sit for 2 minutes, then stir to completely combine. Mix the yeast water into the flour mixture and knead well. (Make it a bread dough consistency and just a little bit sticky - not too dry, add more water if needed and not too wet, add a little more flour if needed - it won't ruin the naan as long as it is given at least 3 to 4 hours to rise). Let the dough sit, covered with a towel, for 3 to 4 hours.
If you are going to bake the naan using the oven method (with a baking stone), turn on the oven to broil and let it heat (with the stone in oven) while you begin preparing your dough.
After the rising time, knead the dough again for a minute or two. Pat the dough into a circle and cut into 6 parts. Coat the palms of your hands lightly with flour and roll each of the 6 pieces of the dough into a ball.
Using a rolling pin, roll the balls of dough into round shapes about 8 inches across.
For the oven method:
Put each uncooked naan on the stone and let it cook for about 3 minutes or until done. It should be puffed up or have a puffy surface.
For the stovetop method (this is the method I used):
Heat a non-stick frying pan and place each naan in the pan one at a time. Cook for about 2 minutes on one side. Turn it over and bake the other side for 30 or 45 seconds.
As you remove each naan from the heat, brush with melted butter immediately.
PRINT THE RECIPE