I'm not much of a breakfast eater. I am just "Coffee, please," first thing in the morning and then usually wait until 9:30 or 10:00 before I can even think about something solid. Most mornings I have either a toasted English muffin or slice of toast with a couple of slices of avocado, or a turkey sausage patty, or a slice of turkey bacon. But, Tom has always been a great breakfast eater, so we go out to breakfast often on weekends.
Generally, for breakfast we wind up at Cracker Barrel, where I will order a breakfast much larger than I would generally eat simply because I like to have a little bit of this and a little bit of that. Grandpa's Country Fried Breakfast is my favorite because I get just what I want and I can pick my way through the eggs, country fried steak, hashbrown casserole, biscuits and gravy. At least, that's what I usually do, but I might have to rethink my choice.
This morning as I was perusing the internet I wandered onto The Daily Beast and into a media gallery entitled "This Is Why You Are Fat." The ninth photo is entitled "Country Breakfast Parfait" and contains nearly all the components of my beloved Cracker Barrel breakfast in one tall glass. . .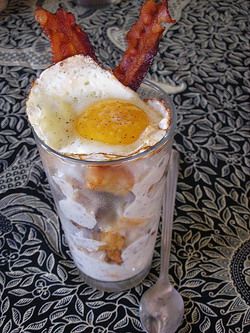 The caption for this photo reads: "this winner contains all the elements of a country breakfast shoved into a cup as a parfait would be. Those elements include tater tots, fried eggs, chicken-fried steak bites, buttermilk biscuit chunks, sausage gravy, and bacon.
It's one thing to see your breakfast laid out nicely on a plate, with a separate plate for your biscuits and a nice neat bowl for the gravy.
It's quite another thing to see it layered and mushed all together like a gravy, potato, egg and meat milkshake.
I may never eat breakfast again.