I initially did the following post for the online version of our local newspaper, so I thought I would share it here as well. Lots of bloggers are offering their top ten foodie gifts. This post outlines what I like.

Just in case you haven't been paying attention, I'm a hard core foodie. "Foodie" is an actual recognized word, albeit slang, and is defined in an online dictionary as: "(Cookery) a person having an enthusiastic interest in the preparation and consumption of good food."
That doesn't mean I'm a food snob, but I'll admit to that tendency sometimes. What it does mean to me is that I love food, from greasy spoons to haute cuisine. I love to eat it, savor it, enjoy it and I love to prepare it. I am enamored with ingredients of all kinds - how a few spices, a little brown sugar and several hours of warm hickory smoke can turn a tough muscled piece of beef into a succulent delight; that a can of coconut milk, some grated spicy ginger root and the burning heat of a Thai curry paste can turn mussels, scallops and shrimp into a soup that sings; or that a little flour, yeast, salt, water and egg can produce a loaf of bread that is crusty on the outside and tender on the inside.
I also love food things - utensils, gadgets, containers, unusual ingredients, spices, seasonings and products.
So, do you know someone like me and have absolutely no idea what to get them for Christmas? I'm here to help. I have compiled a list of 10 items any foodie would love to receive. And, trust me, even if your resident (or non-resident) foodie has something similar, s/he would welcome any one of these.
1. This small citrus microplane is a must in a foodie kitchen. It makes short work of zesting oranges, lemons and limes, but can easily grate fresh ginger.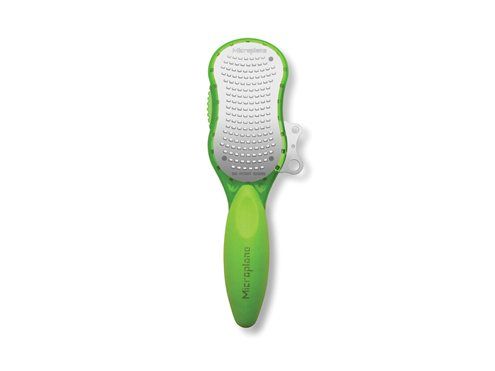 At only $12.95 each on Cooking.com, this microplane easily competes with the larger and more expensive brands.
2. So, you want something a little more substantial, a little bigger package? Okay, how about this Stackable Four-Piece Ruffled Baker's Set.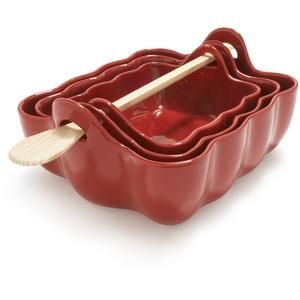 Even someone with a myriad of casserole or baking dishes would love to receive these pretty servers. The set is currently on sale for $49.96 (down from $69.95) at SurLaTable.com. I just checked and they are still in stock.
3. These may seem frivolous to some, but for the avid organized foodie, these babies are a must have. And you can never have too many. These pinch bowl sets allow the cook to measure and/or mix small amounts of spices, seasonings or flavorings and have them at hand without having containers taking up space on the counter top. The set on the left consists of six clear pinch bowls by the Food Network brand and is on sale for $11.89 at Kohls.com.
The set on the right is comprised of six multi-colored Melamine pinch bowls by Oggi that I found on Amazon.com for $12.95.
4. Foodie gifts can be extravagant, but without being expensive.
Truffles are basically edible fungi, cherished by gourmands all over the world for their intense, earthy flavor. But truffles are expensive...very expensive...and not readily available in our part of the world. The next best thing? I think it is Truffle Oil.
Use just a few drops to impart truffle flavor to any dish. There are several companies that market truffle oils, but the Urbani brand is probably the most readily available.
For a lighter, more delicate truffle flavor, choose the Urbani White Truffle oil, which sells for $16.49 here on Amazon.com. If you're looking for a more intense, earthy truffle flavor and aroma, select the Ubani Black Truffle Oil, selling for $15.99, also on Amazon.com.
5. Do you want something that is really extravagant? The very best that money can buy? A gift of anything from Le Creuset will fit the bill.
I don't know a foodie that wouldn't want ANYTHING made by Le Creuset, but this beautiful 6.75 quart Dutch oven will make your foodie squeal with delight ... if your foodie is a girl, that is. This enameled cast iron pot would become a staple in any kitchen. But, it's pricey, running about $207.96 ON SALE and down from the regular price of $259.95. It's no wonder this item is currently out of stock at Cooking.com. You will probably be able to find it elsewhere, but it will run you a cool $260.00 or there abouts. Or you could purchase a similar item at SamsClub.com, they're Members Mark brand, for $38.72. Certainly not the same quality, but you wouldn't catch me complaining.
6. If you must give Le Creuset, but don't have the budget for a high ticket item, why not wrap up this really nice Le Creuset 3-piece Silicone Spatula set?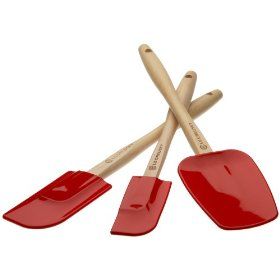 I have a set in my kitchen and I swear by them. While the usual rubber spatulas will melt if you use them in a hot pot or pan, these silicone spatulas will not, and the wooden handles will not melt or conduct heat.
At a reasonable price of $24.95 at Amazon.com, they are a gift your foodie will appreciate and use daily.
7. Using silicone kitchen utensils with your non-stick cookware is essential if you want to protect the non-stick finish. Whisking sauces in non-stick cookware with a regular metal whisk will damage the finish on your pots and pans. Help your foodie protect her/his cookware investment with a gift of a silicone covered whisk.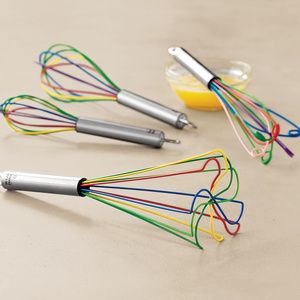 I purchased two of these Silicone Rainbow Whisks on sale for $6.00 at the Sur La Table store in Fresno during my holiday vacation (Oh. My. God. I LOVE that store!!), but I found these at SurLaTable.com. They are currently selling for their regular prices fom $14.00 to $18.00 each, still a reasonable price for a festive foodie holiday gift.
8. Often times, foodies don't buy the gadgets that make food preparation a breeze. Sure, we'll buy a good knife or a good pot, but we'll slice, dice and chop by hand forever until someone takes pity on us gives us the gift of "ease."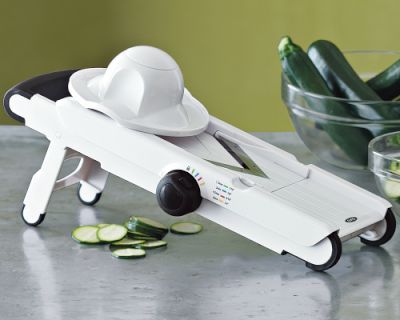 Case in point, I did not purchase my mandolin. It was a gift from my son, Mike. And, believe it or not, I use it all the time.
This OXO V-Blade Mandoline is a nice, mid-priced mandoline at $39.95 on Williams-Sonoma.com. Not only will your foodie be able to cut perfect slices every time, the 4 extra blades produce two sizes of julienne and cubes.
9. I don't use salt and pepper shakers when I cook. I have two pinch bowls (like those in #3) on my counter next to my stove. One is filled with kosher salt and the other is filled with coarse ground black pepper.
If I don't get one of these babies for Christmas, I may just have to go out and buy two of them for myself after Christmas. There are several different types, but I love this Porcelain Salt Pig I found at Cooking.com. I particularly like the little spoon that comes with it. Very affordable at $14.95.
10. Finally, my last item and it is something pretty pricey, but really special and unexpected. About a year ago, MarxFoods.com ran a contest and the prize was this Ritrovo's Artisan Salt Collection.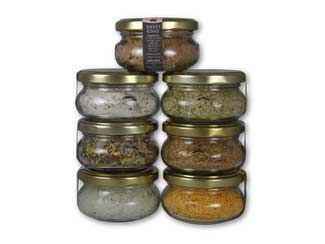 To enter, we had to submit a description of which of the salts we would most like and how we intended to use it. I entered, but I didn't win. So I bought the collection, which includes Truffle & Salt, Saffron & Salt, Sweet & Salt, Fiori & Salt, Fennel & Salt, Sea & Salt and Limited Edition Cervia Sea Salt. Just a sprinkling of one of these delicious finishing salts imparts another dimension of flavor to any dish your foodie might prepare. The Truffle & Salt is amazing on sliced boiled or roasted potatoes with a little butter. My husband, Tom, loves the Sweet & Salt on the rim of his Margarita glass. The Fennel & Salt adds a wonderful finish to a Tuscan or Vegetable Soup. Like I said, it's pricey at $128.50 (including shipping from MarxFoods.com) ~ after all, it is only salt ~ but if you are able to swing the cost and want to surprise your foodie with an extra special gift, try this one.
Happy shopping and until next time...Food is nourishment for my body. Cooking nourishes my soul.