And pack we did. When we were ready to embark that Monday morning before Christmas Tom had loaded two huge suitcases; one garment bag; three small overnight bags; an assortment of Christmas gifts; a cooler filled with juice, soda, veggies, milk and ice; a case of bottled water; and a large plastic box filled with kitchen utensils, spices, herbs, napkins and other assorted miscellaneous stuff we just couldn't live without for two weeks. After hitching our boat to the car, we were off to Savannah, the first leg of our trip.

Our visit with our son and his family was busy, but fun. The first night our son's in-laws treated everyone to a horse-drawn carriage ride through downtown Savannah. What a fun time!

The following days were filled with shopping for our Secret Santa gifts and prepping for Christmas eve and Christmas day.

When all the Christmas festivities were over, we took a deep breath and headed for Clearwater Beach, Florida: sunshine, sitting by the pool, exploring the intercoastal waterway, walking on the pure white sandy beaches....Screeeeeech!!! It didn't quite happen that way.

It was cold. Unseasonably cold. There wouldn't be any pool, boating or beach time. It was just too cold. And I was sick and had been since we left Savannah. After three days, we decided to head home early.

It has taken me over a week to recover. I'm still coughing, but feeling better. At least I'm feeling good enough to start cooking and baking again, so yesterday I attempted a new recipe for Gingerbread Scones from Andrea's Recipes.

I like these. I would make them again, although their texture is more like a cupcake than a flaky scone.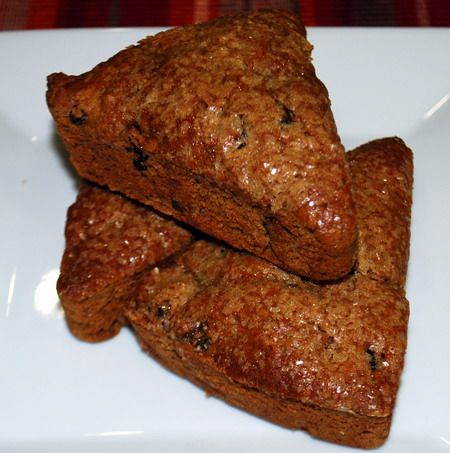 Gingerbread Scones
Adapted from Andrea Myers' Recipes
1 cup unbleached all-purpose flour
1 cup whole wheat flour (traditional or white)
1/3 cup pack dark brown sugar (I used light brown sugar)
2 teaspoons baking powder
1/4 teaspoon baking soda
3/4 teaspoon ground ginger
1/2 teaspoon cinnamon
1/4 teaspoon ground nutmeg
1/8 teaspoon ground cloves
1/4 teaspoon table salt
4 tablespoons cold unsalted butter, cut into small chunks (I used regular salted butter because that is all I had)
1/2 cup golden raisins or currants (I had regular dark raisins, but this would also be good with craisins)
1 tablespoon finely chopped crystallized ginger
1 egg, lightly beaten
1/2 cup whipping cream
1/4 cup molasses
1 egg white, lightly beaten
1/2 teaspoon water
granulated sugar for sprinkling
Preheat oven to 375 degrees.
In the bowl of a food processor, add the all-purpose flour, whole wheat flour, brown sugar, baking powder, baking soda, ground ginger, cinnamon, nutmeg, cloves and salt. Pulse a few times. Add the cold butter pieces and pulse about 12 to 15 times until the mixture resembles coarse crumbs. Pour into a mixing bowl and stir in the raisins and crystallized ginger. Make a well in the center of the mixture.

In a small bowl, stir together the egg, whipping cream and molasses, then add all at once to the flour mixture. Using a fork, stir until the ingredients are combined. (If some flour remains on the bottom, wet your hands slightly and mash it all together, then clean and dry your hands.)

Turn the dough onto a lightly floured surface. Knead gently for just a few strokes, then divide the dough in half. Lightly pat or roll each dough portion to a 5- to 5-1/2 inch circle, 3/4 inch thick. Cut each circle into 6 wedges. Place wedges about 2 inches apart on a parchment-lined baking sheet.

(I did this differently. I used one scone pan that is divided into 8 wedges - rather than the 12 that Andrea recommends. I patted the dough into a 9-inch circle, cut the circle into 8 wedges and placed each wedge into the scone pan. It looked like this when I was done.)

If you like a crunchy, sugary top, combine the egg white and water in a small bowl and brush the tops of the scones with the egg white mixture and sprinkle with sugar (I used Turbinato Sugar because I like the large crystals).
Bake in the preheated oven 12 to 15 minutes, or until a wooden toothpick inserted into a crack in the top of the scones comes out clean. Serve warm or at room temperature.
Andrea's note for Make Ahead: Cool scones completely and wrap in a single layer in foil, then place in a freezer bag. Freeze up to 1 monh. To serve, remove from freezer bag. Place frozen, foil-wrapped scones in a 300 degree oven and heat for 20 minutes or until warm (12 minutes if thawed).
Enjoy! ~ Food is nourishment for my body. Cooking nourishes my soul.