I posted this entry on my blog for our local newspaper, but I thought I would share it here, too.

I'm working on a menu of munchies to serve Super Bowl Sunday. No chili. No soup. No pots of anything. Just munchies.

I like to have several things to choose from that will agree with several different tastes and palates. So far, these are what I have on my list:


Mini Kielbasa Ruebens - An appetizer Tom created several years ago. He toasts cocktail rye bread in the oven and tops it with a dollop of horseradish sauce (we generally use one made by Kraft), a little Bavarian sauerkraut, a slice of kielbasa and a piece of swiss cheese, then he bakes them in a 400 degree oven until they are hot and the cheese is melted.
Sushi Cups - We had something similar to this at a very elegant Christmas party about 8 years ago. For the cup, I just use prebaked phyllo cups from the frozen food section at the grocery store. I make a small batch of plain white rice and allow it to cool. I dice about a 1/2 pound of sushi grade tuna and add some minced green onion, a 2 to 3 tablespoons of low-sodium soy sauce and a teaspoon or so of toasted sesame oil and mix well. Then I merely fill the cups, starting with a little rice at the bottom, then some of the seasoned raw tuna mix, topped with a small bit of wasabi mayonnaise and a piece of pickled ginger. This is one of my very favorite appetizers.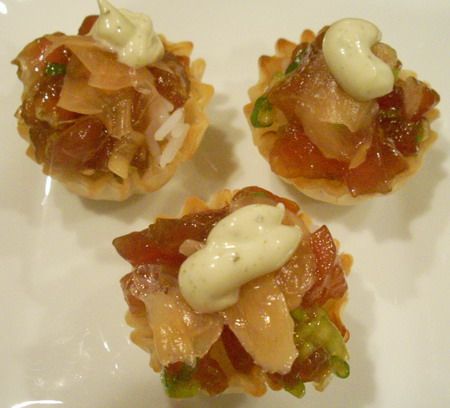 Roasted Tomato/Cheese/Basil Crostini - I used to watch Paula Deen's program on the Food Network. During one of her shows, she made a Tomato Pie. I thought the ingredients sounded wonderful, but my results were awful. The pie was soggy and flavorless. So I modified the recipe to make appetizers. I slice a French baguette (or even easier, use a small loaf of pre-sliced French bread), brush both sides of each slice with olive oil and bake in a 400 degree oven until toasted, but not crisp. For the tomatoes, I cut Roma tomatoes in half (each half will be used for one appetizer, so cut as many as you need for the number of servings you want. Place the halves on a cookie sheet covered with parchment paper (so much easier to clean the pan afterward), drizzle with olive and sprinkle with kosher salt and pepper and roast in the oven at 400 degrees until they are soft and caramelized. From the ingredients in Paula's recipe, I mix the cheeses, chopped green onion and chopped basil with just enough mayonnaise to bind the mixture together, then spread a little of mixture on to each piece of toasted bread, top with a roasted tomato and bake in a 400 degree oven until the cheese mixture is melted and hot.
Mike's Buffalo Wings with Blue Cheese Dressing - I will share that recipe in another post, but my son's Buffalo Wings are the very best I've ever eaten.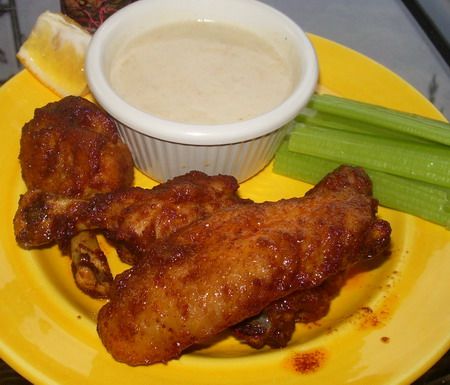 Steamed Shrimp with Remoulade - The Remoulade is made from a recipe from the old PBS "Great Chefs" series. I will also share that recipe next time, but I couldn't find a photo.
Provided I make enough of each appetizer, I don't think anyone will go hungry.
But I still have to decide what to have for dessert. Yesterday afternoon I tried a new recipe for Oreo Cream Cheese Cupcakes. They turned out really good and I will share that recipe and photo at another time.
What are you having Super Bowl Sunday?