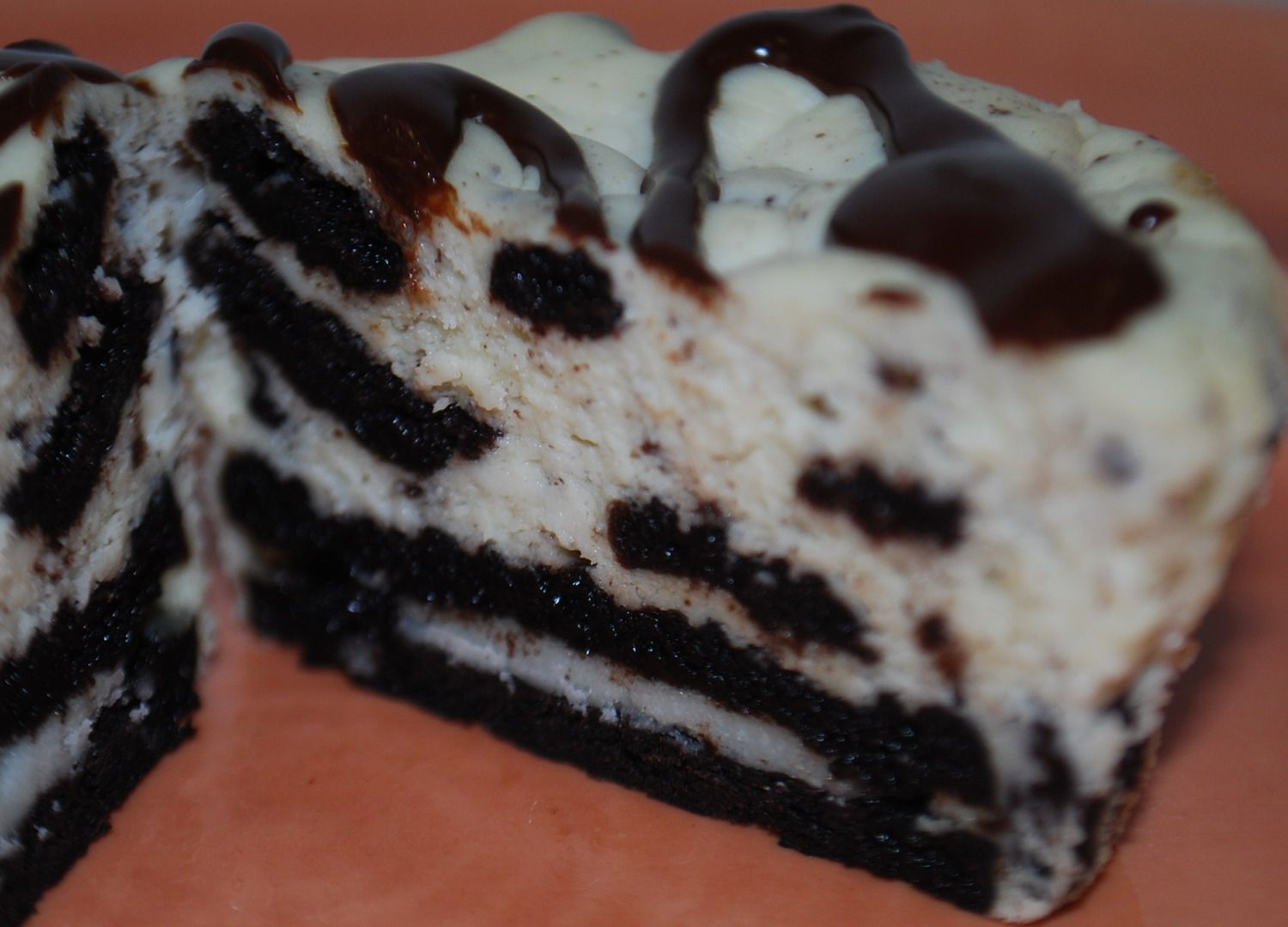 I knew the weather was going to be bad. The meteorologists had been predicting it for days. First sleet, then ice pellets (which I think are still technically considered sleet), then snow. So I went shopping Wednesday morning and picked up the Oreos to make these little babies.
I found these delights at
Dishin' and Dishes
. Katie adapted the recipe from the book,
Martha Stewart's Cupcakes
.
The base of the individual cheesecake is a whole Oreo cookie and the cheesecake mixture is punctuated with Oreo cookie pieces. The only change I made to this recipe was drizzling a little chocolate glaze on the top of each cupcake, the method for which I will add at the end.
Oreo Cream Cheesecake Cupcakes
by Terri Powers for Terri's Table
Adapted from Katie Johnstonbaugh of Dishin- & Dishes from Martha Stewart's Cupcakes
Makes 30 cupcakes.
For the Cupcakes:
42 Oreo cookies. Leave 30 cookies whole and coarsely chop 12 cookies. One bag of Oreos is enough.
4 (8 oz.) packages cream cheese (I used "1/3 less fat")
1 cup sugar
1 teaspoon vanilla extract
4 eggs
1 cup sour cream (I used "lite" sour cream)
1/4 teaspoon salt
For the Chocolate Glaze:
2 (1 ounce) squares semi-sweet chocolate
2 tablespoons butter
Preheat oven to 275°.
Line 30 muffin tins with paper liners. Place one Oreo cookie in the bottom of each cup.
Beat the cream cheese on medium-high speed until smooth. Gradually add sugar and beat one minute. Beat in vanilla. Add the eggs one at a time, beating well after each addition. Mix in sour cream and salt. Turn mixer to low and mix in chopped cookies just until incorporated.
Spoon the cheese mixture on top of the whole cookie and fill each muffin cup almost to the top.
Bake about 22 minutes
(mine took about 7 minutes longer)
. The filling should be set.
Remove from oven and refrigerate the cupcakes still in the tins for 4 hours.
To Make The Glaze: Put the chocolate and butter in a small glass bowl and microwave on high for 30 seconds at a time for about 2 minutes, until the butter and chocolate are melted enough to be combined. Drizzle the glaze on top of the cold cupcakes and return to the refrigerator to completely set.
To serve, remove the paper lining.
PRINT THE RECIPE HERE
Share