My maternal grandmother was Jewish and the stereotypical dish in a Jewish cook's kitchen is, of course, a pot of chicken soup. According to my Grandma, chicken soup could cure everything from a cold to a broken heart. I don't know about that, but it sure cured whatever ailed me when I was eating it. But I was only 8 or 9 years old at the time and how bad could life be at that age?
Grandma made a wicked chicken soup. It bore no resemblance to the thin chicken soup that we could get in that red can. Her's was thick, rich tasting and full of vegetables and shredded chicken.
This cold snowy weather made me crave my Grandma's chicken soup, but as I was going through the posts in my Google reader Wednesday morning, I opened Melanie's post @ My Kitchen Cafe for her recipe for Chicken and Vegetable Dumpling Soup.
Melanie's recipe for her soup is similar to my grandmothers, with just a few little differences, but I used her recipe for the little dumplings.
Before I proceed to the recipe, I'd like to briefly discuss chicken broth. Purchasing chicken broth from the grocery store constantly is costly and even though this recipe calls for chicken broth, that is not what I used. I use a product called Minor's Chicken Base, which I purchase from SoupBase.com. You can purchase a similar product from Sam's Club - Tone's Chicken Base. I've used the Minor's products for over 20 years. I like them because they make a low-sodium version and I can get products without MSG. These products (Minor's or Tone's) store well in my refrigerator and are much more economical than purchasing a quart or two or three of chicken broth each time you want to make a pot of soup. I also use just a touch of the base itself (no water) to add a depth of flavor to gravies and sauces.
Yes, you could also make your own chicken broth, but most of us don't have that kind of time.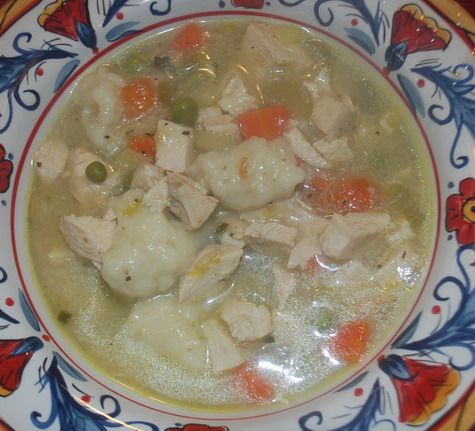 Chicken & Dumpling Soup
2 tablespoons olive oil 8 cups chicken broth
1-1/2 lbs. chicken (2-3 breasts or 2-3 thighs)
3 stalks celery, sliced in bite-sized pieces
3 medium sized carrots, sliced in bite-sized pieces
1 large onion, coarsely chopped
1 cup peas, frozen or fresh
1 teaspoon of pepper
1 bay leaf
1/2 teaspoon thyme
1/2 teaspoon sage
2 tablespoons flour
1/4 cup cold water
Dumplings:
1 cup all purpose flour (not self-rising)
2 teaspoons baking powder
1/2 teaspoon salt
1/4 teaspoon dried thyme
1/4 teaspoon sage
1/2 cup sour cream (I use low fat)
1/2 cup milk (I use 2%)
1 tablespoon vegetable oil
In a large post, heat the olive oil. When the oil is hot, add the celery, carrots and onions. Cook the vegetables over medium high heat until the onions are translucent. Add to the pot the chicken, the chicken broth, pepper, bay leaf, thyme and sage. Bring to a boil and simmer until the chicken is cooked through, about 20 minutes.
Turn the heat to very low and remove the cooked chicken from the broth and set aside until cool enough to handle. When cool, remove the skin and bones from the chicken and discard. Cut the chicken into bite sized pieces and return to the pot.
Measure the 1/4 cup of water into a measuring cup. Add the 2 tablespoons flour and mix with a fork or small whisk until smooth. To the flour/water mixture, add 3 or 4 tablespoons of the broth from the pot and mix until smooth. Now add the flour/water/broth mixture to the soup pot and mix well. Add the peas to the pot and bring the soup to a nice simmer.
To make the dumplings, put the flour, baking powder, salt, thyme and sage in a bowl and mix together well, preferably with a whisk. In a 2-cup measuring cup, pour the milk, then add the sour cream and 1 tablespoon oil and mix together until smooth. Pour the wet ingredients into the dry ingredients and stir until just combined.
Drop the dumpling mixture a scant teaspoonful at a time into the simmering soup. Make sure the dumplings are small because they will expand as they cook. When you are finished, the dumplings will cover the entire surface of the soup. Cover the pot with a tight fitting lid and allow the soup to simmer about 15 minutes more to cook the dumplings.
When the dumplings have fully cooked, remove the lid and gently stir the dumplings to break them apart.
Makes 6 - 8 servings.