Every Christmas holiday, I bake several different kinds of cookies and give several of each kind to family, friends and neighbors. This past Christmas, goody bags were shipped to as far away as the west coast and as close as next door.

I baked quite a bit this last Christmas, though you would not have guessed it from reading my blog. I don't recall sharing any of my baking ventures this year and I won't be doing so in this post except to say I baked the following:

Chai- flavored Snickerdoodles. This was my second year for these and they are pretty popular
My mom's Chocolate Bourbon Balls, except this year instead of using bourbon, I used Raspberry Schnapps. What's not to like about raspberry and chocolate?
Jam Thumbprints. Basically just a shortbread cookie rolled in coconut with a little raspberry jam filling a slight indentation
Norwegian Spritzers. A very simple, buttery shortbread cookie sprinkled with colored sugar
I added a new goody this last Christmas ~
Fig & Pistachio Biscotti.
One of my favorite food bloggers is
Marie @ Proud Italian Cook
. If you want to be inspired to cook truly authentic Italian cuisine, or you just love looking at beautiful photos of sumptuous food, you need to check out her blog.
Shortly before Christmas, Marie posted a recipe for
Fig & Pistachio Biscotti
and I decided to give the recipe a try. Long story short, one batch led to several batches and the feedback from my cookie recipients was unanimous. The biscotti was, by far, the biggest hit.
I haven't made the biscotti since Christmas, but last week I decided to try to make Fig & Pistachio Scones. I used the basic recipe that I used to make
Pink Cherry Scones
, but with a few changes, and the results were amazing.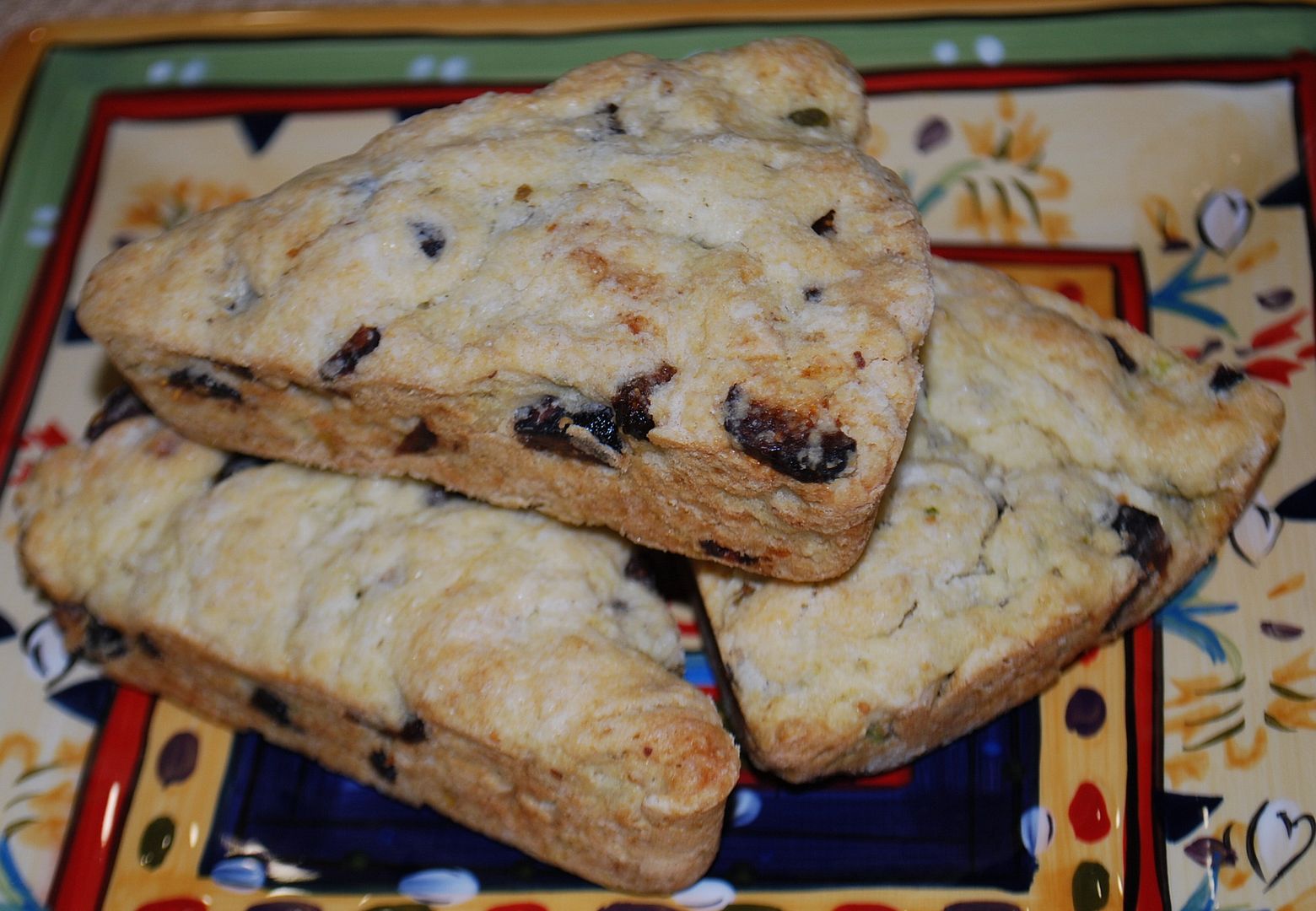 Fig & Pistachio Scones
by Terri Powers for Terri's Table
2-1/4 cups all purpose flour
4 tablespoons sugar (a little more for sugaring your board and sprinkle on top)
1/2 teaspoon baking soda
1/2 teaspoon baking powder
1/2 teaspoon salt
5 tablespoons cold butter
2/3 cup half & half
1 egg
1/2 teaspoon pistachio flavoring
1 scant cup dried black mission figs, chopped
1/3 cup shelled, roughly chopped pistachios
Preheat oven to 375ºF.
Measure the half & half into a 2 cup measuring cup. Add the egg and pistachio flavoring and whisk together until combined. Set aside.
In a medium sized bowl, mix together the flour, 4 tablespoons sugar, baking powder, baking soda and salt. Cut in the butter with a pastry cutter until the flour mixture resembles corn meal. Add the figs and pistachios and mix together well.
Add the wet ingredients and, using a fork, mix with the flour mixture until just combined. Do not over-mix. Dump the mass onto a sugared work space and with your hands, form into a mound.
Flour a rolling pin and roll out the dough into a circle about 9-inches in diameter and about 1/2-inch to 3/4-inch thick. Using the cutter of your choice (I use a metal cutting board scraper), cut the circle of dough into 8 even pieces and place on baking sheet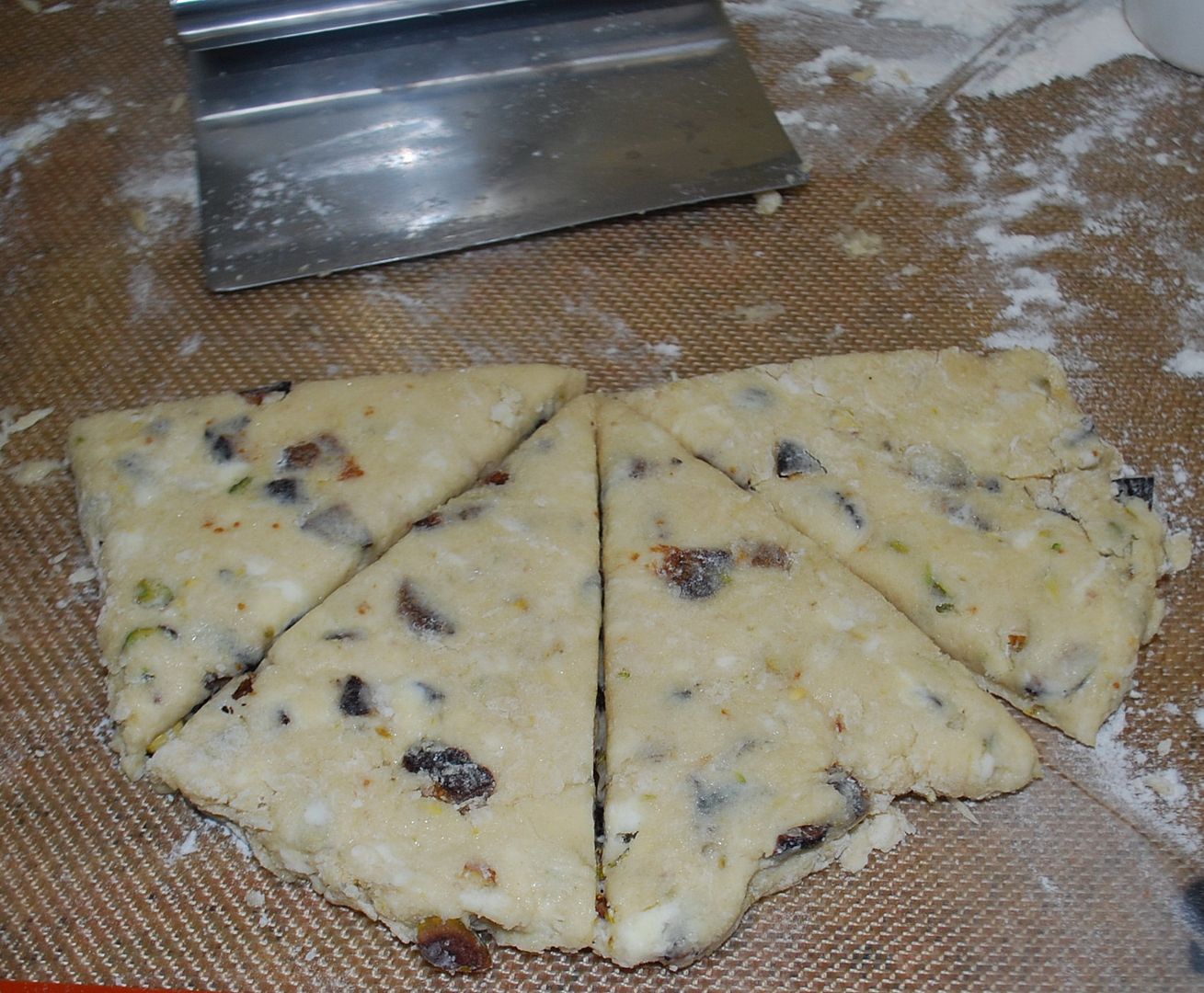 or in a scone pan.
Bake 16 to 20 minutes until lightly brown. Remove the pan from the oven and cool the scones on a wire rack. If you use a scone pan, remove the scones from the scone pan immediately and cool on a wire rack.
YOU CAN PRINT THE RECIPE HERE