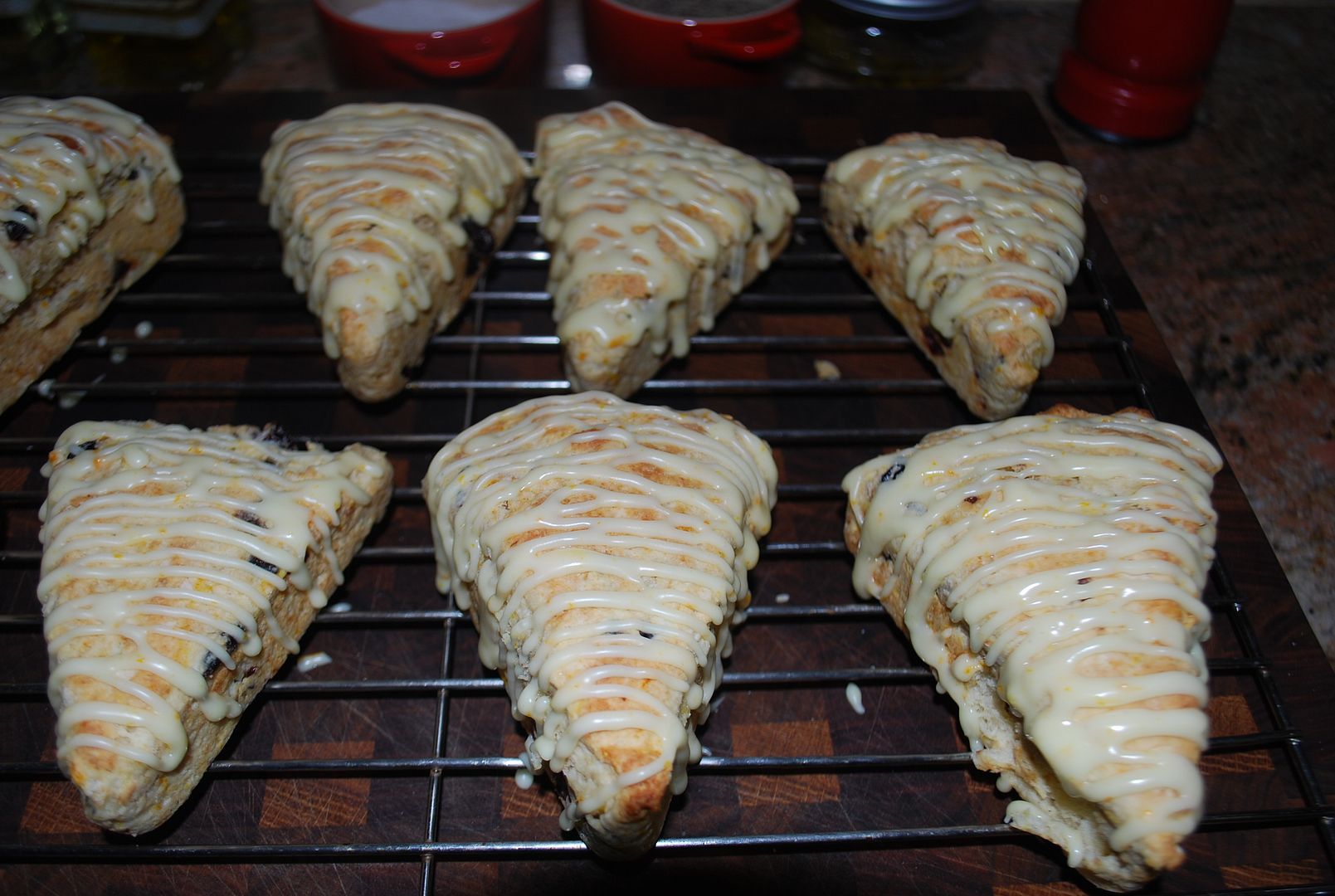 The TLC channel has a new series,
"Best Food Ever"
, narrated by actor John Goodman. I missed the first episode,
Sensational Sandwiches
, but recorded and watched the second episode -
Bodacious Bakeries
- last night during which they counted down the top 10 bakeries in the country. By the 30-minute mark, half way through the program, my teeth hurt just watching people ingest all that sugar.
One bakery/cafe, the name of which I cannot recall, offered their version of French toast: homemade peanut butter thickly slathered between two over-sized slices of challa bread, then dipped the "sandwich" in a mixture of eggs, cream, cinnamon and sugar and fried it on a flat top grill. As if that wasn't enough, the chef served the dinner plate sized fried sandwich doused with a hot syrupy mixture of sliced fresh bananas sautéed in butter and brown sugar. They called it breakfast. I call it a monumental sugar overdose.
Give me a cup of good coffee or a cappuccino and a tender scone for breakfast or brunch and I'm a happy camper.
But, more often than not, most scones offered in bakeries, coffee houses and grocery stores are too sweet for my taste. If the scone is covered in a sugary glaze, I usually take a pass.
This scone was
posted by my niece, Nichole,
and even though I'm not fond of glazed scones I felt I had to be true to the recipe the first time I made it. But, I have to admit that, although the orange glaze was delicious, I will not glaze them next time.
These scones were good, very tender and dense with a nice hint of orange and just enough sugar (3 tablespoons) to barely sweeten the dough. I will certainly make them again.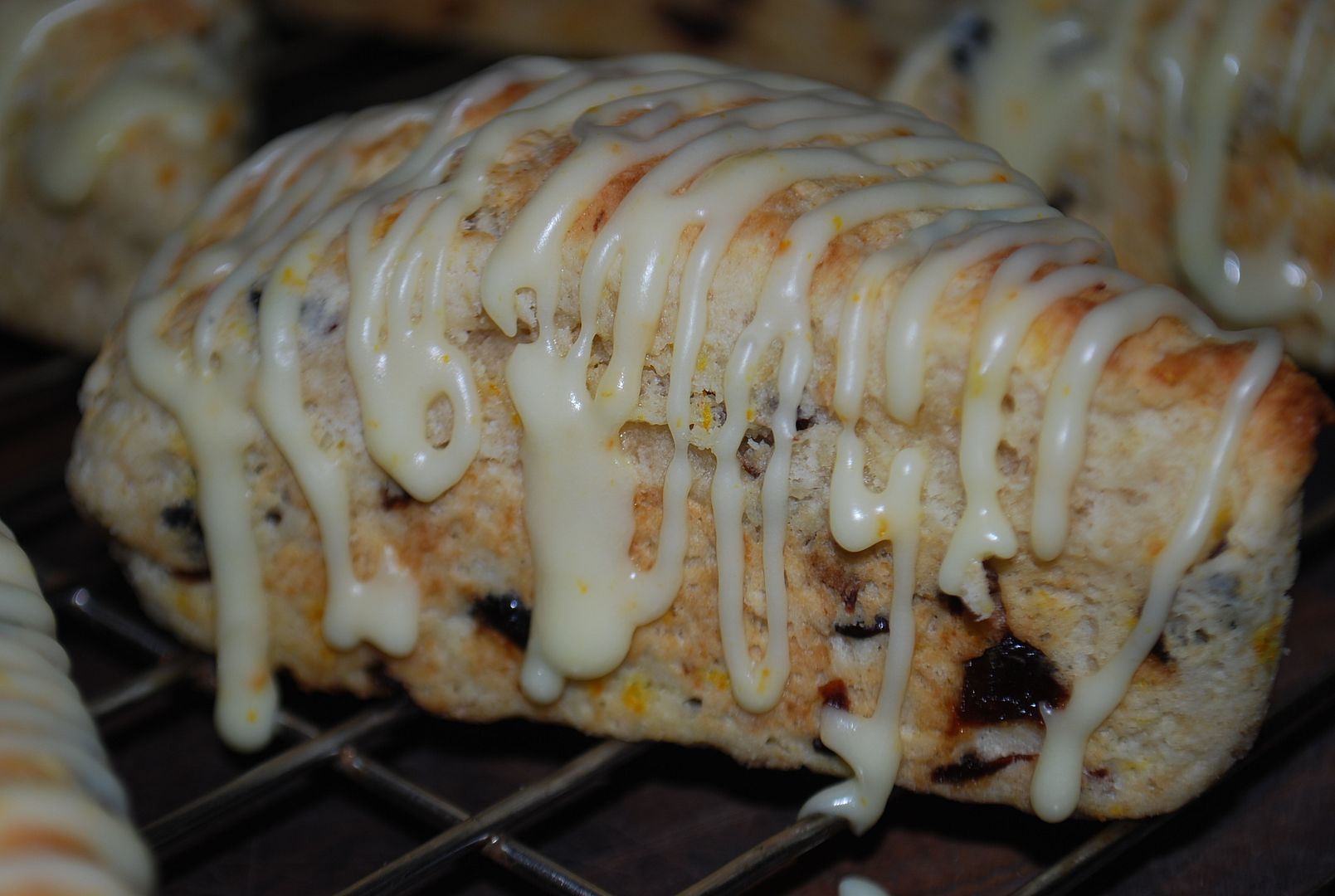 Orange Infused Cherry Scones with Orange Glaze
by Nichole Gordon
For the scones:
1/2 cup snipped dried sweet cherries (Nic also suggests substituting cherries with golden raisins)
2 cups all-purpose flour
3 tablespoons brown sugar
2 teaspoons baking powder
1/2 teaspoon salt
1/2 teaspoon baking soda
1/4 cup butter
1 to 2 teaspoons graed orange peel (I used 2 heaping teaspoons)
1 egg
8 ounces sour cream (I used light sour cream)
For the glaze:
1 cup powdered sugar
1 tablespoon orange juice
1/4 teaspoon vanilla
1 teaspoon orange zest (this was my addition and not in the original recipe)
Preheat oven to 400 degrees.
Place the snipped cherries in a small bowl and cover them with boiling water. Set aside for about 5 minutes.
Meanwhile, combine flour, brown sugar, baking powder, salt and baking soda in a large bowl. Slice the butter into pieces and cut into the flour mixture until it begins to look like crumbs.
Drain the cherries well, then add them to the flour mixture along with the orange zest and toss to make sure they are well coated.
Make a well in the center of the mixture and set the bowl aside.
In a small bowl, beat the egg, then work in the sour cream and egg are well combined. Add the egg/sour cream mixture all at once into the well you created in your flour mixture. Nic found that the best way to combine the mixtures together is with a fork. I agree. You may find the finished product a little dry, but that's okay.
Lightly flour your work surface. Remove the dough from the bowl and knead the dough by folding and gently pressing the dough until it is smooth in appearance. Lightly roll your dough out into a circle about 7-inches in diameter. Cut the dough into 12 pieces (much like a pie).
I used a scone pan, which has 8 sections. My scones were a little larger than Nic's.
Place the wedges 1-inch apart on an ungreased cookie sheet. Bake at 400 degrees for 10 to 12 minutes.
Because mine were larger, I baked them about 16 minutes.
When the scones are done, remove them from the baking sheet to a wire rack and allow to cool for about 10 minutes before glazing.
To make the glaze, mix all the glaze ingredients together in a small bowl until smooth. If the glaze appears too thick, add more orange juice a teaspoon at a time to be sure it doesn't get too thin.
PRINT THE RECIPE HERE