We are not big pizza lovers so we don't have it often. When we do eat it, generally we make it ourselves rather than eat out or order in. I know we are in the minority. Just a trip to the grocery store confirms that. I don't know about where you live, but the grocery stores in my town have a long freezer case dedicated to pizza. In addition, there are at least half a dozen pizza places within one minute's driving time from my house. It boggles my mind.

In addition, you could ask any of my six grandchildren and I'd bet every single one of them would say that pizza would be in their top two favorite foods.

What is it about pizza? Is it the crust? One place has a thin crust. Another a thick, chewy crust. And yet another a thick crust stuffed with cheese. Speaking of cheese, maybe that's the draw. Gooey, greasy cheese on top of the meats, vegetables, sauce. I think it's probably a combination of all of those things.

My pizza tastes run toward the non-traditional. Gusano's is a restaurant here in Conway that makes a pizza they call The Chaplin: an oil-base pie with Chicken, Artichoke Hearts, Onions, Tomatoes, Mozzarella & Feta Cheese. That's our choice, but we add spinach and ask them to hold the tomatoes. It's quite good when we are in the mood for pizza and don't feel like cooking. Another favorite of mine is prepared at Post Corner Pizza in Clearwater Beach, Florida, which is, oddly enough, a Greek restaurant. Although they make many traditional Italian style pizzas, their Greek pizza is awesome.

My favorite pizza of all time is one that Tom makes at home from a recipe he found in Bon Apetit magazine while waiting for his appointment with the dentist. You wouldn't think that potatoes would be good on pizza. I surely didn't think so when Tom suggested it, but I was wrong. This Asparagus, Fingerling Potato and Goat Cheese Pizza is delicious.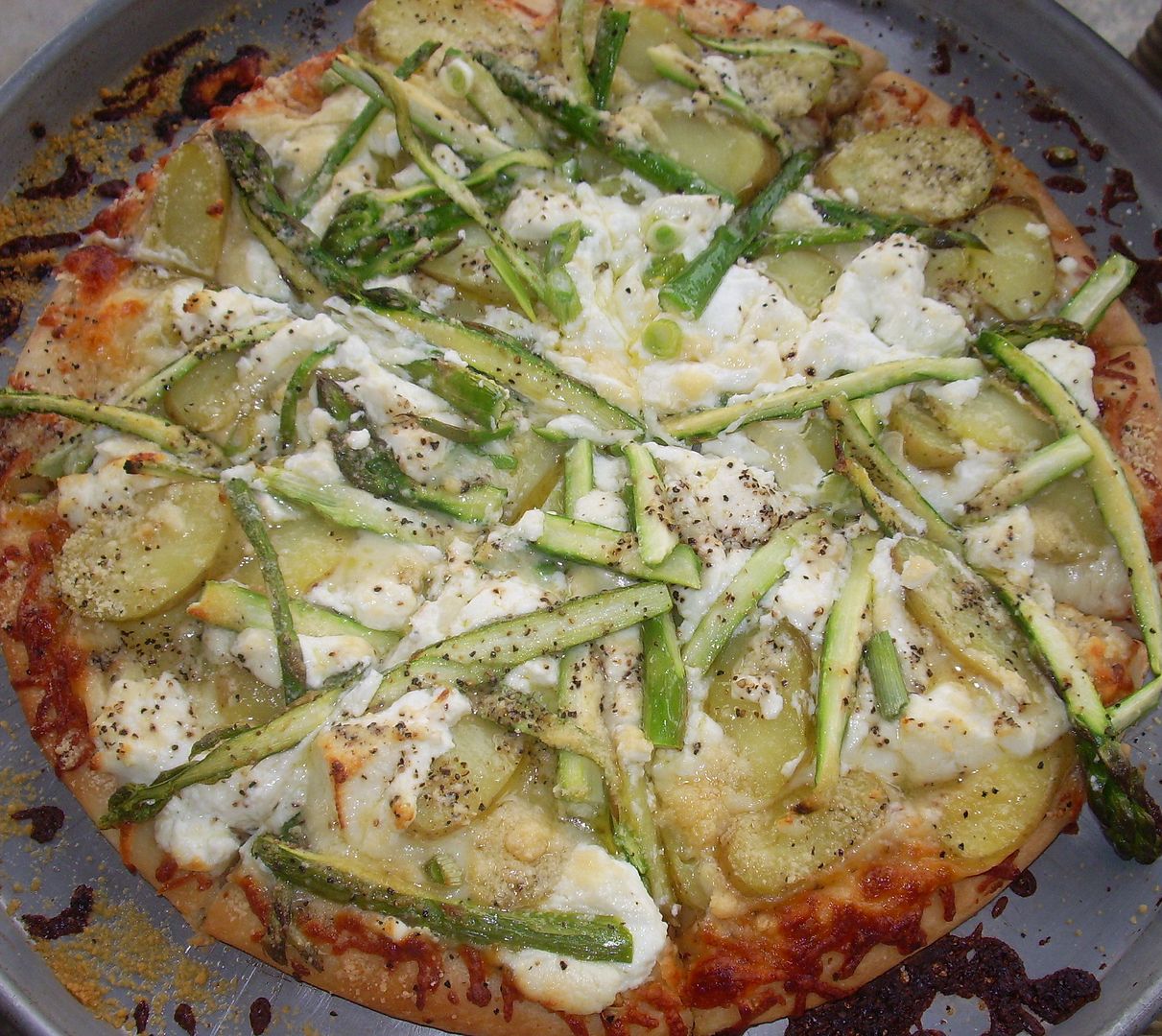 Asparagus, Fingerling Potato and Goat Cheese Pizza
Adapted from Bon Apetit Magazine
5 ounces fingerling potatoes
(Tom has also substituted 2 or 3 Yukon Gold potatoes with fine results)
2 tablespoons extra-virgin olive oil, divided
1 garlic clove, pressed
4 green onions, thinly sliced, divided
1-1/3 cups grated mozzarella cheese
4 ounces soft fresh goat cheese, crumbled
8 ounces asparagus, trimmed, each spear cut in half lengthwise, then crosswise into 2- to 3-inch pieces
1/2 cup grated Parmesan cheese
pinch of red pepper flakes (
this is Tom's addition to the recipe. I love the little bit of heat it adds
)
Pizza dough or pre-made pizza crust
Cornmeal (for sprinkling)
Place potatoes in small saucepan. Add enough water to cover by 1 inch. Sprinkle with salt. Bring to boil and cook until potatoes are tender, about 10 minutes. Drain. Cool. Cut potatoes into thin slices.
Preheat oven to 450°F. Sprinkle rimless baking sheet or pizza pan with cornmeal. If you are using pizza dough, roll and stretch pizza dough to 16x11-inch oval. Transfer to baking sheet. Mix 1 tablespoon olive oil and garlic in small bowl. Brush garlic oil over dough. Sprinkle 3/4 of green onions over the dough, then the mozzarella, leaving 1/2-inch plain border. Top the mozzarella with the potato slices and goat cheese. Toss asparagus with the remaining 1 tablespoon oil in medium bowl. Scatter asparagus over pizza. Sprinkle with Parmesan, then lightly with salt and generously with pepper. Sprinkle sparsely with red pepper flakes
Bake pizza until crust is browned and asparagus is tender, about 18 minutes. Transfer to cutting board. Sprinkle with remaining green onions. Cut into pieces.
PRINT THE RECIPE
Yummy....
Of course, pizza is not just for lunch or dinner anymore.
Last week I was trying to figure out what to fix Tom for breakfast for Father's Day. He had already said he wanted to make Seafood and Chicken Paella for dinner, so I didn't want to make something heavy. One of his favorite breakfasts is smoked salmon with herbed cream cheese, sliced red onion and tomato on croissants or bagels. I had almost settled for that until I saw Sam's post @
My Carolina Kitchen
featuring Jacques Pepin's Pink Salmon Pizza on Naan Bread.
Except for the Naan bread (
print the recipe here
), there really isn't a recipe, but here is what I did.
I mixed the dough for the naan bread after dinner the night before and let it rise 4 hours. After it had risen, I cut the dough into 4 pieces (instead of the 6 pieces called for in the recipe). I rolled each piece into a ball and placed it on a lightly oiled plate, covered the plate of dough with plastic wrap and put it in the refrigerator over night.
The next morning, after my cup of coffee, I removed the plate of dough from the refrigerator and let it come to room temperature.
In the meantime, I mixed 4 ounces of cream cheese (I used low-fat) with 1/2 cup of sour cream (also low-fat), then chopped some fresh dill and chives from my garden and added the herbs to the creamy mixture and stirred until smooth.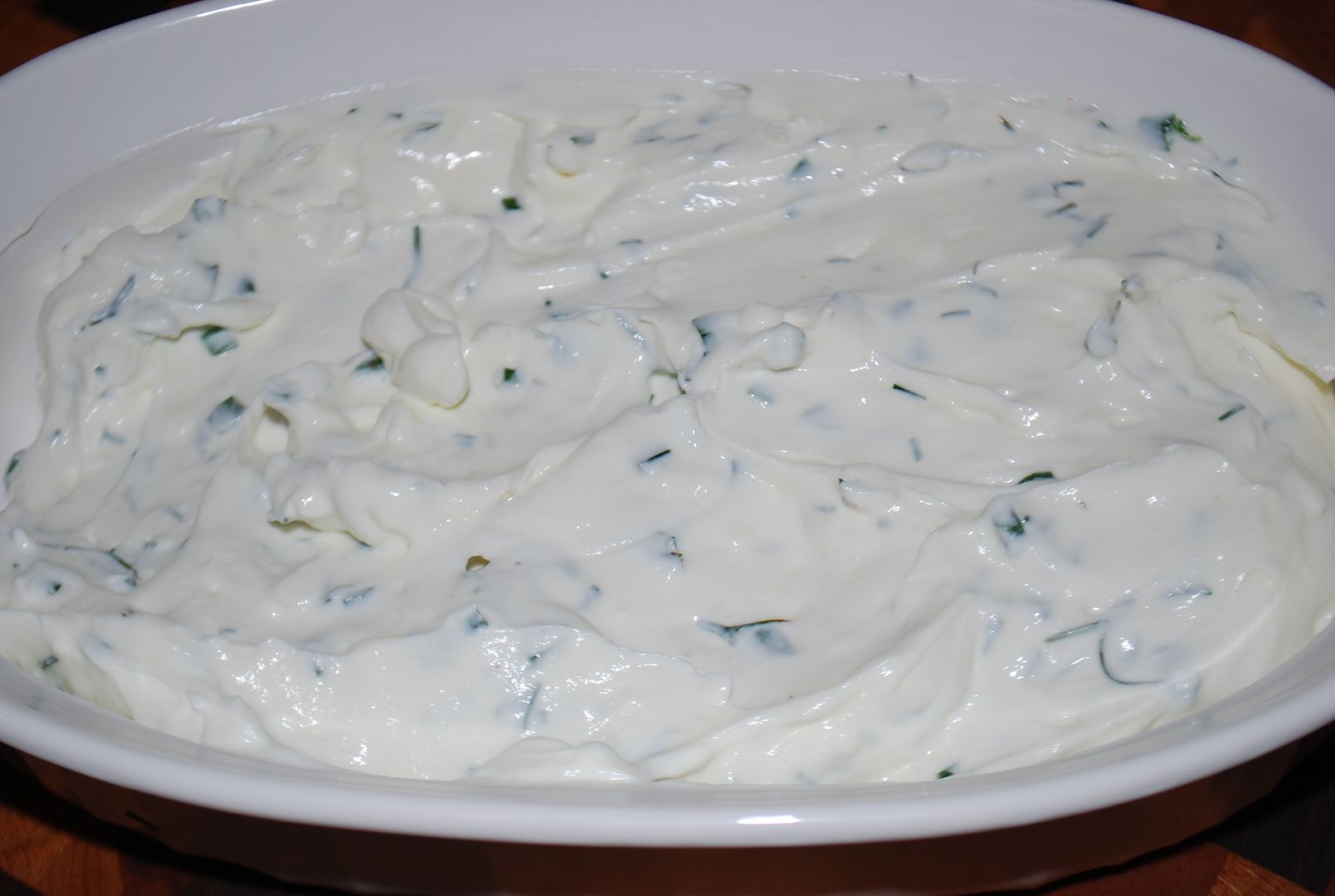 I set the cream mixture aside while I baked the naan bread. I used the stove-top method, baking the bread in a large skillet. Each round only takes about 3 minutes each.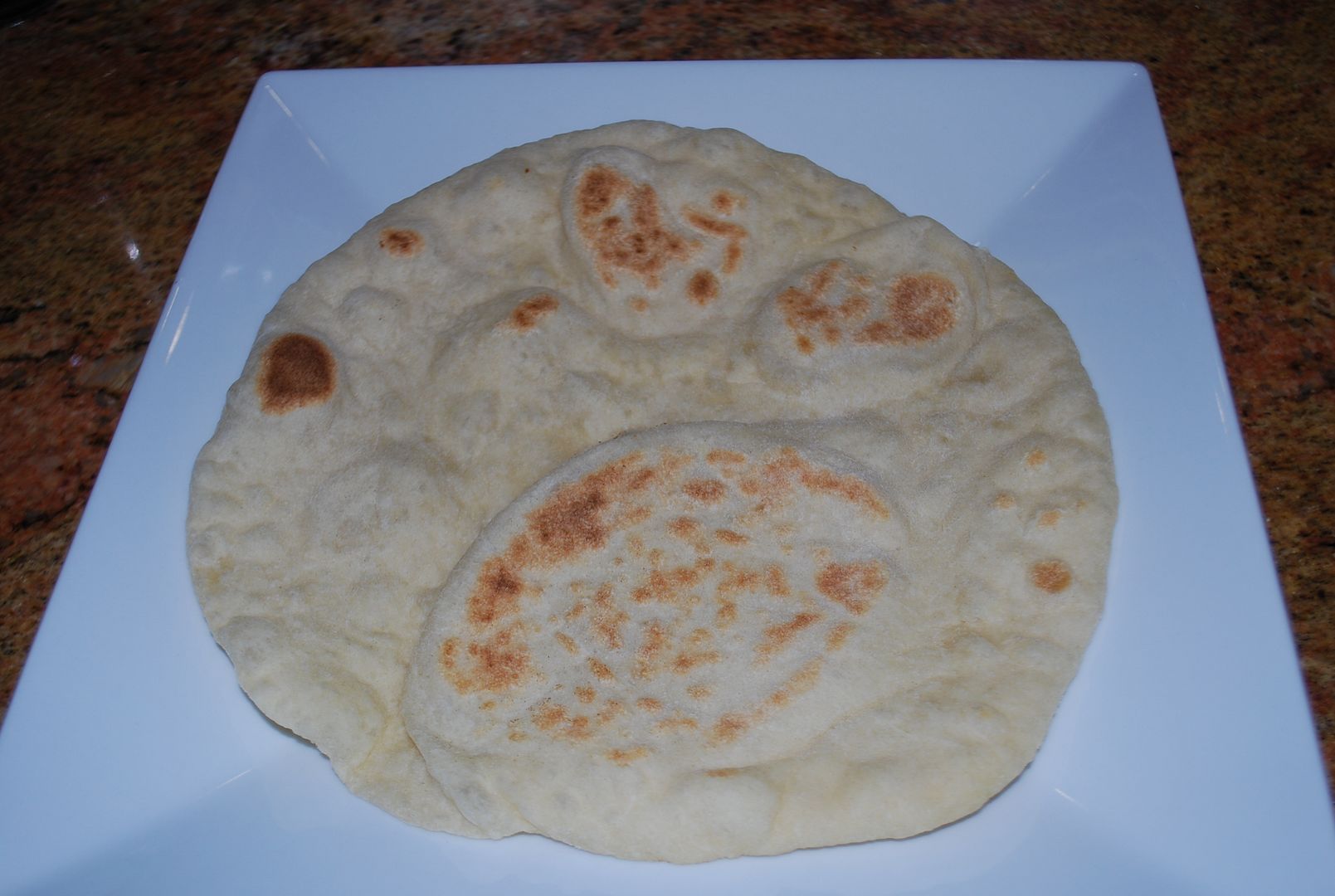 When the bread was done and cooled, I started to assemble the pizza, first by spreading a generous layer of the cream cheese/sour cream mixture.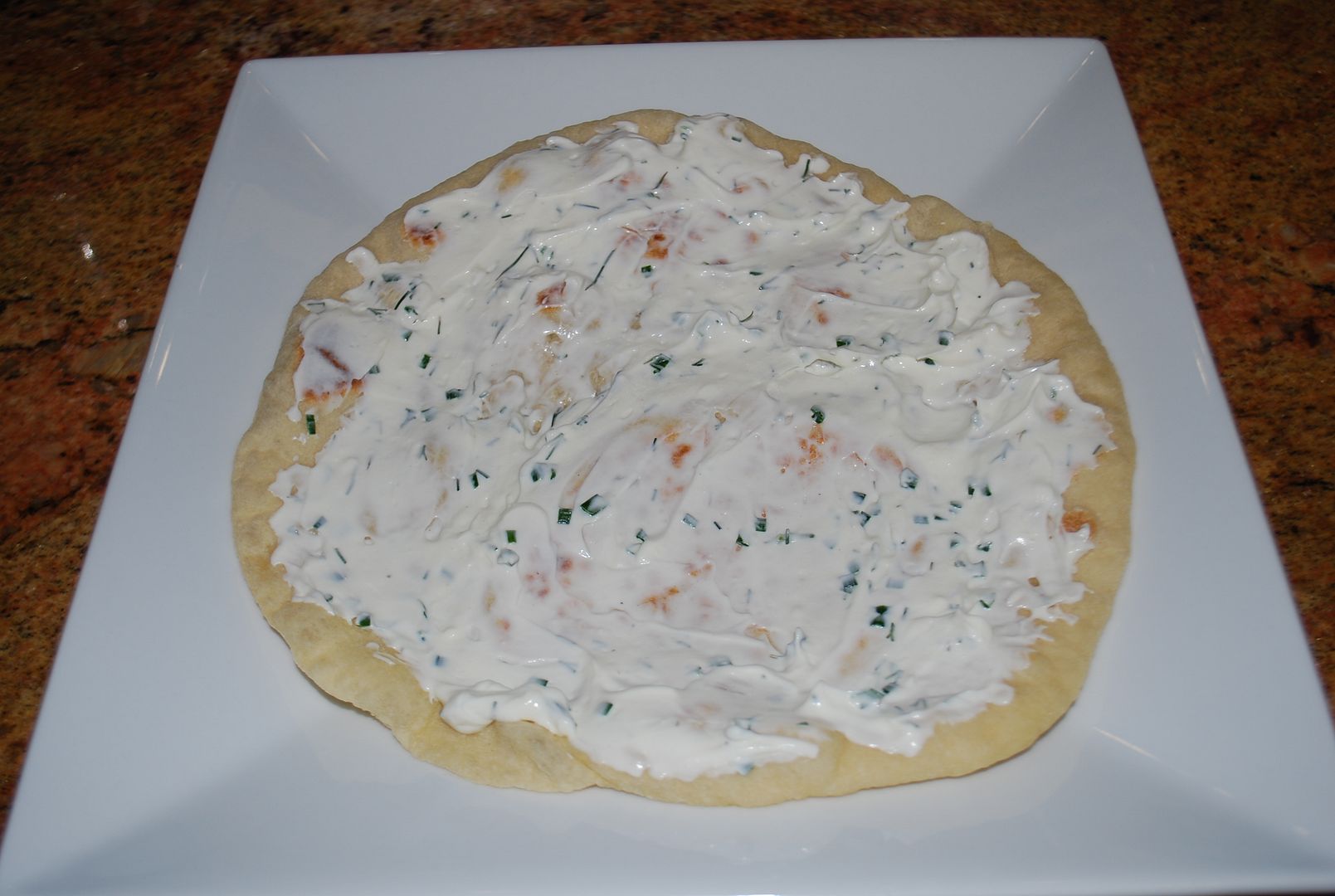 Then I layered the salmon, sliced red onions, thinly sliced tomato (on Tom's only; I left it off of mine), a few capers and sprinkled each one with a little more of the minced chives and dill. For any of the ingredients, you can add as much or as little as you like, or add something additional.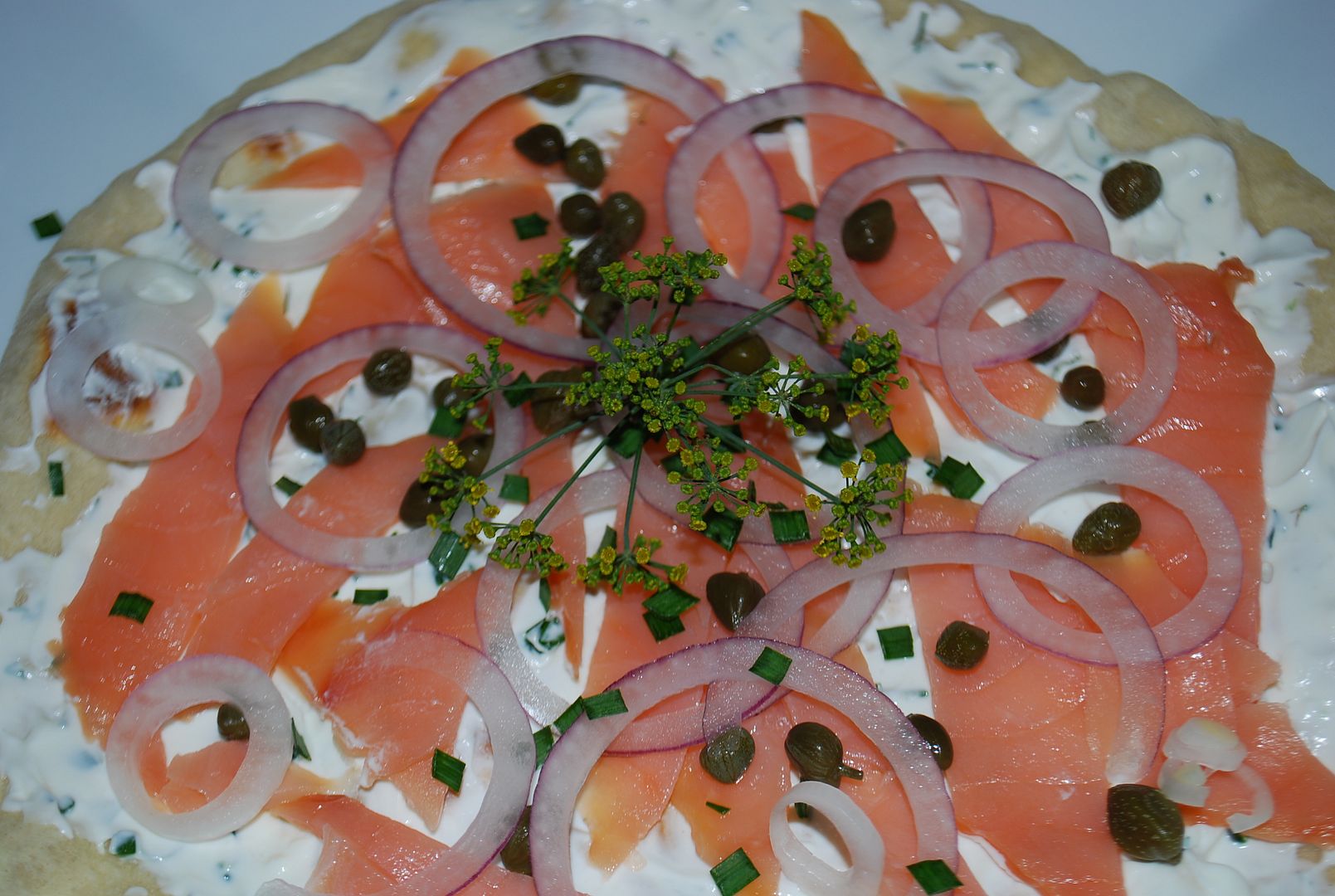 This was a nice change from our usual croissants or bagels and definitely worth the extra time to roll out and cook the naan bread.
A hint about rolling out the dough (or any other dough, for that matter). I've tried using a cutting board, my granite countertop, my sil-pat...just about everything imaginable to roll out dough and keep it from sticking, with absolutely no luck whatsoever. Then someone said in a blog somewhere to use parchment paper. I wish I could remember who said it. I would love to give them full credit for the idea because it is the
perfect
solution. I've tried it with dough from any number of breads and scones and it works perfectly every single time. And the clean up is easier, too!