I do hope that all of you are having a fun and SAFE July 4th holiday.

Since our boat isn't back from the shop yet, we've decided to just hang out at home, do some yard work and work on the house to get it ready to sell in the near future (we hope). This morning was yard work. Tomorrow is painting, painting and more painting. But we started our weekend with dinner last night.


Grilled steaks with mushroom sauce, grilled yukon gold potatoes drizzled with truffle oil and a simple salad with white balsamic salad dressing.
I loved the potatoes cooked this way...
Tom sliced them about 1/2 inch thick and parboiled the slices until he was just barely able to pierce the flesh with a fork and the potato still had resistance. He removed the potatoes from the boiling water to a paper towel to dry. When the grill was ready, he brushed them with olive oil and sprinkled the slices on both sides with salt and pepper and cooked them on the grill until they were done all the way through. He removed them from the grill to a plate and drizzled each slice with a few drops of black truffle oil.
I had a sizable portion of the Mushroom Sauce in the freezer, which I thawed earlier in the day, but you can get the recipe
HERE.
Tonight we are making Vinny's Chicken, a recipe we duplicated from a small, family owned Italian restaurant in Oceanside, California where we could be found nearly every Friday night. Vinny marinated chicken halves (we will use chicken breasts) for several hours in white wine, lots of chopped garlic and fresh rosemary. Simply delicious. Vinny (Vincent DeGallo), the chef/owner of the restaurant, learned to cook from his mother when he was a boy. I've never tasted better Italian food anywhere.
As our side dish, I'm thrilled to be making one of my favorites, Pan-Crisped Deviled Eggs on French Lettuces, a recipe that I copied from Debbie's blog,
The Friday Friends
. Of course, we can't get French lettuces here, but a spring salad mix works fine.
For dessert we'll have sweetened blackberries (from our garden) spooned over no-sugar, low-fat ice cream (hey, you gotta cut down somewhere. It might as well be the ice cream).
I will have photos of tonight's dinner tomorrow.
I haven't shared much about my garden so far this season. It started out quite stunted because of all the rain in May. Then our weather turned from cool to unbearably hot, nearly 100 degrees every single day in June. My plants have been very confused. But they are perking up and starting to produce.
My French Tarragon is doing nicely...



I've already used four large poblano's for a meal of Roasted Poblanos Stuffed with Black Beans and Rice with a Suiza Sauce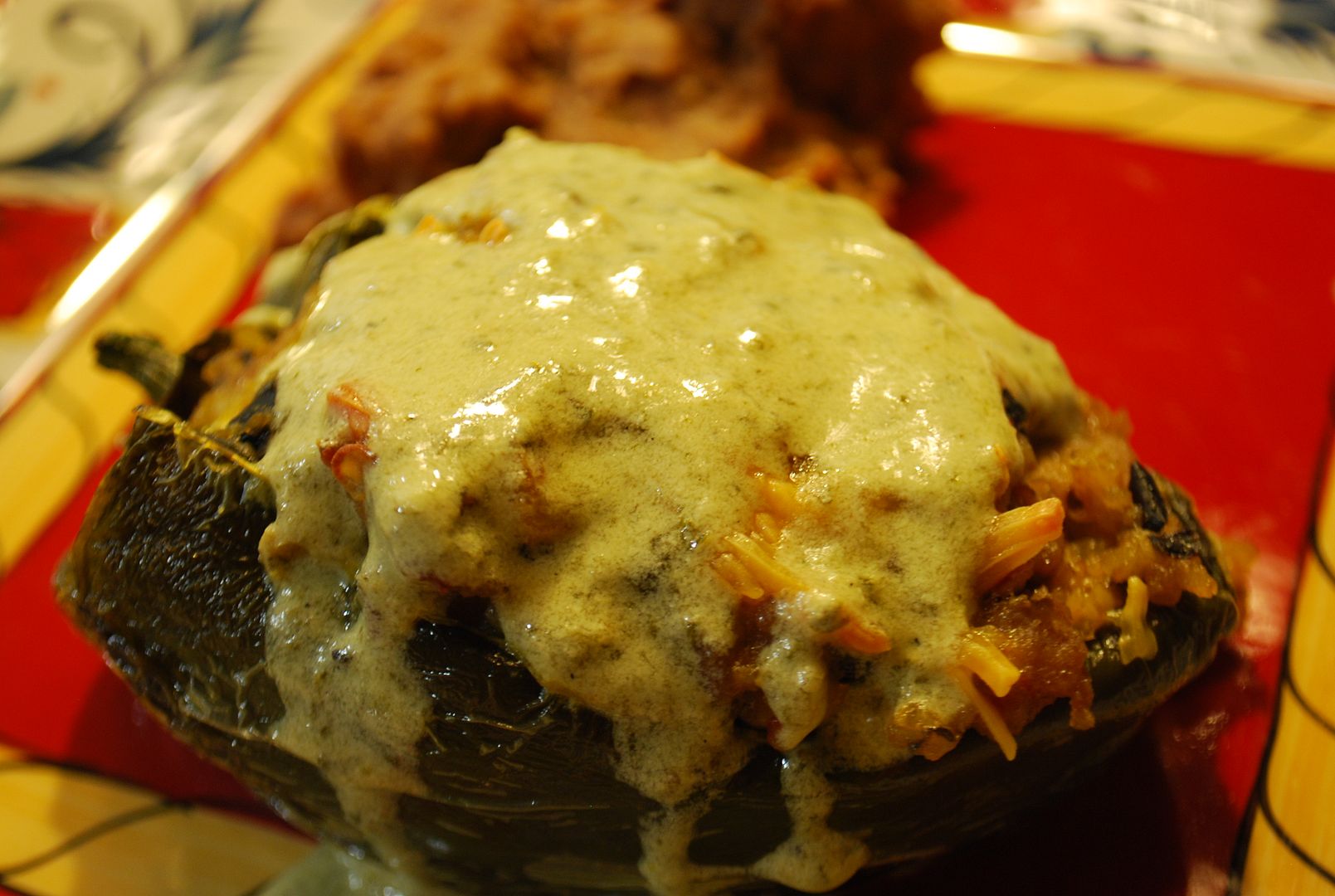 And the plants are still going strong...


My orange bell peppers are just now starting to turn orange...


But my red bell peppers are still green with no sign of changing color yet...


The fruit has set on my tomatillo plants...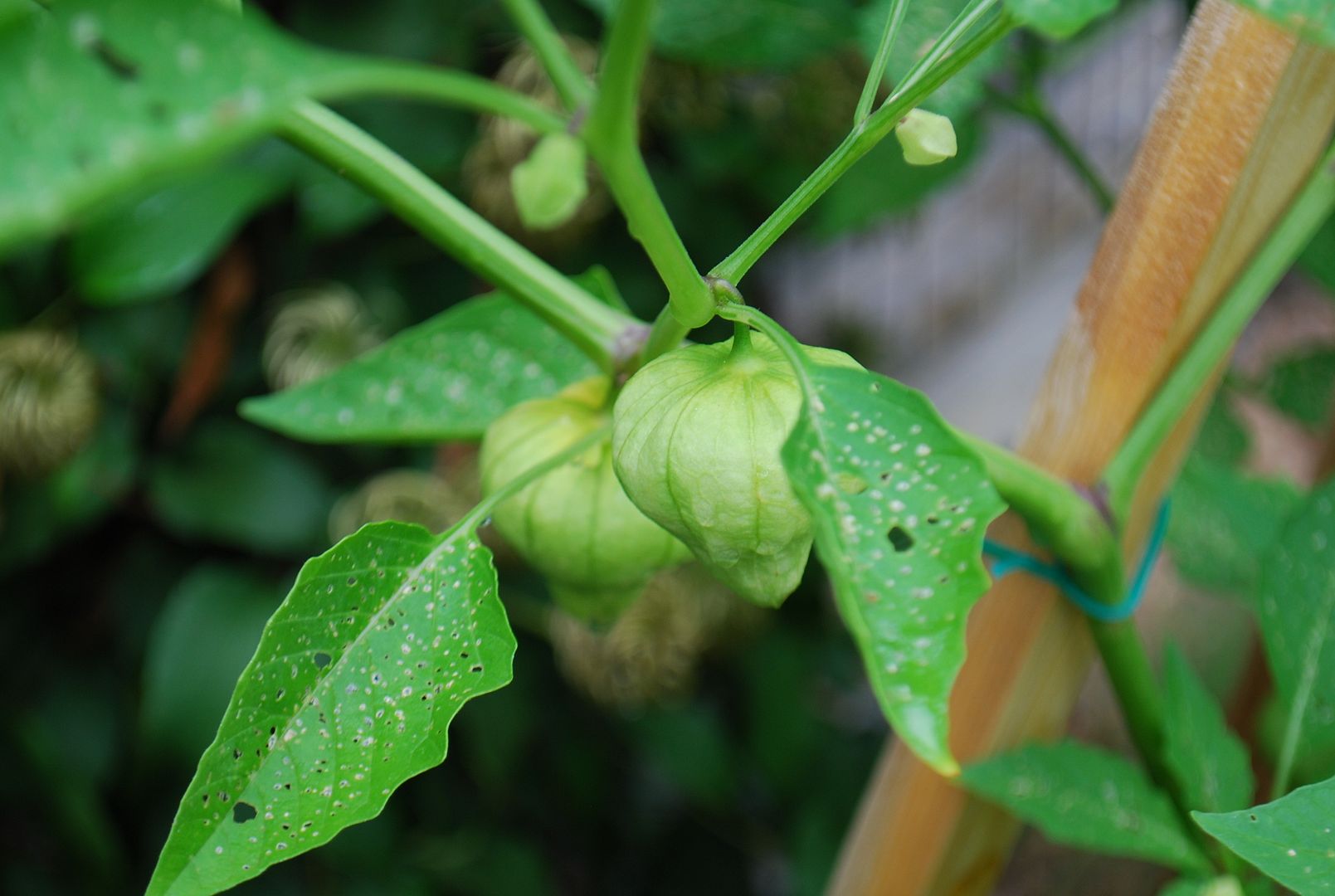 And we will have Snow Globe cherry tomatoes soon...


After last year's dismal failure, it looks like I will have heirloom tomatoes...

From the looks of things, we will be overflowing with produce very soon.