I have been quite inspired lately. I've found several recipes for quick breads that have turned out far better than I ever expected.
I hadn't baked quick breads in quite awhile. About a year and a half ago, a group of women at my church were doing some after Christmas organizing. One of the women brought what she called Amish Friendship Bread. It was one of the most delicious quick breads I'd ever tasted. A couple of weeks later, she brought me a bag of "starter" and the instructions on how to make my own. I made several loaves with varying ingredients and it turned out wonderful, but I never posted the recipes or photos.
From that initial starter that was given to me, I have several plastic bags of more starter in the freezer, but I haven't done anything with them for over six months. But, now that my interest in baking quick breads is renewed, I'm going to pull one of those bags from the freezer and start the process.
In the meantime, I would like to share with you the recipe that started me on this journey into quick breads, Chocolate Banana Brownie Bread, which was posted by
Coleen @ Coleen's Recipes
. Easy to make with a texture much like a dense, chocolatey brownie, we served our slices similar to Coleen....topped with vanilla ice cream. Oh. So. Yummy.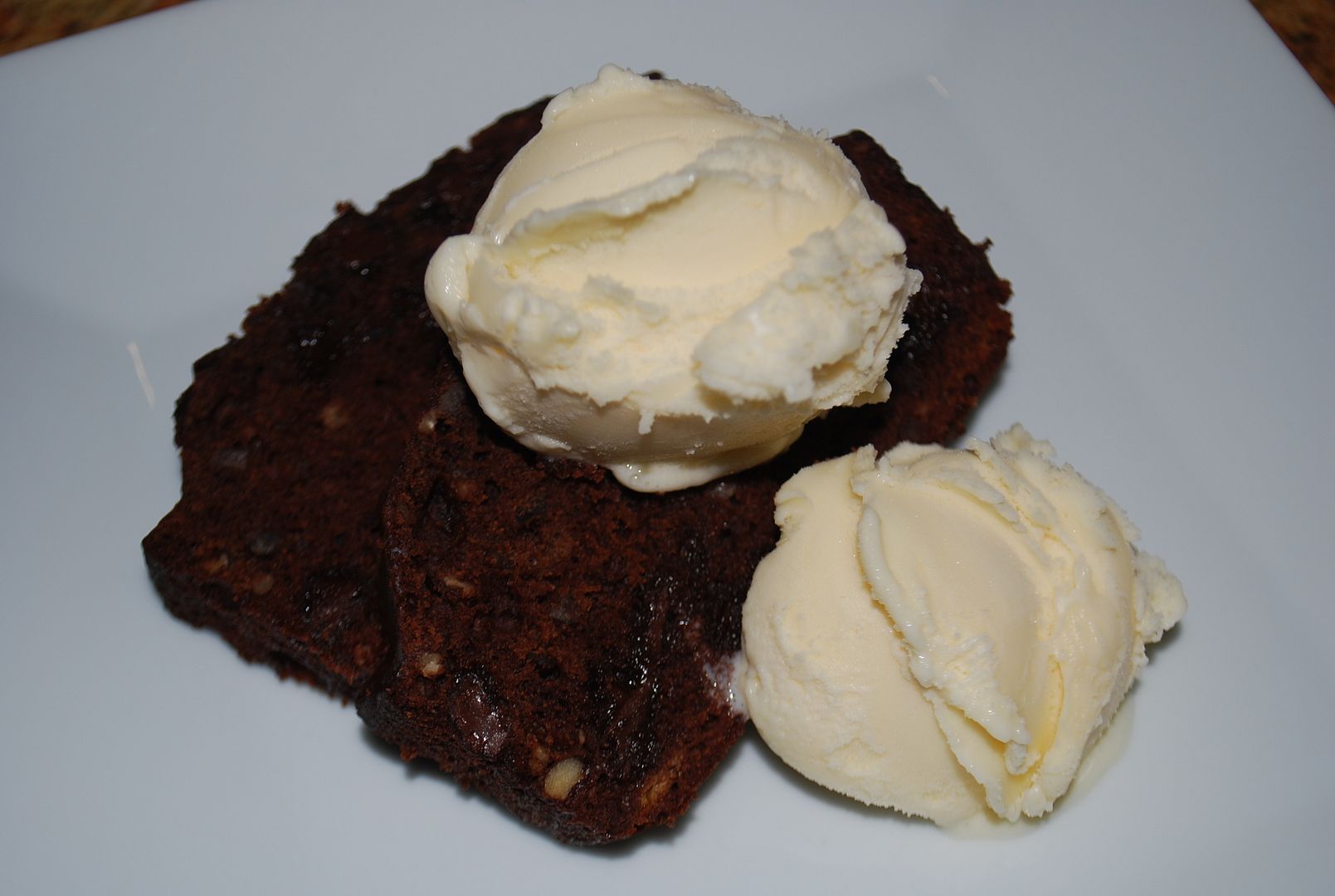 Chocolate Banana Brownie Bread
Adapted from Coleen's Recipes
1¼ cups mashed ripe bananas, about 3 medium size
1/3 cup vegetable oil
1 teaspoon vanilla
1 cup white sugar
2 eggs
1½ cups white flour
½ cup baking cocoa powder (regular or dark)
1 teaspoon baking soda
½ teaspoon salt
1 cup chopped pecans
1 cup semi-sweet chocolate chips
Preheat oven to 350 degrees.
Grease two 8-inch X 4-inch loaf pans
(I sprayed my pans really well with cooking spray).
In a medium sized bowl, beat bananas, oil, vanilla and eggs together with the sugar until it is well combined and smooth. Beat in the dry ingredients just until well combined, then stir in the nuts and chocolate chips.
Pour the batter evenly into the prepared loaf pans and bake in preheated oven for 45 minutes.
Cool the bread in the pans for about 10 minutes, then turn out from pans. IMMEDIATELY wrap the HOT loaves in plastic wrap (it will not melt the plastic) and let cool.
Coleen's Note: "Wrapping the hot brownie loaves in plastic wrap will force the moisture back into the loaf (it will not make the surface soggy). I use this technique for ALL of my cakes and quick breads."
I did exactly what Coleen suggested and loaves turned out beautifully moist. It is a tip that I had not heard before, but will continue to use to get the wonderful results!