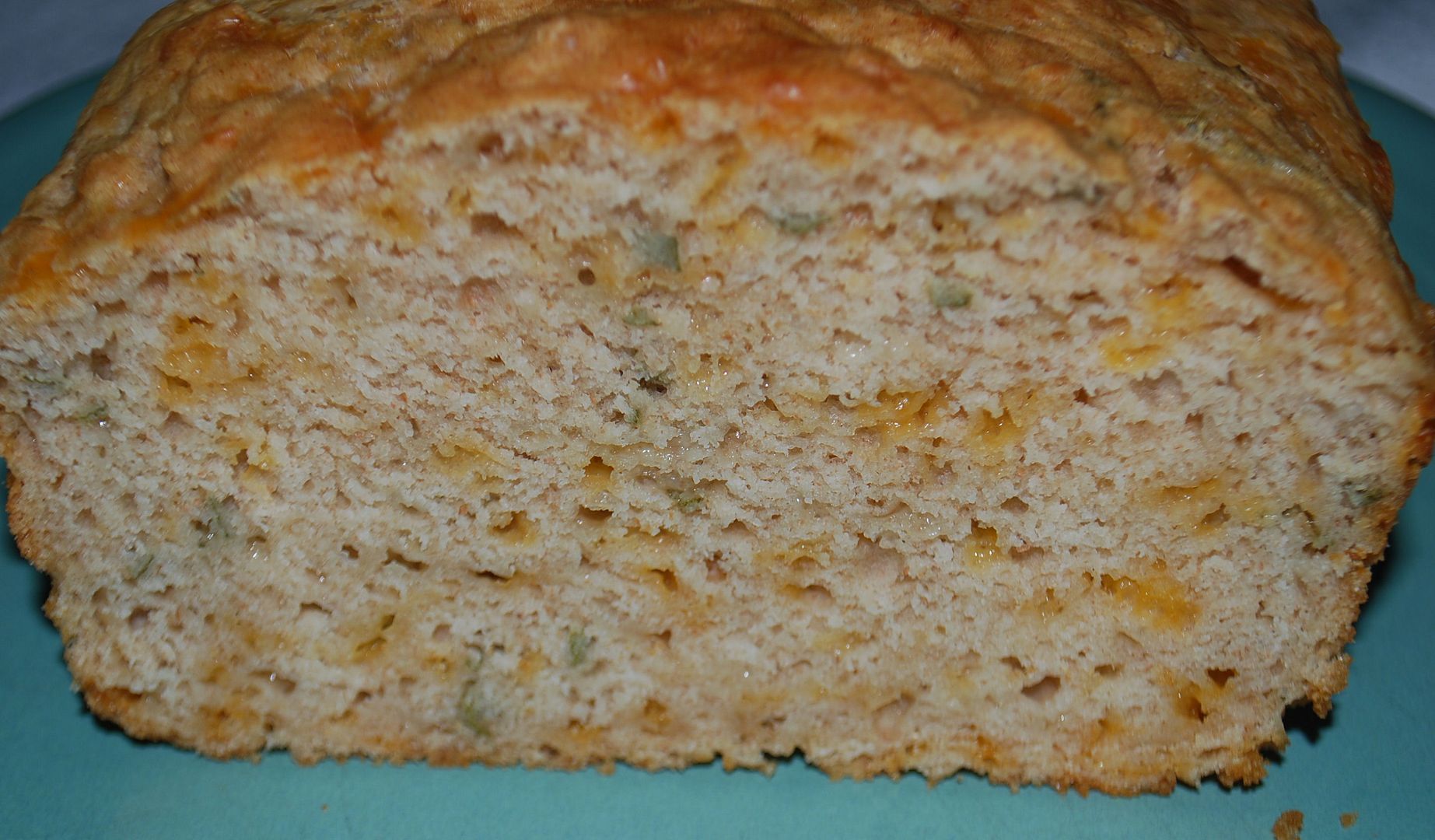 Tom is a bread eater. We rarely have a meal where we don't serve some sort of bread with our meal, from biscuits, to French bread, to crunchy rolls and, now, these quick breads.
I came across the recipe for
Sage & Cheddar Beer Bread @ GirlChef
, who adapted the recipe from
Farmgirl Fare
. It looked unbelievably simple so I thought I'd give it a try. I wasn't disappointed. The bread was dense, fragrant and delicious.
Sage & Cheddar Beer Bread
Adapted from GirlChef
2-1/2 cups unbleached all purpose flour
1/2 cup whole wheat flour
1 tablespoon sugar
1 teaspoon salt
1 tablespoon baking powder
2-1/2 tablespoons fresh sage leaves, finely chopped
1 cup sharp cheddar cheese, shredded
1 - 12 oz. bottle of good beer (do not use lite beer), at room temperature


Optional Glaze: 1 egg mixed with 2 tablespoons water (I used 2 tablespoons of Eggbeaters mixed with 1 tablespoon of water)
Preheat oven to 375⁰ F.
Grease a 9-inch X 5-inch loaf pan.
In a large bowl, combine flours, sugar, salt, baking powder, sage and cheese. Slowly stir in the beer and mix the batter until just combined. The batter will be thick. Spread the batter into the prepared loaf pan.
Gently brush the top of the batter with the egg/water mixture. Bake until the loaf is golden brown, about 45 minutes.
Remove from the oven and cool in the pan on a rack for 10 minutes, then remove the bread from the pan and cool on the rack. Serve warm or at room temperature.
But I didn't stop there...
I saw so many opportunities for so many different types of herbs and spices, so for the next loaf I did the following:
I substituted the sage with 1-1/2 tablespoons whole caraway seeds, and

I substituted the cheddar cheese with 1-1/2 cups shredded Gruyère cheese
The loaf was the perfect accompaniment to a meal of kielbasa and braised cabbage and onions, but the substitutions are endless. All you need is your own creativity.